Medtronic Doubles Ventilator Production to Help COVID-19 Patients!
By Adam Pick on March 27, 2020
As the COVID-19 pandemic surges past 921,000 worldwide cases, I need to thank Medtronic for doubling its ventilator production to help patients suffering from the novel coronavirus.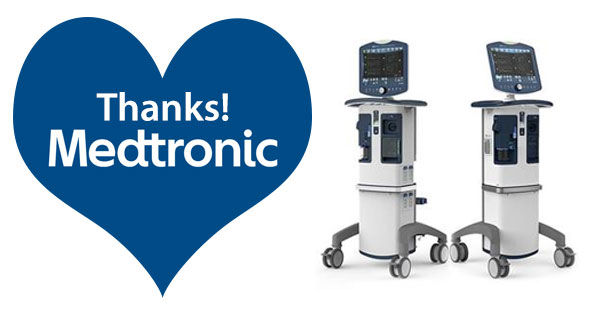 In our patient community, Medtronic is known for being an innovative manufacturer of heart valve replacement and repair devices. For example… After a
successful clinical trial
in low-risk patients, Medtronic recently obtained FDA approval for its
Evolut
device.  Evolut is a non-invasive transcatheter aortic valve replacement (TAVR) device that treats aortic stenosis, a deadly form of heart disease, without open heart surgery.
Medtronic Responds to COVID-19 Outbreak
Specific to COVID-19, Medtronic is a leading manufacturer of ventilators (also known as breathing machines).  Ventilators are critical for the treatment of COVID-19.
Given the exponential rise of coronavirus patients, there is now a massive shortages of ventilators around the world.  In New York City alone, which had 7,285 new cases yesterday, Governor Andrew Cuomo stated in a press conference that he needs 30,000 ventilators to be prepared for the apex of new COVID-19 patients anticipated in the next two to three weeks.
That said, we cheered and applauded the news that Medtronic would increase its ventilator production by 100 percent to help patients with COVID-19.
To learn more about Medtronic's proactive response to COVID-19, please watch this insightful video interview with Omar Ishrak, the CEO of Medtronic.  Important topics covered in this video include the ventilator shortage, the different types of ventilators, a new Medtronic / Tesla partnership for ventilator production, multi-patient ventilator usage, the Defense Production Act, and more.
On behalf of the patients, the families and the care providers struggling with COVID-19, many thanks to the Medtronic team!!! We really appreciate your extraordinary efforts to help patients during this difficult and trying time!!!
Related articles:
Keep on tickin!
Adam