Medtronic Amplifies Momentum for Low-Risk TAVR with Evolut Clinical Trial Results
By
Adam Pick
- Patient, Author & HeartValveSurgery.com Founder
Yes! More encouraging news about low-risk transcatheter aortic valve replacement (TAVR) clinical trials!
In case you missed it... Medtronic, a leading heart valve manufacturer, recently announced results for its Evolut Low Risk Trial at the American College of Cardiology Conference in New Orleans. TAVR are next-generation devices that replace stenotic aortic valves without any incision to the patient's sternum or ribs. (Learn about the dangers of aortic stenosis here.)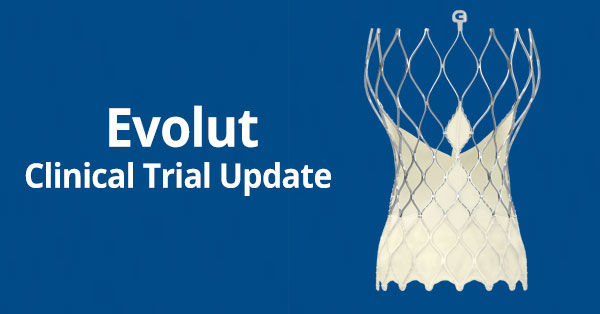 While Medtronic previously received FDA approvals for inoperable, high-risk and intermediate-risk patients, the Evolut Low Risk Trial evaluated the safety-and-efficacy of its self-expanding CoreValve, Evolut R and Evolut Pro tissue valves within low-risk patients.
Similar to other TAVR clinical trials, the Evolut Low Risk Trial evaluated TAVR against surgical aortic valve replacement (SAVR), the current standard of care. As reported at the American College of Cardiology website, select outcomes for this research study of 1,403 patients include:
Primary end-point all-cause mortality or disabling stroke at 24 months was 5.3% for TAVR and 6.7% for SAVR
Also at 2 years, all-cause mortality was 4.5% for TAVR and 4.5% for SAVR
Disabling stroke was 1.1% for TAVR and 3.5% for SAVR
Mean aortic gradient at 1 year: 8.6 mm Hg for TAVR vs. 11.2 mm Hg for SAVR
Mean effective orifice area at 1 year: 2.3 for TAVR vs. 2.0 for SAVR
What Do the Results Mean?
In review of these results, Dr. Michael Reardon, the co-principal investigator of the Evolut Low Risk Trial and a leading cardiothoracic surgeon at Houston Methodist DeBakey Heart & Vascular Center, stated, "These data suggest that not only did TAVR match the gold standard of surgery, but it demonstrated statistical superiority across several key endpoints, including quality of life and hemodynamics – important considerations for severe aortic stenosis patients who may be more active."
Here's Dr. Reardon sharing highlights about the Evolut Low Risk Trial:
So you know... It wasn't just the cardiac surgeons that were excited about the initial findings of this research study.
The interventional cardiologists also cheered new therapeutic possibilities resulting from this clinical trial. At MedPageToday, Dr. Danny Dvir, an interventional cardiologist at University of Washington Medical Center in Seattle, stated, "Finally, it is here. Seventeen years after the first TAVR procedure, we have solid clinical data on the main population with severe aortic valve stenosis: those considered at low risk for open heart surgery. That was a long journey with numerous studies, utilizing many platforms. However, now it is clear -- TAVR can result [in] better meaningful clinical outcomes."
Will Patients Benefit from Low-Risk TAVR?
As for the patients.... This is a great potential win.
According to a New York Times report, "The Food and Drug Administration is expected to approve the procedure for lower-risk patients. As many as 20,000 patients a year would be eligible for TAVR, in addition to the nearly 60,000 intermediate- and high-risk patients who get the operation now."
I didn't mention it above but other patient benefits of TAVR include no use of the heart-lung machine and much faster recoveries.
For example, reports suggest that Mick Jagger, the lead singer of The Rolling Stones, recently had a TAVR in New York City. Just one week after his TAVR, Jagger was seen walking through Central Park. (See Mick Jagger's Heart Valve Surgery: Top 5 Facts.)
Here's Jagger's latest tweet: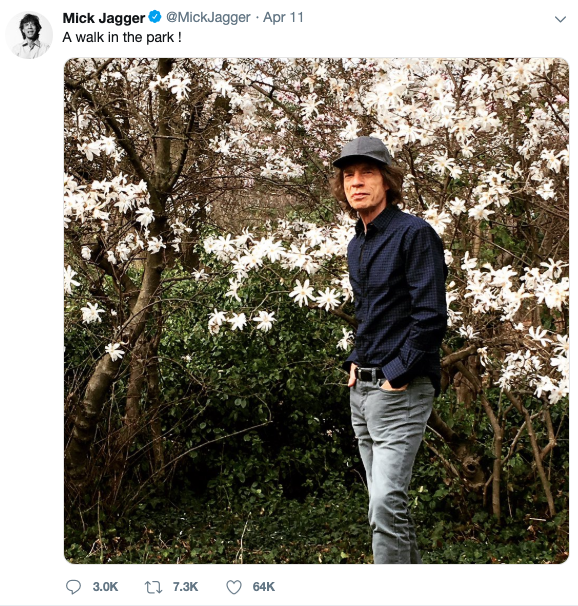 Mick Jagger (TAVR Patient)
A Big Unanswered Question?
While low-risk TAVR trials have been declared "Game Changers" and "Seismic Shifts" for the treatment of aortic stenosis, there remains opportunities to improve TAVR performance.
Dr. Lars Svensson, Chairman of the Cleveland Clinic Heart & Vascular Institute, references these opportunities including paravalvular leak and pacemaker implants in a new article, "TAVR Yields Similar Outcomes to SAVR at 1 Year in Patients at Low Surgical Risk".
Dr. Svensson also addresses the "big unanswered question" about TAVR use in low-risk patients.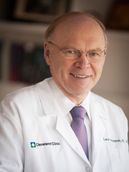 Dr. Lars Svensson (Cleveland Clinic)
"These findings are encouraging for TAVR in low-risk patients," states Dr. Svensson, "But the major question around effectiveness is the issue of potential long-term structural deterioration of TAVR valves in low-risk patients, who tend to be younger than other TAVR candidates. There is also some evidence of accelerated stroke and death in TAVR patients over time, and that is why the late data at 10 years will be critical to better understand the issues. We know that long term to 20 years, the reoperation risks are low in the surgical patients based on our previous publications."
Congratulations Evolut Research Teams & Medtronic!
While there is still much to learn about low-risk TAVR devices... On behalf of our patient community, many thanks to all of the doctors, nurses, research staff and administrators who supported the Evolut Low Risk Trial.
Having worked in clinical trials, I understand the tremendous commitment required to find the right patients, treat the patients, and then evaluate new therapy performance during follow-up. Great job!
To Medtronic.... Many thanks for your ongoing pursuant of healthy heart valves using transformative technologies and next-generation devices. All the best as your TAVR devices continue down the path to FDA approval for low-risk patients. Thank you!
Keep Learning About TAVR!
Here's more information to help educate and empower you:
Page last updated: September 18, 2020