Mick Jagger's Heart Valve Surgery: What 5 Facts Should You Know? (September 14, 2020 Update)
By
Adam Pick
- Patient, Author & HeartValveSurgery.com Founder
Mick Jagger underwent successful heart valve replacement surgery in New York after postponing The Rolling Stones' United States tour.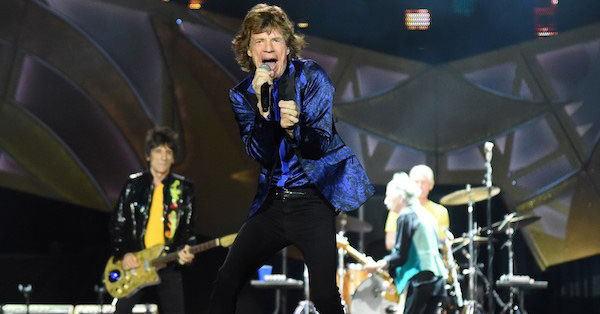 Prior to his surgery, Jagger stated on Twitter, "I'm so sorry to all our fans in America & Canada with tickets. I really hate letting you down like this. I'm devastated for having to postpone the tour but I will be working very hard to be back on stage as soon as I can. Once again, huge apologies to everyone." The band had been scheduled to play North American shows in April, May, and June as part of its "No Filter Tour."

The great news is that shortly after his heart valve procedure, Jagger posted the following on Twitter, "Thank you everyone for all your messages of support, I'm feeling much better now and on the mend - and also a huge thank you to all the hospital staff for doing a superb job."

Fans everywhere are asking important questions about heart valve disease and the treatment used to fix Jagger's valvular disorder. While it is still unclear about all of the precise details about Sir Mick's heart valve replacement procedure, here are some important facts about heart valve heart disease and treatment.
Fact 1: What Was Mick Jagger Diagnosed With?
Considering that all media reports suggest that Jagger had heart valve replacement (not a heart valve repair), it is possible to speculate that Mick Jagger suffered from aortic stenosis, which is a narrow heart valve. The aortic valve is responsible for managing blood flow through the heart to the rest of the body. Jagger's aortic valve was calcified which limits its ability to open-and-close.
To learn more about aortic stenosis, please watch this video I filmed with Dr. Marc Gillinov, the Chairman of the Department of Cardiac Surgery at the Cleveland Clinic.
Fact 2: What Are the Risks of Aortic Stenosis? Is it Fatal?
Although under-diagnosed and under-treated, aortic stenosis is a common form of heart valve disease. Dr. Michael Mack, a leading heart surgeon at The Heart Hosptial Baylor Plano, stated in a recent interview, "Up to 12% of the elderly population have some form of aortic stenosis."
Patients with narrow heart valves may experience symptoms including shortness of breath, chest pain, dizziness and fatigue. As recently published in my article, "Aortic Stenosis: The Danger Zone Is Here", this disease can be fatal.
According to research by Dr. Eugene Braunwald, the mortality rate of patients with severe aortic stenosis and symptoms is an alarming 50% within 24 months. That said, this disease is very serious and potentially fatal. In fact, some doctors call aortic stenosis a "Silent Killer" as patients with the disease can have no symptoms.
Fact 3: What Are Mick Jagger's Treatment Options?
Traditionally, aortic stenosis has been treated using open heart surgery during a procedure known as aortic valve replacement.
During surgical aortic valve replacement procedure (SAVR), the patient's heart is stopped. Then, the diseased aortic valve is removed and replaced with a tissue heart valve (cow valve or pig valve) or a mechanical heart valve. There are several different approaches that surgeons use to access and open the heart including a sternotomy, a mini-sternotomy and port-access.
There is another, newer type of aortic valve replacement procedure that requires no incision to the patient's chest or ribs. This new form of non-invasive heart valve surgery is called Transcatheter Aortic Valve Replacement (TAVR). While TAVR initally received FDA-approval for inoperable patients, high-risk patients, and intermediate risk patients, recent clinical trials have demonstrated the effectiveness of TAVR in low-risk patients as well. You can learn more about this recent announcement at "Low-Risk TAVR Clinical Trial Results Celebrated".
To see how TAVR works, here is a video animation that shows how the new aortic valve is inserted into the patient's heart through an artery in the groin. This procedure does not require the use of the heart lung machine.
While there is no official word yet from Mick Jagger, there are reports that he had a TAVR performed at a New York hospital.
Fact 4: Is Aortic Valve Replacement Safe?
The great news for Jagger is that both forms of aortic valve replacement are very safe. While there are serious risks and concerns for each patient, thousands of patients at HeartValveSurgery.com have have had excellent results with both operations. You can see many inspirational Patient Success Stories here.
So you know, I'm living proof that patients can do very well after aortic valve surgery. I had my aortic and pulmonary valve replaced in 2005. Since then, I've gone on to live a wonderful life without any physical limitations (except for sky diving).
According to the reports that Jagger had a TAVR procedure, sources suggest that "the procedure has a 95% success rate."
Fact 5: What Will Mick Jagger's Recovery from Heart Surgery Be Like?
Depending on the type of aortic valve replacement performed on the patient – SAVR or TAVR – the recovery can be significantly different. While each patient is unique, so is their recovery.
Typically, the recovery from SAVR is typically longer (several months) given the invasive nature of the procedure. The recovery from TAVR can be much less as there is no major incision to the patient's sternum or ribs.
The fact that Jagger posted a picture on Twitter less than a week after aortic valve surgery, further suggests that Jagger had a TAVR. As you can see below, Mick posted, "A walk in the park!" on April 11, 2019.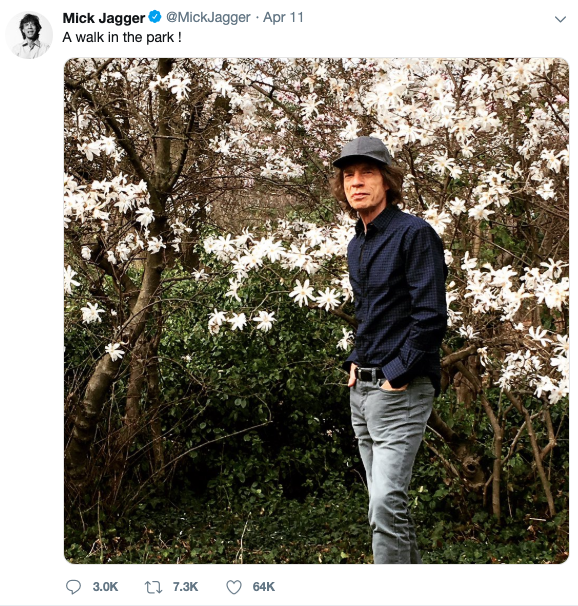 May 19, 2019 Update: Mick Dances 6 Weeks After TAVR
Today, we received more great news regarding Jagger's recovery from aortic valve surgery. As you can see in this new video posted at Instagram, Mick posted a video of himself practicing some energetic dance moves in a dance studio.
June 25 Update: Mick Jagger Celebrates Recovery with 60,000 Fans
It appears that Mick Jagger's recovery from his TAVR procedure is complete!
That's right. This past weekend, Mick Jagger and The Rolling Stones kicked off their "2019 No Filter" tour at Soldier Field in Chicago.
The show received rave reviews as Mick Jagger and The Rolling Stones amplified their place in history as one of the greatest rock bands of all time.
Here's a video showing Mick, and his new aortic valve, prancing around Soldier Field in front of 60,000 fans as The Rolling Stones played "Satisfaction" during an epic encore.
Our Thoughts & Prayers Remain With Mick!!!
On behalf of the patient community at HeartValveSurgery.com, our thoughts and prayers continue to go out to Mick Jagger, his family, his friends and his fans.
Personally, I've been a Rolling Stones fan for years and have been fortunate to see Jagger perform live at the Los Angeles Coliseum.
That said, with the latest upate of Jagger dancing it appears his heart is getting complete and total "satisfaction" with his new aortic heart valve.
Keep Learning!
Page last updated: September 14, 2020