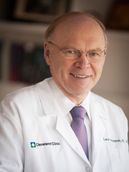 Dr. Lars Svensson
Dr. Lars Svensson

Heart Surgeon

Cleveland Clinic
9500 Euclid Avenue
Cleveland, OH 44195
(866) 448-2746
About Dr. Lars Svensson,
Heart
Valve

Surgeon

Hello! My name is Dr. Lars Svensson and I am a cardiac surgeon having graduated from University of Witwatersrand Faculty of Medicine - Johannesburg, South Africa in 1978. To date, I have performed approximately over 10,000 cardiac surgeries, of which over 4,000 involved heart valve procedures. I regularly perform surgery at Cleveland Clinic. Read more...

35 Patient Reviews for
Dr. Svensson

"Dr. Lars Svensson and Cleveland Clinic took great care of me during my bicuspid aortic valve replacement surgery!"
-- Connie Taylor, heart valve surgery patient
"Dr. Svensson is legendary for a reason: He is incredibly bright, friendly, serious, direct, warm...and fast. There is very little he hasn't seen in his career. I felt complete confidence in his ability to address my fairly complex surgery, which included a valve, root, ascending aorta and single-bypass. When an incidental finding threw a slight wrench in my recovery, he personally took charge with confidence and humor. He personally stopped by every morning during his rounds. And the days he was off, in his place were his highly personable, talented and friendly surgical fellows.
His entire team is impressive, from his secretary Rhonda; to Becky his coordinating nurse; to Diana and Pam, his nurse practitioners, and Sandi, his holistic nurse ...and others on the surgical team, including those who ran the heart-lung machine. The latter two, charged with keeping the blood flowing while my heart was halted, stopped by the ICU to say hi. There was always someone there. I can't rave enough about the cardiac ICU/step-down nursing teams at Cleveland Clinic, but it all filters down from the top. I was fortunate to have Dr. Svensson as my surgeon and can't recommend him highly enough.
Surgical results: My recovery has been going faster than I expected. Pain-wise, I was on only Tylenol after several days. Despite having a full sternotomy, my sternum doesn't really hurt. Best of all, my heart is beating."
-- Herb Greenberg, Aortic Valve, Valve Replacement, Median Sternotomy, Root Replacement, 03/04/2020

> See 34 more patient testimonials
My Specialities &
Clinical Interests
My heart surgery specialties include:
Aortic valve surgery, complex aorta surgery, endovascular treatment
Heart surgery for patients with Marfan syndrome
Modified David's reimplantation procedure, alternative access Transcatheter Aortic Valve Replacement (TAVR)
In addition, I have research and clinical interests specific to:
Protection of the brain during cardiovascular surgery
Minimally invasive and percutaneous valve surgery
Aortic including biscupid valve repair and aorta surgery
Education, Training & Certificates
Dr. Lars Svensson, heart surgeon, graduated from University of Witwatersrand Faculty of Medicine - Johannesburg, South Africa in 1978.
After medical school, Dr. Svensson completed a General Surgery Residency at Johannesburg General Hospital in 1986. Then, Dr. Svensson completed a Fellowship in Cardiovascular Surgery in 1987. Next, Dr. Svensson completed a Cardiothoracic Surgery Fellowship in 1989 and a Cardiothoracic Surgery Residency in 1991 at Baylor College of Medicine.
In addition to being board certified in the United States, Dr. Svensson is also board certified for Thoracic, Cardiac and Vascular Surgery by the Royal College of Physicians & Surgeons in Canada and General Surgery by the Royal College of Surgeons of Edinburgh and the Royal College of Physicians & Surgeons in Canada.
During his career, Dr. Svensson has received several awards, acknowledgements and special credentials including:.
* 2013, National Marfan Foundation, Hero with a Heart Award * 2008, King James IV Professor of Surgery, Royal College of Surgeons of Edinburgh * 2007, Second Place, Cleveland Clinic Top 10 Innovations of 2007 * 2000, Who's Who in Finance and Industry * 1999, Top Doctors * 1997, Who's Who in Medicine * 1997, Who's Who in the World * 1996, Who's Who in America * 1996, Who's Who in Science and Engineering * 1996-1998, Lahey Clinic Neurocognitive Research Grant * 1994, Dana Fund Research Fellowship * 1993, Lahey Clinic Research Grant * 1992, Director's Award for Professional Leadership, Houston V.A.M.C * 1992, V.A. Rag Research Fund Award * 1991, DeBakey Heart Fund Research Award
Schedule Appointment

with Dr. Lars Svensson, MD

To schedule an appointment with Dr. Svensson, you can:
Call

(866) 448-2746

right now
Request an appointment by clicking here.
The office of Dr. Svensson is located at 9500 Euclid Avenue, Cleveland, OH 44195. To get driving directions to this office, please click the map below.
> Click for driving directions to Dr. Svensson's office.
Page last updated: March 16, 2020