Heart Surgery Innovation: Robotic Mitral Valve Surgery Evolves with Percutaneous Cannulation
By Adam Pick on September 11, 2018
There are LOTS of great advances happening in the treatment of heart valve disease.  Many of those technological breakthroughs enable cardiologists and surgeons to perform life-saving procedures with smaller-and-smaller incisions.
As you might recall, one of the big breakthroughs in valve therapy was the FDA approval of the da Vinci Surgical System to perform robotic mitral valve repair procedures for patients with mitral valve regurgitation in 2002.  Since then, we have collectively learned a lot about robotic surgery from leading clinicians including Drs. Chitwood, Trento, Gillinov, Mihaljevic and Badhwar.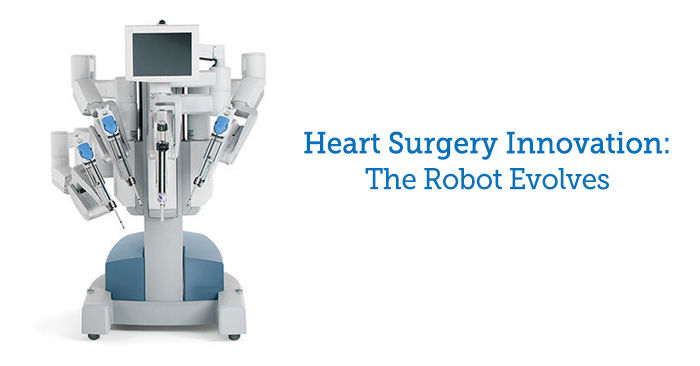 Recently, I've received several great questions about robotic mitral valve surgery.  For that reason, I felt it was time to get an update about robotic technology.  I wanted an expert opinion, so I reached out Dr. T. Sloane Guy.  Dr. Guy is a robotic specialist that has helped many patients from our patient community.  Here are the highlights from our recent exchange.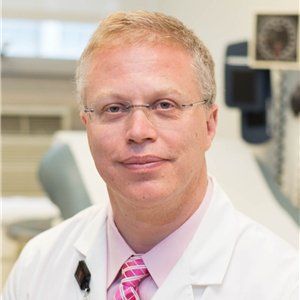 Dr. T. Sloane Guy
Dr. Sloane Guy Says…
In my first question, I asked, "Do you specialize in valve therapy? If so, do you sub-specialize in a specific valve?"
Dr. Guy answered, "I specialize in mitral valve repair, particularly endoscopic robotic mitral valve repair.  Despite having an extremely broad background in medicine, including time in the Army as a general practitioner and general surgery, I have increasingly found that super sub-specialization has benefits. Like anything else in life, the more you do and the greater effort you put into achieve excellence, the better the results.  While this is not necessarily the path for all surgeons, for me it is.  I discovered along the way that endoscopic robotic mitral valve procedures bring out the best in me as it is a demanding procedure that demands a high level of team leadership and execution, technical skills including complex circulatory management, mitral valve repair techniques, and robotic skills along with administrative capability.  I enjoy the challenge of these advanced procedures."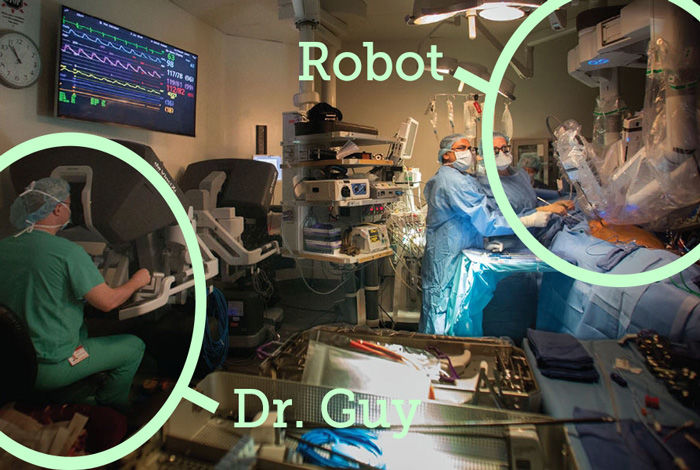 Dr. Guy Performs Robotic Mitral Valve Surgery
I then asked Dr. Guy, "Before becoming a robotic specialist, I understand you were skeptical about the robot.  What changed your mind?"
Dr. Guy answered, "When the robotic system first came out around 2002, it was first-generation technology and most surgeons were doing fairly large incisions in the chest (thoracotomies) to perform these procedures.  Many criticized robotics at that time as adding too much expense and complexity to an operation that could be easily performed through the exact same incision without the robot.  I agreed with that and still agree with that if large incisions are made. What changed my mind is when I learned that a small but talented group of surgeons had persevered and developed completely endoscopic approaches with incisions in the 2-3 centimeters range (an inch) without any spreading of the ribs (which can cause pain), and the robotic endoscopic atrial retractor came around.  Having grown up in the era of laparoscopy, I knew that such incisions had to be of benefit to the patient."
I was curious to learn about the evolution of robotic valve therapy, so I asked Dr. Guy, "How has robotic mitral valve surgery changed since you got started?"
Dr Guy answered, "A great deal has changed.  The initial operations involved large incisions and first generation robotic technology with only 2 arms and a camera.  We now have 4-5 generations of robotic systems with 3 arms and an HD camera and are able to do the procedures with incisions as small as 12 millimeters (the diameter of my little finger).  This makes all the difference.  You can't do a mitral valve repair with incisions that small without the robot."
I asked Dr. Guy, "What new innovations are you working on specific to robotic mitral valve repair?"
Dr. Guy responded, "The innovation I am most excited about is the use of percutaneous cannulation combined with an endoscopic robotic approach.  We have borrowed from our experiences with TAVR and other endovascular techniques and are able to avoid any open incisions at all.  So currently we have four, 8 millimeter robotic ports (right arm, left arm, camera, retractor), a 12 millimeter working port in the chest and totally percutaneous cannulation for cardiopulmonary bypass and protection of the heart.  We are starting to get very positive feedback from patients, who in the past often complained about the incision in the groin — previously used to access the femoral (leg) vessels."
Lastly, I asked Dr. Guy, "What is the patient experience after robotic surgery?"
Dr. Guy responded, "There is ample evidence of improved patient experience with robotic mitral valve surgery.  Currently, I would say roughly 75% of my patients are going home by postoperative day #3 and a fair number on postoperative day #2.  We have had a small handful go home on postoperative day #1 which is unheard of after traditional cardiac surgery.  I think the big shift is that we are moving away from an era where safety-and-effectiveness were the only concerns and have now added "patient experience" and "lack of invasiveness" as priorities, albeit always secondary to safety-and-effectiveness.  Many surgical specialties have embraced this concept while ours has lagged behind.  Surgeons have said that it's because our specialty is "harder and higher risk than others".   I say they are wrong.   Sure it's harder and higher risk than other procedures but we're supposed to be better and we're supposed to be committed to the patient and all their needs.  Our specialty has been so stagnant with innovation since the 1970's compared to other specialties — until the advent of transcatheter techniques and robotics.  Many, if not most cardiac surgeons still primarily perform procedures that were largely perfected by 1980.  The internet did not even exist then!  Think of how other areas of life have developed and changed since then. Its time to re-invigorate our specialty as many are doing now."
Many thanks to Dr. Sloane Guy for sharing his clinical experience and research with us.  It was also to great to learn about the new percutaneous cannulation innovation he and his team are working on.
Keep on tickin!
Adam
Adam's Newest Blogs
Adam's Newest Posts