Minimally Invasive Specialist, University of Virginia Advanced Cardiac Valve Center, Launches Microsite!
By Adam Pick on November 7, 2013
In 2010, I was very lucky to tour the UVA Advanced Cardiac Valve Center at the University of Virginia in Charlottesville. During my visit, I observed a transcatheter MitraClip procedure performed by Dr. Scott Lim and Dr. Gorav Ailawadi.  Since then, I have met several other members of the UVA team — including Dr. Irving Kron and Dr. John Kern. Together, this team of dedicated cardiologists and surgeons has treated many patients in our community like Robert Elliot, Todd Breeden and Susan Houk.
For these reasons, I am very excited to announce that the UVA Advanced Cardiac Valve Center just launched a Heart Valve Clinic Microsite at HeartValveSurgery.com. So you know, the University of Virginia provides patients many options for valvular care. As a complement to its traditional surgical approaches, the UVA team has also pioneered and participated in several clinical trials for minimally invasive techniques include transcatheter aortic valve replacement and mitral valve repair. To learn more about the UVA Advanced Cardiac Valve Center, please click here.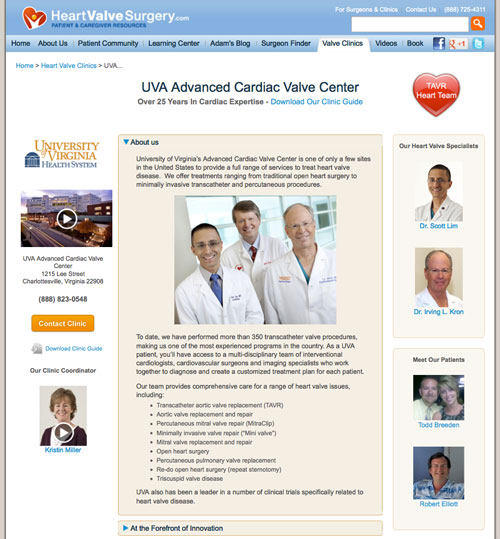 On behalf of the patient and caregiver community at HeartValveSurgery.com, I would like to thank all of the members of the UVA Advanced Cardiac Valve Center for its support of our website — with a special thanks to Dr. Kron, Dr. Lim, Dr. Kern, Dr. Ailawadi, Meghan Bradley, Adam Printy and Ginger Aylor.
Keep on tickin!
Adam
Adam's Newest Blogs
Adam's Newest Posts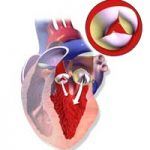 Surgeon Q&A: What Should Patients Know About Aortic Regurgitation? Learn More.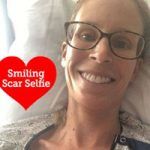 Sara Educates & Inspires 38,443 People About Heart Valve Surgery! Learn More.