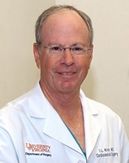 Dr. Irving Kron
Dr. Irving Kron

Heart Surgeon

University of Virginia Medical Center
1215 Lee Street
Charlottesville, VA 22908

(434) 270-0125
About Dr. Irving Kron,
Heart
Valve

Surgeon

Hello! My name is Dr. Irving Kron and I am a cardiac surgeon having graduated from Medical College of Wisconsin in 1975. To date, I have performed approximately 11,000 cardiac surgeries, of which 5,000 involved heart valve procedures. I regularly perform surgery at University of Virginia Medical Center. Read more...
4 Patient Reviews for
Dr. Kron

"I am doing great. Dr. Kron repaired my mitral valve and a hole in my heart."
-- Robert Elliott, heart valve surgery patient
"Dr. Iron at UVA saved my life last week! He and Dr. John Dent are the A team at UVA! Thank you for this successful redo of my aortic valve."
-- Randolph Reynolds jr, Aortic Valve, Valve Replacement, Median Sternotomy, 02/09/2015

> See 2 more patient testimonials
My Specialities &
Clinical Interests
My heart surgery specialties include:
Aortic valve surgery
Mitral valve repair and replacement procedures
Tricuspid valve surgery
In addition, I have research and clinical interests specific to:
Mitral valve disease
Bicuspid aortic valve disease
Lung transplantation
Education, Training & Certificates
Dr. Irving Kron, heart surgeon, graduated from Medical College of Wisconsin in 1975.
Dr. Kron is recognized for surgical research and expertise. He has received multiple awards and honors including being named one of America's Top Doctors and one of America's Top Surgeons.
He is a member of numerous local, state and national groups, including
* The Society of Thoracic Surgeons * American College of Surgeons * American Heart Association Executive Committee * Chair of the Residency Review Committee for Thoracic Surgery * Director of the Thoracic Surgery Foundation for Research & Education.
In addition, Dr. Kron has made over 200 presentations on Cardiac and Thoracic Surgery in the United States and international countries. Dr. Kron has also more than 400 manuscripts, and nearly 30 books and chapters.
Dr. Kron has been the principle investigator for more than 20 funded grants.
Schedule Appointment

with Dr. Kron

To schedule an appointment with Dr. Kron, you can:
Call

(434) 270-0125

right now
Request an appointment by clicking here.
The office of Dr. Kron is located at 1215 Lee Street, Charlottesville, VA 22908. To get driving directions to this office, please click the map below.
> Click for driving directions to Dr. Kron's office.