Cardiac Clinic Tour: Dr. Scott Lim Extends MitraClip Competence At The University Of Virginia
By Adam Pick on October 24, 2010
As many of you know, I'm fascinated with technology.
That said, when I'm invited to see a clinical application of a new heart valve technology, I jump at the opportunity. So, last week, I found myself in a hybrid catheterization laboratory / operating suite at the University of Virginia in Charlottesville, Virginia. Dr. Scott Lim, Associate Professor of Pediatrics and Medicine, Division of Cardiology, was performing a MitraClip procedure.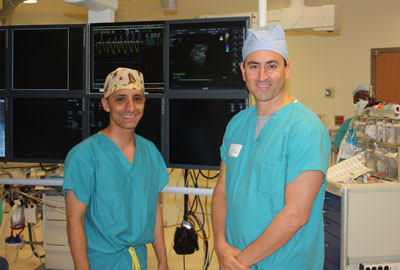 Dr. Scott Lim, M.D. And Me (Adam)
"We've been investigating the MitraClip therapy in select patients as an alternative, less-invasive therapy for mitral regurgitation," Dr. Lim shared with me. "By clipping the mitral leaflets into a double-orifice configuration we can reduce leakage across the valve – without inducing stenosis."
While the MitraClip is commercially available in Europe, the device has yet to receive FDA approval in the United States. Abbott Laboratories, the manufacturer of the MitraClip, submitted results from its EVEREST trial to the FDA in March, 2010. Reports suggest that FDA approval could occur in 2011. Until then, only 20 MitraClip procedures are performed each month in the United States — under the FDA's ongoing access protocol.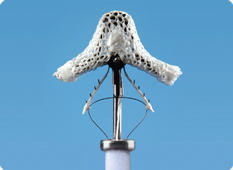 The MitraClip By Abbott Laboratories
Thus far, Dr. Lim has performed over 60 MitraClip procedures. That positions him as one of the most experienced interventional cardiologists with this technology. Only Dr. Saibal Kar, at Cedars-Sinai Hospital in Los Angeles, has performed more MitraClip procedures.
As I observed Dr. Lim with his medical team and patients, my assumption about this married, father of two, was confirmed… Dr. Lim is an incredibly nice guy who prefers to be called "Scott" not "Dr. Lim".
I also found Dr. Lim to be a straight shooter about the opportunities and constraints of this percutaneous technology.
"While the MitraClip appears to be a viable option for mitral regurgitation treatment, I believe we, the physicians, need to ensure that only the right patient gains access to its clinical use at this point in its development. Other patients may be better served by the more traditional, open-heart surgical approaches to treat mitral valve disease." — Dr. Scott Lim
During the procedure, I continued to learn more about the MitraClip and its unique delivery system. I was intrigued by the way in which Dr. Lim and Dr. Gorav Ailawadi, Assistant Professor of Cardiac Surgery, manipulated the controls of the MitraClip's delivery system in front of an 8-screen display panel.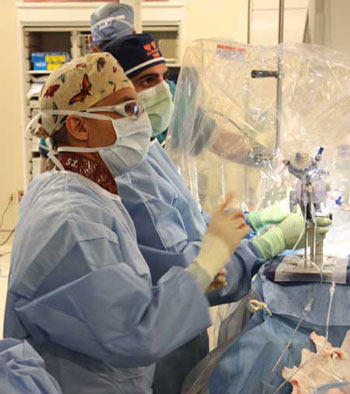 Dr. Lim and Dr. Ailawadi Adjust The MitraClip
During the hour-long procedure, Dr. Lim and Dr. Ailawadi shared the controls of the MitraClip and engaged in a lively discussion about positioning the device in the patient's beating heart. On their 2nd attempt at 'clipping' the mitral leaflets, real-time echocardiogram results illustrated a significant improvement in reducing the patient's mitral regurgitation.
"With this device, we're able to evaluate results and then adjust if needed," Dr. Lim said to me. "On our first attempt, the posterior leaflet wasn't sitting as it should. So, we repositioned the MitraClip to achieve a better outcome."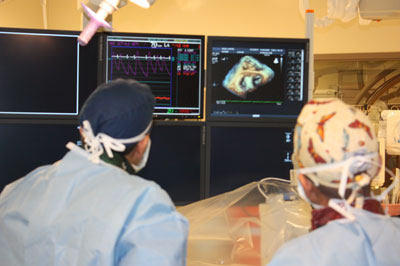 Dr. Lim and Dr. Ailawadi Evaluate Reduction In Mitral Regurgitation
According to reports, the MitraClip delivery system (shown below) offers physicians eight different planes of movement to maneuver the clip through the patient's vascular system and heart.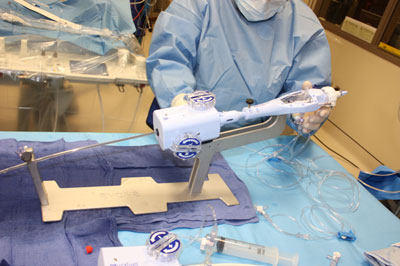 The MitraClip Delivery System
"We got a good result today," Dr. Lim shared with me as the case came to a close. "The patient's mitral regurgitation decreased from a 3-4 to a 1-2 level. And, we can discharge him tomorrow."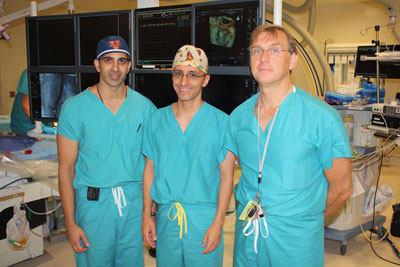 Left to Right: Dr. Ailawadi, Dr. Lim, Dr. Ragosta
Thanks to Dr. Lim, Dr. Ailawadi and the entire team at The University of Virginia Health System in Charlottesville for providing me such an incredible opportunity!
Keep on tickin!
Adam

Chris Phelps says

on October 28th, 2010 at 1:16 am
Boy I wish I had know about your book before my surgery. I'm 26y/o with Ebstien's Anomaly. I recently had to have my Tricusbid replaced. I am now 5% pig. I had my surgery on July 26 and now months later, I'm trying to return to work. This has been very difficult for me as I work as a Paramedic and enduring a lot of stress has caused me to psychologically lose it. I feel like things will never go back to normal. I'm finding it difficult to return to work. I wish I had an office job. The more time that passes, the more stress I feel and the worse that I feel. My resting heart rate is still 120bpm. How long with this stress and emotion last? Should I consider doing something else? Returning to work with high physical requirement after 3 months normal?


Crystal says

on November 7th, 2010 at 11:13 pm
Hello Adam!
I just wanted to leave a little note of encoragement if I could. I ordered your book last month and read it almost a week before my valve replacement and it was WONDERFULL! It really helped me to prepare and to really understand what would be happining to my body during surgery, and recovery. Im happy to say that on Nov. 2nd,2010, I recieved my valve replacement and have never felt better! I was a ball of nerves for a yr leading up to it just scared of everything untill I ordered your book. Everyone is different in the time it takes to recover and their level of pain etc, but I was up sitting in a chair 6 hours after surgery, and walking all over the hospital the next day. The drs seemed very pleased and I believe that your book motivated me. I will be starting cardio rehab in a couple weeks and just cant wait! The energy I have is amazing I couldent imagine what my life might have been like had I not had this surgery or found your book. I was discharged 4 days after surgery, still feeling good (obviously there is pain, but it is not as bad as I thought it would be.) Hoping to keep up the wonderfull recovery! Thanks again for writing this book! I recommend it to anyone who is going through or will be going through this situation. I hope you are feeling great also Adam and good luck to all of the patients and caregivers out there that are going through valve replacement:)

Adam's Newest Blogs
Adam's Newest Posts