Cardiac Clinic Tour: Dr. Kar and Dr. Trento Join Forces In MitraClip Study at Cedars-Sinai Hospital
By Adam Pick on July 14, 2010
Recently, I was extremely lucky to observe Dr. Saibal Kar and his team perform its 103rd MitraClip procedure on a patient with severe mitral regurgitation at Cedars-Sinai Hospital in Los Angeles, California.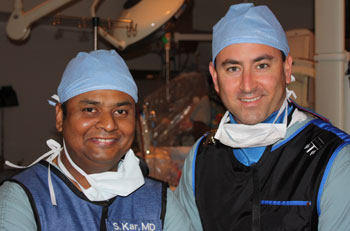 Dr. Saibal Kar And Me In The Cath Lab At Cedars-Sinai

While I expected to watch the procedure from a gallery – much like an episode of Grey's Anatomy – I quickly found myself inside the cardiac catheter lab wearing scrubs and a lead suit used to protect me against x-ray exposure from fluoroscopy.
For the next three hours, I had front-row access to Dr. Saibal Kar's team as they cared for the patient and deployed the new MitraClip device. Yes… This was much, much, much better than an episode of Grey's Anatomy.
Although the MitraClip has yet to receive FDA approval in the United States, Dr. Kar has been using the device to treat mitral valve regurgitation without causing any physical trauma to the patient's sternum or ribs. As previously discussed, the results of the MitraClip clinical trials have been encouraging.
A few minutes before the procedure began, I was very surprised to see a familiar face enter the cardiac catheterization lab. Doctor Alfredo Trento, the Chief of Cardiothoracic Surgery at Cedars-Sinai Hospital, quietly assumed a position to left of Dr. Kar.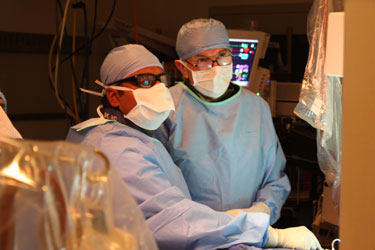 Dr. Kar (Cardiologist) and Dr. Trento (Cardiac Surgeon)
Work Side-By-Side During A MitraClip Procedure
"This has got to be somewhat unique," I thought to myself, "Given the distinct nature of their specialties and some of the skepticism surrounding the MitraClip from the surgeon community, I can not imagine this is common." (I would later learn that, so far, only a handful of cardiac surgeons have taken a serious clinical interest in this non-invasive procedure used to treat mitral valve regurgitation.)
Regardless of their specialties, these cardiac gurus – Dr. Saibal Kar and Dr. Alfredo Trento –  worked seamlessly together.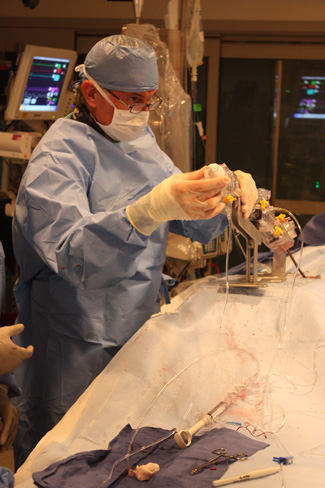 Dr. Alfredo Trento, Cardiac Surgeon,
Operating The MitraClip Delivery System
I'll be honest… As an observer, I was relatively clueless to most of the conversations in the catheter lab. There was so much medical data chatter going back and forth amongst the medical team – comprised of cardiologists, surgeons, anesthesiologist and nurses – that my ears went somewhat numb.
Thankfully, Dr. Kar's physician assistant, Asma Hussaini, and other visiting cardiologists (including Steve Goldberg, from Kirkland, Washington), helped me understand the key steps of this transformational procedure in laymen's terms.
For me, there were several highlights of this MitraClip experience:
While the actual MitraClip is tiny, the delivery system by which the MitraClip is passed through the transfemoral vein is quite elaborate and larger than expected.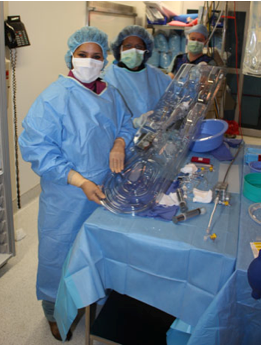 Asma Hussaini Holding The Unopened MitraClip Delivery System
The catheter size of the MitraClip guide is 8.6 millimeters in diameter and it is placed via needle puncture into the femoral vein. By comparison, the surgical scar that runs down my sternum is about nine inches, or 228.6 millimeters.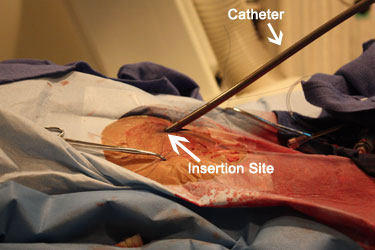 The Patient's Catheter Insertion Site (Groin)
A portion of the MitraClip procedure is spent navigating the catheter through the vein to find an optimal area to cross the septum which divides the right and left side of the heart.  This assures that the MitraClip will be easily placed in proper position to grasp the defective mitral valve leaflets.  As Dr. Kar explained, "This is one of the most critical steps in the procedure."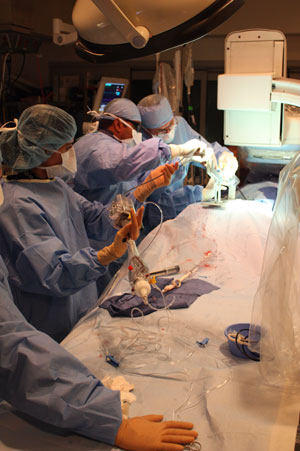 Dr. Kar, Dr. Trento & Dr. Buch Insert The MitraClip Into The Catheter
A small hole must be made in the septum which divides the right and left atrium of the heart to provide the MitraClip access to the diseased mitral valve. No sutures are needed to close this hole as our hearts heal relatively quickly, according to Dr. Goldberg.
The clip arms are used to bring the mitral leaflets together creating a double orifice valve. The MitraClip can open-and-close multiple times to ensure the best result.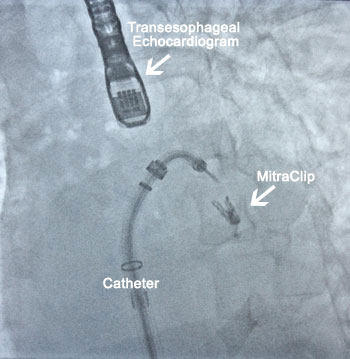 The First MitraClip Is Locked Into Place
Once the MitraClip is positioned and closed, valve function can be evaluated in real time using two dimensional (2D) and three dimensional (3D) echocardiography. If the mitral regurgitation is eliminated or reduced to "mild" status, the MitraClip is then "locked" into place and separated from the delivery catheters. The MitraClip will then move freely with the mitral leaflets.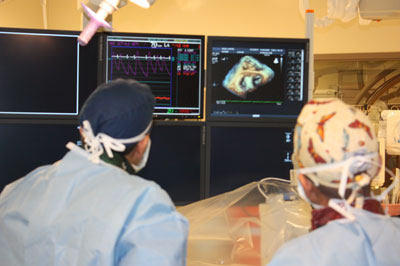 Dr. Kar and Dr. Trento Evaluate Mitral Regurgitation
After Primary MitraClip Closure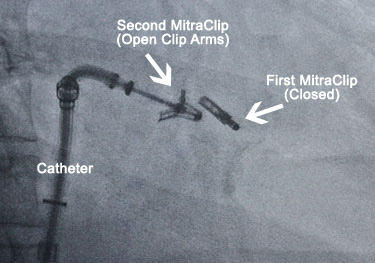 To Minimize Regurgitation, A 2nd MitraClip Is Positioned
The MitraClip procedure is covered by some insurance programs. In fact, I heard that a new Medicare code is about to be issued for this non-invasive procedure.
The MitraClip is made from cobalt chromium. A polyester fabric coats the clip to promote healing.
The MitraClip and delivery system are manufactured in the company's headquarters in Menlo Park, California.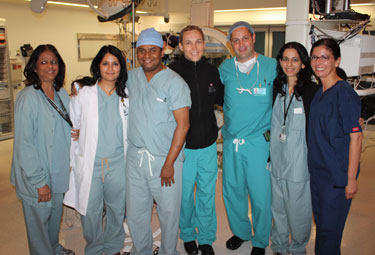 Dr. Kar's Team – Noorbibi Gheewalla, CVT (Monitor), Asma Hussaini, PA-C (Physician Assistant), Saibal Kar, M.D., Bret Wertman, M.D. (Interventional Fellow), Omar Dura, M.D. (Anesthesiologist), Mamta Buch, M.D. (Fellow)
Needless to say, this was an extraordinary experience. I want to thank all of the medical staff at Cedars-Sinai Hospital in Los Angeles, California – especially Dr. Saibal Kar and Dr. Alfredo Trento.
Most importantly, I just learned that the patient is at home doing very well after the procedure. 🙂
Keep on tickin!
Adam

Karen Pomer says

on July 14th, 2010 at 11:29 am
Wow Adam! Your most amazing post to date! These same wonderful "A Team" of Saibal Kar, Alfredo Trento and their amazing colleagues are the ones who saved my mother's Kato Pomer's life last October (see previous story). My mother came to Cedars Sinai "crashing" after being transferred from two other hospitals who had nothing to offer my mother who was clearly not a candidate for open heart surgery. Happy to report she celebrated her 93rd birthday last month!
Thanks Adam…Sure you will save lives yourself with this post on your groundbreaking blog!


Leslie Lafayette says

on July 14th, 2010 at 11:52 am
SO fascinating Adam! I forwarded this to my surgeon Richard Shemin at UCLA. I hope they get this procedure okayed – what a great advance for repairing that mitral valve.
Cheers
Leslie


zafar says

on July 14th, 2010 at 12:56 pm
Great Adam. Pl search and reveal if similar procedure also developed for Aortic valve repair. Rgds


Sylvia Woolworth says

on July 14th, 2010 at 2:49 pm
What an experience for you to witness. I was fascinated reading about the procedure. Thank you for keeping us up to date and informed.


Meigs says

on July 14th, 2010 at 5:28 pm
Thanks, Adam! My cardiac surgeon, Dr Craig Miller at Stanford, has sat in on some of these clips being threaded through the femoral artery – as a just in case back-up, and being interested in witnessing these new possibilites.
I am assuming that these mitraclips, like mechaical valves require coumadin- does anyone know if this is true? I also assume repalcement is still possible if the clips end up not bing best for the particular patient.
Cettainly these are life saving for those who cannot have heavy duty surgery.
Meigs


Brett Ratner says

on July 15th, 2010 at 2:44 pm
The collaboration of Dr. Kar and Dr. Trento is incredible. Both are two of the most talented and underrated doctors in America. Dr. Trento's success with open heart surgeries and Dr. Kar's experience with non-invasive procedures is bringing the past practices into the future. I think they need agents or publicists like Hollywood actors to make the world know how many lives they are actually saving. My grandparents live with me and my grandfather was having heart failure. His cardiologist, who is exceptional as well, Dr. Bob Koblin, recognized that his mitral valve was leaking and recommended that he go see Dr. Kar for a possible mitral clip. We went to see him at Cedars and he was the most thorough doctor I've ever met and unlike most surgeons wanted to do everything he can to avoid doing the procedure. He came to the conclusion that with medication we can lower my grandfathers blood pressure, which would decrease the mitral valve leakage. He recommended my grandfather take a medication called Inspra (Eplerenone), which is helpful with heart failure. My grandfather's ejection fraction was only 20% at the time and since then has increased to an amazing 45%. His valve leakage is only mild now. He does not need the mitral valve clip anymore. I have learned a lot about cardiology through this experience but more importantly I have gained an incredible friend in Dr. Kar.


Joe Abelson says

on July 20th, 2010 at 4:04 pm
Adam, that is an exceptional story. Having written and read so much about heart valve surgical procedures, you must have found the experience fascinating and incredibly powerful.
Thanks for taking us along.
Joe


Karen Pomer says

on July 22nd, 2010 at 1:39 pm
Going to try to answer some of the questions above based solely on my experience of a family member with a loved one who has had a mitraclip procedure.
To Zafar: Dr. Raj Makkar, at Cedars Sinai Hospital is just one of the intreventionist cardiologists involved in a clinical trial for percutaneous aortic valve replacement.
To Meigs: My now 93 year-old mother had two mitraclips put-in by Dr Kar last October, she has never been prescribed coumadin and yes, you can read the initial clinical trial reports on-line, a few people the mitraclip was a stop-gap and they went on to have open-heart surgery.


MaryCatone says

on October 12th, 2010 at 6:08 pm
Hello-
My dad is contemplating open-heart surgery to repair his "leaky mitral valve". His surgery is scheduled for Wednesday, October 20, 2010 at Albany Medical Center Hospital in Albany, NY.
Recently, he found out about the "mitral valve clip repair". We are now trying to find out as many pros and cons about this as possible. It seems that this would be easier on his body, he has a few medical problems.
One of the problems we are having, though, is finding out the medical facilities and doctors who perform this procedure. Would you be able to e-mail me a list of the top-notch facilities and their physicians, so that I can pass it on to my dad and my mom.
Thank you so much for any and all help that you can give us,
Mary Catone


Deb Whife says

on October 22nd, 2010 at 1:28 pm
This procedure gives hope to those of us who dread the idea of open-heart surgery. Do you know if there are any doctors trialling it in the UK?


Sally Thornber says

on December 26th, 2010 at 12:57 pm
Hello,
My Dad has been approved for the Mitraclip and is scheduled for this procedure at UC Davis on January 5th. He is 81 years old and is just hanging on…We are praying that this surgery will benefit his failing health. We just learned that Blue Cross will not cover this procedure. He has Medicare but it is unlikely they will pick up all the costs. Do you have any suggestions as to which insurance companies he may be able to sign up with in the next week which have covered this expense……thanks for your prompt response – it could save a life.


Amit Virmani says

on December 27th, 2010 at 7:09 pm
I would like to know if this surgery can be performed for my 80yr old father in India, he is a potential candidate for mitraclip as doctors have ruled out open heart surgery. I would appreciate if any help can be extended to us.
Thanks,
Amit Virmani


Susan Quinn says

on April 18th, 2011 at 7:51 pm
My dad is 86 years old with moderate to severe mitral regurgitation (EF of 25-30%), recurrent congestive heart failure and pleural effusions. He is also a dialysis patient. Though he is 86, he is in full possession of his mental faculties and until 2 months ago was playing golf.
Would the fact that he is a dialysis patient preclude him from being a candidate for this surgery? Thanks.


Linda Sawyer says

on June 3rd, 2011 at 9:53 pm
Do you know the cost of the mitral clip procedure? My husband needs it or the big surgery to fix a mod to severe leak from a bacterial infection. Insurance won't cover cost for experimental they said. Thank you…


Karen Pomer says

on September 29th, 2011 at 7:30 am
Medicare paid for my mother's MitraClip procedure. It cost our family nothing. Wish everyone had medicare…


Kim Parker says

on December 23rd, 2011 at 3:52 pm
Has the mitraclip been approved by the FDA yet? We were told by a cardiothoracic surgeon that my mom isn't a candidate for the study but would be an ideal candidate for the surgery once it's approved by the FDA.


Gloria says

on July 2nd, 2012 at 7:01 pm
I have been told I need this surgery and had talked to two doctors about it. When they found out I have BCBS, I was told " it doesn't exist in my universe". If I was older and had medicare, it would already have been done. My mitral valve regurgitation is 4 plus.
Since I have been told, it is the best option for me, is it possible tp have it done ?


Elaine Morgan says

on July 31st, 2014 at 9:07 am
This procedure done by Dr. Kar & his amazing staff, saved my Mom's life! We're heading down today for her 2 year anniversary check up.


Damjan Simic says

on August 22nd, 2014 at 3:00 pm
Is this procedure possible in paravalvular leak in artificial mitral valve ?
Please answer to my e-mail


Lisa Marti says

on April 6th, 2015 at 10:03 am
Sitting in Houston Methodist awaiting this very life saving procedure for my mom. I am trying to determine which surgeons in Houston in particular, but also just in US perform this procedure and what there experience level is at this point? For someone who is struggling to stay alive and for it to only be available on the 1st and 3rd Mondays…..Surely there is a surgeon somewhere in Texas that is available?


Elaine Morgan says

on July 2nd, 2017 at 3:35 pm
Mom just had her 5 year checkup. She's gone from 12% function to 43%. Pretty amazing for an 82 year old. Forever thankful to Dr. Kar & staff.

Adam's Newest Blogs
Adam's Newest Posts