Tech Update: SAPIEN Valve Replacement Recommended For "High Risk" Aortic Stenosis Patients
By Adam Pick on June 16, 2012
The possibility of aortic valve replacement without an incision to the sternum or ribs of the patient has become a reality for select patient categories. Together, our community has followed the evolution of catheter-based technologies including the SAPIEN heart valve replacement by Edwards Lifesciences which received FDA approval for "inoperable" patients last year. Needless to say, patient interest specific to this and other transcatheter devices, including the CoreValve and the MitraClip, is significant.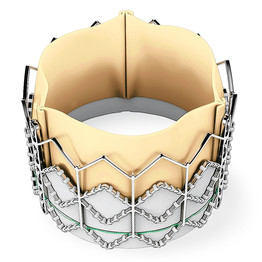 SAPIEN Heart Valve Replacement (Edwards Lifesciences)
For that reason, I wanted to make sure you were aware of a recent announcement in which an FDA panel recommended the SAPIEN heart valve replacement for wider use among "high-risk" aortic stenosis patients. So you know, a "high risk" patient is healthy enough to have surgery but faces serious health risks because of age (often greater than 80 years old) or illnesses (like diabetes).
The 12 person committee, which met for 8 hours, voted 10-2 that the SAPIEN was safe, 12-0 that it is effective, and 11-0 that the benefits outweigh its risks. According to reports, the FDA panel is not required to follow this panel's recommendation. However, it often does. A formal decision by the FDA is expected later in the year for this "high risk" indication.
According to the Los Angeles Times, an interesting data point recently provided from the study was that 24 percent of patients implanted with the SAPIEN heart valve were still alive after one year — compared to 27 percent who had undergone traditional, open heart surgery.
While encouraging, the panel addressed complications specific to the SAPIEN:
Patients who received the SAPIEN had a higher risk of stroke after surgery. According to The Wall Street Journal, after one year implant, SAPIEN recipients had a 5.1% stroke rate while open heart surgery patients had a 2.4% stroke rate.
The panel also addressed a gender issue specific to the SAPIEN –  the mortality rate was 3 percent higher for men than women.
As with most advances – medical or otherwise – I think we can all agree that very few technologies are "perfect" right from the start. Following a recent conversation with Dr. Lars Svensson, I learned that Edwards Lifesciences is taking several steps to enhance the performance of the SAPIEN and reduce its complications. To this point, Dr. Craig Smith, principal investigator of the SAPIEN clinical trial noted, "Procedures all have a common objective… Frequency of complications… is relatively well-defined and must be taken seriously and hopefully will improve over time."
Going forward, I will do my best to keep you updated on the latest news and studies specific to heart valve replacement and repair devices.
Keep on tickin!
Adam

william paltadakis says

on June 16th, 2012 at 4:49 pm
My condition moderate aortic stenosis,and I like to know more about the SAPIEN replacement valve


Donald Henry says

on June 16th, 2012 at 5:15 pm
Can the Sapien procedure be done on a re-do patient, who is in their 70's ?

Adam's Newest Blogs
Adam's Newest Posts