Transcatheter Heart Valve Technologies Continue To Make Headlines
By Adam Pick on December 20, 2011
Like many of you, I'm fascinated by the possibilities of medical technology.
Specific to heart valve treatment, I continue to talk with many patients, caregivers, physicians and industry experts about catheter-based technologies for heart valve repair and heart valve replacement. Recently, the frequency of those conversations has increased. So, to make sure you are aware of the latest news about transcatheter valve devices, here are some interesting updates.
St. Jude Medical announced the first implant of the Portico aortic valve implant via catheter in its European clinical trial. This trial will support St. Jude's effort to win CE Mark approval for commercial use in Europe. The trial is specifically designed for patients with severe aortic stenosis (narrow heart valve) who are considered too high risk for traditional open heart valve replacement through the sternum or ribs.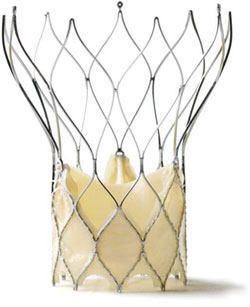 Portico Aortic Valve Replacement (St. Jude Medical)
While most of the attention specific to catheter-based, heart valve replacement surgery has focused on the aortic valve, there was an interesting report from the University of Pennsylvania about mitral valve replacement using a new "valve in-ring" technology. Research led by Dr. Takashi Shuto and presented in the Journal of the American College of Cardiology suggests that it should be possible to replace the mitral valve percutaneously (using a catheter), as long as it is secured to an annuloplasty valve ring or perhaps a bioprosthetic valve already in place.
According to a report by MarketWatch.com, Edwards Lifesciences is working on two new transcatheter valve platforms to extend its product line — the Edwards SAPIEN 3 valve and the Edwards CENTERA valve. Both platforms are designed to facilitate multiple interventional and surgical delivery approaches. European clinical trials for both of the new products expected to commence in 2012. If you were unaware, Edwards Lifesciences recently received the first FDA approval for a transcatheter aortic valve implant (TAVI). The valve, known as the SAPIEN, is now available for inoperable patients.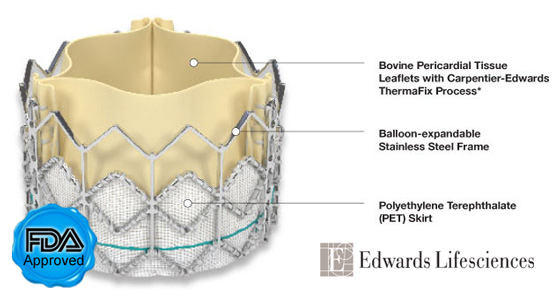 SAPIEN Aortic Valve Replacement (Edwards Lifesciences)
I hope this helped you learn more about the latest transcatheter technologies impacting heart valve treatment. As I continue to learn more, I will make sure to relay that information here in this blog.
Keep on tickin!
Adam

Don Hull says

on December 20th, 2011 at 8:15 pm
Thank you, Adam. During my post-surgery consultation with my surgeon over two years ago, he told me about the wonderful transcatheter devices that are on the horizon. I presently have a Bovine tissue mitral valve made by Edwards. I look forward to outliving my valve and getting "the latest technology" when I'm about 76!! And I look forward to reading your progress reports like this one that gives us the most up-to-date information. Thank you again, and keep on ticking.

Adam's Newest Blogs
Adam's Newest Posts