"What Is An Annuloplasty Ring?" Asks Regina
By Adam Pick on December 15, 2009
I just received an interesting question from Regina about heart valve repair surgery. Her question focuses on the use of annuloplasty rings to treat leaky heart valves.
Regina writes, "Hi Adam – Although I'm 58, I was recently diagnosed with mitral valve regurgitation. My cardiologist thinks I may need surgery in the next year. The disease is categorized as moderate-to-severe. The cardiologist mentioned the potential use of an annuloplasty ring but did not explain why I might need one. Can you help me better understand the role of an annuloplasty ring? Thanks, Regina"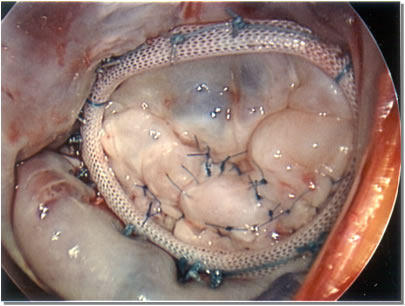 As we have learned together, there are many different valvular disorders which negatively impact the flow of blood through the heart and body. Specific to Regina's situation, her mitral valve leaflets are not sealing properly. Therefore, blood is flowing backward, also known as regurgitation.
Ultimately, this form of valvular disease forces the heart to work "overtime" which can lead to an enlarged heart and, in a worse case scenario, heart failure. During some types of mitral valve repair, an annuloplasty ring is used to support the mitral annulus and maintain an appropriate diameter of the heart valve opening.
"Why?" you may be wondering.
Well… It makes sense that if the diameter of the valve opening is larger than the extent to which the valve leaflets close, this can be a serious risk to the patient due to heart valve leakage. The picture above shows an actual annuloplasty ring implanted during a heart valve repair.
As you would imagine, annuloplasty rings – like heart valve replacement devices – come in different sizes to best match the patient's valve size. Several different companies manufacture annuloplasty rings including Edwards Lifesciences and Medtronic.
I hope this helps Regina (and perhaps you) learn a little more about annuloplasty rings.
Keep on tickin!
Adam
Adam's Newest Blogs
Adam's Newest Posts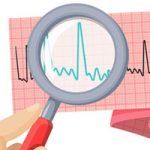 "How Do I Know When My AFib Is Gone After Heart Surgery?" asks Linda Learn More.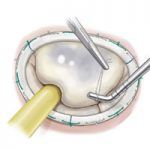 New Findings: Mitral Valve Repair Restores Normal Life Expectancy! Learn More.