"What Is An Annuloplasty Ring?" Asks Regina
By Adam Pick on December 15, 2009
I just received an interesting question from Regina about heart valve repair surgery. Her question focuses on the use of annuloplasty rings to treat leaky heart valves.
Regina writes, "Hi Adam – Although I'm 58, I was recently diagnosed with mitral valve regurgitation. My cardiologist thinks I may need surgery in the next year. The disease is categorized as moderate-to-severe. The cardiologist mentioned the potential use of an annuloplasty ring but did not explain why I might need one. Can you help me better understand the role of an annuloplasty ring? Thanks, Regina"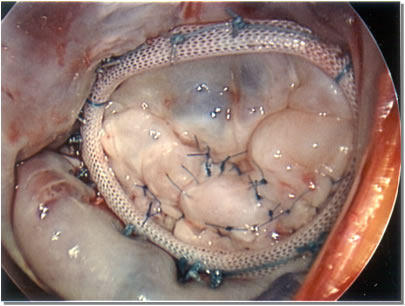 As we have learned together, there are many different valvular disorders which negatively impact the flow of blood through the heart and body. Specific to Regina's situation, her mitral valve leaflets are not sealing properly. Therefore, blood is flowing backward, also known as regurgitation.
Ultimately, this form of valvular disease forces the heart to work "overtime" which can lead to an enlarged heart and, in a worse case scenario, heart failure. During some types of mitral valve repair, an annuloplasty ring is used to support the mitral annulus and maintain an appropriate diameter of the heart valve opening.
"Why?" you may be wondering.
Well… It makes sense that if the diameter of the valve opening is larger than the extent to which the valve leaflets close, this can be a serious risk to the patient due to heart valve leakage. The picture above shows an actual annuloplasty ring implanted during a heart valve repair.
As you would imagine, annuloplasty rings – like heart valve replacement devices – come in different sizes to best match the patient's valve size. Several different companies manufacture annuloplasty rings including Edwards Lifesciences and Medtronic.
I hope this helps Regina (and perhaps you) learn a little more about annuloplasty rings.
Keep on tickin!
Adam

Dan says

on December 15th, 2009 at 2:31 pm
Please also note St Jude Medical also Manufactures Annuloplasty Rings — I have one and am very happy with it.


Helen says

on December 15th, 2009 at 2:39 pm
I just had this done. Mine was the largest they had in stock at Duke in Durham, NC – 38MM!
I feel really good and have no problems with it. The only meds I am on is 81mg of aspirin. I am happy with the outcome. Go for it!


wendy says

on December 15th, 2009 at 5:41 pm
I am also 58 and I had my mitral valve repaired with annuloplasty ring three weeks ago at St. Joseph's Hospital in Syracuse, NY through a right-side mini-thoracotomy (just under the breast). I had a few tough days right after the surgery, but not nearly as bad as I expected. I had the most anxiety about choosing a surgeon. Once I made a decision about who and where to have it done, the anxiety eased up and the process took over. It was about two months between diagnosis of severe regurgitation and the surgery, and I am glad I didn't put it off.
P.S. You'll never know that ring is in there!!!!


Eric Desbonnet says

on December 17th, 2009 at 11:08 pm
I had one 32 mm put in 10/21/09, so far no far problems. I feel better than I have in a long time.


Tony Baws says

on May 6th, 2010 at 7:56 am
I just had an MRI scan on a ruptured thigh muscle cancelled because I could not provide exact details of my annuplasty ring from my mitral repair surgery carried out in 2004. The MRI people will need to pull up my hospital records and re-schedule my appointment ( I hope!). It is important to note the exact model and number of your annuplasty ring, so that you can provide this information at a letar date if required. Apparently there is some slight risk of bleeding with some annuplasty rings if you undergol an MRI scan – I never knew this until today.


lisa hitchens says

on June 8th, 2011 at 10:30 am
hi ive just had this done 6 weeks ago at bristol royal infirmary and its great i had heart condition since i was new born and have had many operations but this has really imporved my life i no longer get breathless after 5 mins of normal walking on flat id advise pepole to have this over mechanical any day


nicole says

on November 22nd, 2011 at 1:07 am
i got my ring at the age 33 am 36 now and am very happy with it 28mm thank u DR TIMOTHY LATHAM of royal columbian hsp .


sara girma says

on November 29th, 2011 at 6:14 am
I am 25 and i had annuloplasty ring surgery to the mitral valve.I also have irregular heart bit and heart failure so is the surgery always sucesses full does it need repair or once you done the surgery it is finshed you are heal i need explanation please help me
Sara


dan turner says

on April 20th, 2012 at 6:48 am
greetings…… I am a 75 yr old man with a history of heart murmur and irregular heart beats, including atrial fibrillations.
My operation took place this last January (2012) by Dr Dan Drake of Traverse City, MI. He is the area expert on valve repairs. I had two valves repaired (tricuspid and mitral) and two annular rings implanted. Three months later, I feel like new with only aspirin for drugs. (Coumadin stopped last week). Having been a Naval Aviator with a family and much travel, my lifestyle was active. I hope to regain more activities gradually.


Teo Ortiz says

on May 16th, 2012 at 6:03 pm
Hey Adam What's up back in Oct 2006 I had a mitro valve annuloplasty ring put in me,no problems I'm good,The thing is I always wanted a cd copy of MY operation and for some reason I aways get the run around can you help me…thanks..


Trent V says

on August 8th, 2012 at 4:44 pm
I had my surgery on 6-18 and feel great. Had my follow up echo last week, and everything looks great. Worst part is the waiting and the tape on the IV's.
Also interesting to see the ring on an x-ray.
It will not be near as bad as your imagination makes it.
Trent V


Elwyn Freeman says

on September 18th, 2012 at 9:08 pm
I had a heart attack, one week later I had two stents implanted, ten days later I had my mitral valve replaced with a cow valve. Two days later I had an embolism shower and had my left foot amputated because the foot did not clear up. All this was 5 years ago and I am very tired of being tired all the time. The doctors have tweeked my meds and I do have better days but then one day I wake up and can't do anything but sleep all day. Does it ever get good again?


Charlie says

on September 23rd, 2012 at 10:02 pm
The date is set for my surgery on Oct 2 for a mitral valve annuloplasty procedure.
Dr Will Ryan in Dallas is surgeon and he plans a port access.
Procedure will be at the Heart Institute Baylor in Plano, Texas.
I'm anxious but ready.
My symptoms are very mild but shortness of breath is more noticeable since diagnosis.
Any advise or thoughts would be appreciated….
Charlie


Jessica says

on July 10th, 2013 at 6:34 am
I had mitral valve repaired 3 yrs ago at the age of 29 d/t bacterial endocarditis from a dental procedure. The surgeon explained repair as sewed it like a purse string then pulled it tight to close it. I got my card with all the info on the annuloplasty ring inserted so I assumed that's how the valve was repaired but my FMD told my mom just yesterday that the surgeon used a part of my body to repair the valve. 1. Any ideas what part of my body was used & how (I had no unexplained sites)? 2. What's the longest someone has lived with a ring? Any studies done that indicated the ring will last forever under normal heart conditions?


LynnH says

on December 27th, 2013 at 4:41 pm
Hi, how long was the recovery time for ring surgery on heart valve?


dan turner says

on December 27th, 2013 at 9:01 pm
As a follow up to my April 2012 comment, I can say that recovery time to valve repair and ring insertions is slow but steady and sure. My surgery was done in January 2012, and I'm approaching my two year anniversary. I can walk for miles and climb stairs now with little exertion. My irregular heartbeat has disappeared and I'm back to all normal activities, using common sense avoiding overwork. As I approach my 77th birthday, I think I feel as a normal old man should feel. I highly recommend the mitral/bicuspid valve repair procedure with annuloplasty rings insertions.


Teo Ortiz says

on December 30th, 2013 at 4:29 pm
Hey Adam I'm a 59 year old from east harlem I had my surgery done way back in 06 at first I was very skepticle after Dr Adams from mt sinai hospital assured me that everything would be alright..the doc was right on, now I run, ride my bike at least 10 miles a day and play my drums no problems man I love this guy thanks doc


William Roberts says

on June 22nd, 2014 at 6:35 pm
Had an Edwards 30 mm ring implanted by Dr. V. Kantamneni at St. Mary's Hospital in Madison Wisconsin on 6th December 2012, as a result of bacterial infection caused by bad teeth. Cleared A-OK one year later. Never felt better than I do at 71 years of age ! Now looking forward to my next 71 years !!! Posted June 2014.


Peg Knapp Fisher says

on February 13th, 2015 at 11:54 am
HI, I'm Peggy and I had open heart surgery in 2002 to repair the mitral and tricuspid valves due to regurgitation. They also close and ASD. They placed an anulo ring in both valves.
Recently I had an Atrial ablation done to help with my Atrial flutter and they noticed that the tricuspid ring was partially loose. I had no other symptoms so we have not taken further action.
But recently, I have been having some shortness of breath and fluid retention in my stomach. I have to for an echo next week. Does anyone know if they have to do surgery, will it have to be open-heart again?
Thanks
(I was 40 when I had my first surgery, I'm 52 now)


Dwight Blease says

on April 19th, 2015 at 11:54 am
I have mitral stenosis 1 year following Mitral valve repair for MP with regurgitation with Medtronic 35mm annuloplasty ring. Is it possible to replace the ring with a larger annulo ring or annulo band to eliminate the stenosis?

Adam's Newest Blogs
Adam's Newest Posts