Dr. Michael Baity Loses 20 Pounds Prior To Aortic Valve Replacement By Dr. McCurry
By Adam Pick on December 23, 2009
In the past, we've discussed how patients, like Sylvia Woolworth, got physically and mentally fit prior to heart valve surgery. Specific to this topic, I recently opened an email from Dr. Michael Baity, a retired dentist from Michigan. Dr. Baity just had aortic valve replacement surgery at the Cleveland Clinic. Here is what he wrote to me:
Hi Adam – I live about 450 miles north of Cleveland, way up by the Mackinaw Bridge (Michigan).  I am retired but was a dental specialist (Periodontics). I also taught graduate Periodontics at the University of Michigan, part time, for fifteen years, so I have had a lot of academic medicine as well as clinical practice.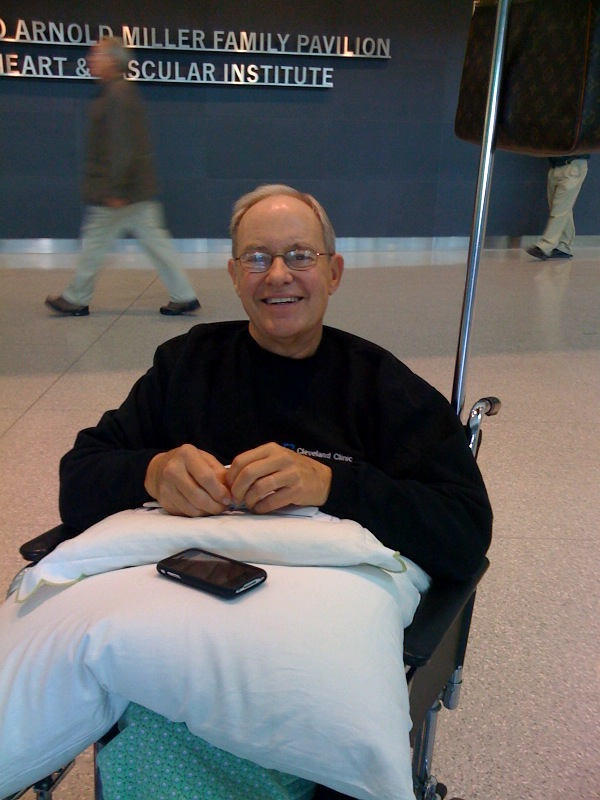 Dr. Michael Baity – Heart Valve Surgery Patient
Specific to heart surgery, distance from my home was not a consideration… experience and safety were.
My cardiologist, Dr. William Stewart, who has published over 180 articles on valvular heart disease, told me I had moderate to severe aortic stenosis and calcification of the aortic valve after an echocardiogram. Although the valve was diseased, Dr. Stewart suggested that surgery was not an immediate concern. Instead, he suggested that we monitor the stenosis with regular echocardiograms.
After my examination, Dr. Stewart put his arm on my shoulder and said, "Here is what 'we' are going to do… I want you to read The Miami Mediterranean Diet written by Michael Ozner. Eat minimal saturated fat, no fast food, no deep fried food, no butter… As a matter of fact, just don't eat anything shiny."
Then, Doctor Stewart asked about my exercise. I proudly told him I walk my dog three miles, five days a week. Doctor Stewart was not impressed. He suggested more aerobic activity and upper body conditioning. The cardiologist told me he wanted to see me in a year. Dr. Stewart also suggested that I would lose a significant amount of weight – which would reduce my surgical risk.
One year later, I lost 20 pounds and was in the best physical shape ever.  It was the best thing I have ever done for myself.
Then, came the surgery. The surgery was mostly a breeze – except for that infamous second day (e.g. nausea, etc.).  I was walking on day three and discharged the morning of the fifth day. If anything bothered me after surgery it was muscle spasms in my shoulders. I was tired the first week but now… I have more energy than before.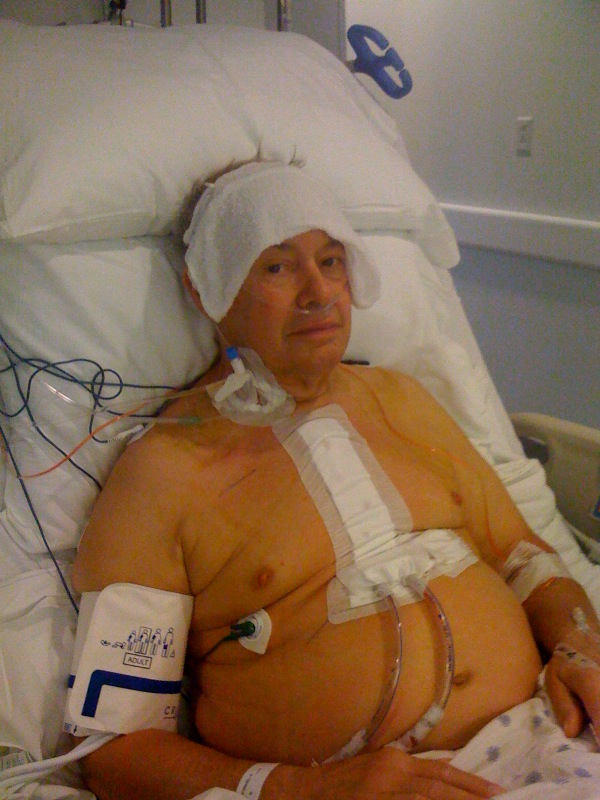 Dr. Baity – One Day After Surgery
My surgeon was Dr. Kenneth McCurry. Prior to coming to the Cleveland Clinic, Doctor McCurry was head of pediatric and adult heart lung transplants at The University of Pittsburgh for ten years.
While discussing the type of incision to be used… Dr. McCurry he asked me if the post-operative scar would bother me. I told him to make whatever incision he preferred. I wanted Dr. McCurry to have the best access to my heart and perform the surgery as well as possible.
Dr. McCurry chose a median sternotomy with a 6 and 1/2 inch incision. Now, I am just three weeks post-op and the incision looks really good now. I was in the surgery area for nearly five hours. My calcified aortic valve was replaced with an Edwards valve. Doctor McCurry exudes a quiet confidence. I was very impressed.
I hope my comments have been useful!
Thanks for the great efforts you are making on behalf of valve replacement patients.
Good luck,
Dr. Michael Baity

Bonnie Neufeld says

on December 23rd, 2009 at 2:27 pm
Hi Adam,
I had and aortic valve replacement (bovine) and a pacemaker and at the 3 month point, I started to experience a terrible ringing in my head, do you have any info on this connected with our surgery? I sure hope someone has some advice for me, thanks and otherwise my recovery from surgery has been fantastic


Paul says

on December 23rd, 2009 at 4:15 pm
I am 52 years old and have moderate-severe Arotic Stenosis. What type of exercise do you recommend.


Michael Baity says

on December 27th, 2009 at 9:11 pm
FYI, in the second picture of me where I look totally bloated….I was. I gained 15 pounds after the surgery while they pumped me with fluid. Most of that was gone within a week after the surgery.
To Paul,
If you can manage I would hire a personal trainer who is qualified to manage your situation.  (Most likely Univesity trained) You may not need to keep that  trainer much over a month or two (once a week) to work out a program.  It will be the best money you have ever spent.
Michael Baity


Candace Lamon says

on February 27th, 2011 at 8:21 am
Hi Dr. Baity,
First, I'm so glad to hear your surgery went so well and your on a healthly program. Years ago I used to babysit for megan when your family would come up to Harbour Springs. I remember what a great father you were to the girls. I often wonder how Megan is, she was such a sweet girl and a very smart individual! I hope everyone is doing great and I'm glad to hear you're health is what seems to be better then ever!
Best,
Candace Lamon – Annapolis Maryland


kay melet says

on May 13th, 2013 at 3:48 pm
Michael…We are thrilled that you finally had the heart valve surgery and that you are doing so well. We hope your recovery continues to go well for you. Our best wishes always. Fondly, Kay and Michael Melet

Adam's Newest Blogs
Adam's Newest Posts