At 73, Sylvia Woolworth Was Physically And Mentally Fit For Heart Valve Surgery
By Adam Pick on May 27, 2009
Here is a fantastic patient success story from 73-year old, Sylvia Woolworth, of New Jersey. As you can read below, Sylvia's preparation for heart valve surgery was… extra-ordinary!
Hi Adam,
Five weeks ago, I had aortic valve replacement surgery. I was diagnosed with severe aortic stenosis although I had no symptoms except a heart murmur.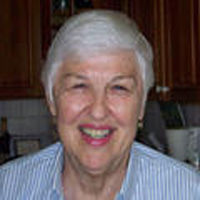 Sylvia Woolworth – Aortic Valve Surgery Patient
Thankfully, before my procedure, I read your book which greatly helped me prepare for surgery. My doctor, John M. Brown III, Chief Thoracic Surgeon at Morristown Memorial Hospital in Morristown, New Jersey, also prepared me during our face-to-face appointments.
I wanted to be in the best physical and mental condition for the operation. So, during the past twelve months, I lost 35 pounds. I went to the YMCA four-to-five days a week and I joined Weight Watchers to learn better eating habits.
At the YMCA, I entered both exercise and swimming programs. After six months, I discussed my reason for joining these classes and everyone was extremely supportive. When I said out loud, "I'm preparing for heart surgery!", it gave me confidence that I was doing everything possible for a successful result.
Also, I wanted to address Marianna's question about aortic valve replacement. Prior to surgery, I had a cardiac catheterization to find out if there were any blockages in my arteries. The catheterization is an outpatient procedure and you are awake – although, I was given a Benadryl and Valium to calm me.
Everything was explained by the nurses. The only sensation I felt during the catheterization was warmth. My cardiologist was talked to me during the procedure. He told me exactly what what he was doing and what to expect. My arteries were in good shape.
My next appointment was with Dr. Brown, the surgeon. Doctor Brown informed me that he could do aortic valve replacement through a minimally invasive surgery (also known as a mini-sternotomy). I have a four-inch scar from the middle of my breast up.
Dr. Brown also informed me that if anything happened to my valve ten years down the road, the procedure to replace the valve might be done through the groin.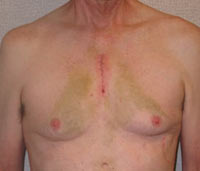 Picture of Patient After Mini-Sternotomy
As I enter my fifth week of heart surgery recovery, I am cooking and doing some gardening, but no lifting yet. After surgery I was given a heart pillow by Dr. Brown which I found most useful. I use it for coughing, cushioning my seat belt and I hug it every night in bed.
Adam… Thanks for all you do! Your heart valve surgery book was most helpful!
Sylvia Woolworth
73 years young
Adam's Newest Blogs
Adam's Newest Posts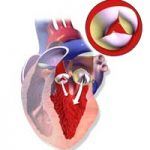 Surgeon Q&A: What Should Patients Know About Aortic Regurgitation? Learn More.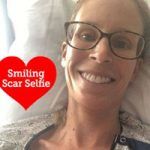 Sara Educates & Inspires 38,443 People About Heart Valve Surgery! Learn More.