Jack LaLanne, Fitness Guru, Recovering From Heart Valve Surgery
By Adam Pick on December 19, 2009
In addition to Robin Williams, Barbara Bush, Elizabeth Taylor, Ed Koch and many other public figures who had heart valve surgery in 2009…
Fitness pioneer Jack LaLanne is now recovering from heart valve surgery at his home in Morro Bay, California. LaLanne's publicist, Ariel Hankin, said earlier this week that the 95-year-old underwent the procedure at a Los Angeles hospital on December 8th.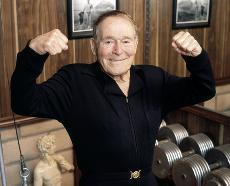 Jack LaLanne – Heart Valve Surgery Patient
Hankin says that before surgery LaLanne told his family that "dying would wreck his image". The weightlifting guru is doing fine and expected to make a full recovery.
Prior to heart valve surgery, Jack LaLanne became famous for his physique and for outrageous stunts, such as towing boats while swimming across Long Beach Harbor handcuffed. Jack LaLanne became a household name by hosting an exercise show on television from 1951 to 1985.
I have yet to learn the details of Jack LaLanne's heart valve surgery. That said, I do not know if LaLanne's procedure was a valve repair or valve replacement. And, if it was a valve replacement, I do not know if LaLanne opted for a pig valve or a cow valve. Who knows, maybe LaLanne selected a mechanical valve considering his incredibly healthy lifestyle and much-anticipated centenarian status.
Keep on tickin!
Adam

Robin Hirsch says

on December 19th, 2009 at 2:47 pm
In my life as a cameraman I had the opportunity to work with Jack LaLanne. He is a remarkable man and one of the early pioneers of healthy living. I was there when he towed the boats in Long Beach. It was to celebrate his 70th birthday. I believe it was 10 boats, with 70 people in them and yes he was handcuffed. Just being around the guy for a day was inspiring.


Cindy says

on December 19th, 2009 at 5:51 pm
I live just across the small bay (Morro Bay) & can tell you that Jack was out there swimming in that frigid water on a daily basis for years! We are lucky to have a Monday night segment on our local KSBY news called "Living Longer" by Jack & his wonderful wife Elaine. They are a kick to watch!! He often makes her work out while he gives the orders!! It is too cute. Other times they do a great recipe together on camera in their kitchen. I remember my Mom watching him in the 60's after having my sister. He's an amazing guy with a GREAT sense of humor!!
I wish him a speedy recovery!!! You can bet he'll be working out & swimming as soon as the Doctor gives the "go ahead" !!


William Long says

on March 17th, 2010 at 12:50 am
I was in Morro Bay a few days ago, inquiring of the locals whether Jack LaLanne has been seen lately. One person I talked to said he frequently used to drive his convertible downtown, but that she hadn't seen him in a while. Has he been in public at all since the heart valve surgery? Anyone know his condition?


gilbert says

on October 9th, 2010 at 9:10 am
jack is very inspiring. there is not doubt about it, but what did he do wrong that his heart valve got sick. if it was not for the advanced medical tecnology he would be dead right now. he did something wrong. maybe genetically he was prone to this condition or maybe heavy weight lifting increasing systolic blood pressure overtime affected his aortic valve.
thanks