Kelly's "Watchful Waiting" Ends With A Medtronic Pig Valve, Thanks To Dr. Miller
By Adam Pick on November 28, 2009
Kelly just sent me this very interesting story which touches on several critical factors specific to heart valve surgery from the patient perspective. That said, I thought you might want to learn about Kelly and her surgeon, Dr. Kevin Miller. Here is what she wrote to me: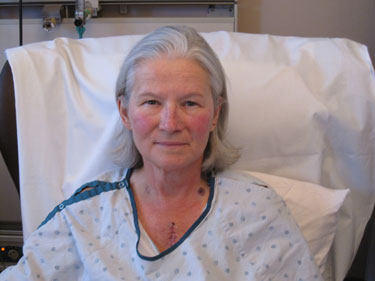 Kelly Gaul – Heart Valve Replacement Patient
Hi Adam,
It's been about 7 or 8 months since I first found your web site, ordered your book and touched base with you.  I am a 56-year old woman who leads a very active lifestyle – hiking, backpacking, and cross-country skiing.  I knew I had a heart murmur since I was 25 years old, but didn't realize it was a bicuspid valve accompanied by aortic stenosis until about 7 years ago (mild-moderate at the time).
Like most of us, I followed the valve with regular echocardiograms and visits to the cardiologist. Last March, despite the absence of any symptoms, I learned my valve disease had progressed to "severe" status.  That is when it started to hit me I would need to have surgery on the valve at some point. But still, I did not believe that time had come.
However, I did consult with Dr. Kevin Miller in Denver. Doctor Miller is a wonderful man and a gifted surgeon. Dr. Miller explained EVERYTHING about the surgery to me.
Given my lack of symptoms and/or restrictions, I decided to go the "Watchful Waiting" route for another 6 months.  In September, my valve was only slightly worse (about .8 with a mean pressure aortic valve gradient of 44), but I learned I had an aortic aneurysm measuring 4.5 centimeters.
This changed everything as my cardiologist did not want me doing most of the things I love to do anymore. (My cardiologist was horrified I'd been backpacking at 11,500 feet with a 40 pound pack over Labor Day). I consulted again with Dr. Miller. Together, we decided to go ahead with the surgery on November 19, 2009.  I had the surgery at St. Joseph's Hospital in Denver. My research showed that St. Joseph's Hospital had the best outcomes in the area. Doctor Miller replaced my aortic valve and root with a Medtronic Freestyle Aortic Root Heart Valve (Porcine Heart Valve Replacement) using a dacron graft for an extension.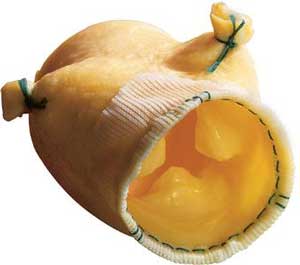 Medtronic Freestyle Tissue Valve
The entire surgery took about 3.5 hours. Doctor Miller is a very efficient surgeon – just what you want when you're on the heart-lung machine for any length of time. I spent one night in ICU, transferred to the CV Telemetry floor, and went home on Post-op Day 4 (surgery being day 0).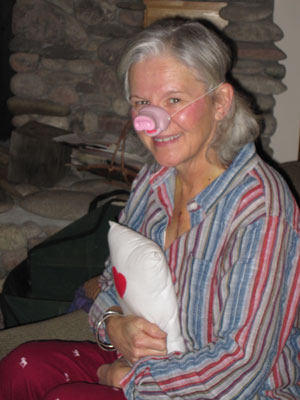 After Surgery, Kelly With Her New Pig Valve (And Nose)
I believe I received the very best of care from start to finish. I am a psychiatric consultation liaison nurse who has spent most of my career working in hospitals integrating mental health concepts into acute care. That said, I know good nursing care when I see  it. I have had no real problems aside from the kind of things we all  experience, although I am not unaware of the challenges ahead.
As you say so well… Everyday is a gift.
I want you to know how helpful your heart valve surgery book was to me. This website – with your postings and videos, the stories and comments shared by others before and after surgery – were also incredibly helpful to me in the difficult months leading up to surgery. Thanks to you, I know we are all in this together. That makes a big difference.
Kelly Gaul
Conifer, Colorado

Duane Brown says

on November 28th, 2009 at 1:45 pm
"a Medtronic Freestyle Aortic Root Heart Valve (Porcine) using a dacron graft for an extension."
is the dacron graft extension a usual thing with this valve or an addition for some reason.


Sherry Stevens says

on November 28th, 2009 at 2:42 pm
Kelly, Thank you for your story. I am a 59 year old, healthy, active grandmother of eight, breast cancer survior, who also has a bicuspid stenotic aortic valve. My murmur was not found until about 4 years ago and it was then at the mild/moderate stage as well. Through reading Adam's book and the information provided in this blog, I have been able to do the research and physician "searching" so I am confident that when my "turn" comes, I am in good hands. My numbers are changing slightly and though it is not time yet I feel I will be as prepared as possible for what must come and the decisions to be made. Thanks to all of you that have opened your lives and experiences to the rest of us. I wish you good health and a speedy recovery. Those trails are just waiting for you !!


Pat G. says

on November 28th, 2009 at 3:05 pm
Kelly – being so young what made you go for a pig valve rather than a mechanical one. I am 53 have a bicuspid aortic vale with mild stenosis and am at this time. I know I will have to have my valve replaced sometime in the next five years. I appreciate any insight you have as to your choice.
My cardiologist already has told me he would recommend a porcine valve as well.


Richyne Meyer says

on November 28th, 2009 at 3:57 pm
I am 8 weeks out from a aortic dissestion surgery. I am just wondering how many others have had the surgery and what the prognosis is for this. I may still need a valve replacement. Right now we are just waiting to see if it mends from some stitches they placed during the surgery.


Steve McDonald says

on November 28th, 2009 at 5:33 pm
HI KELLY!!!!!!
WELL, WE HAVE SOMETHIG IN COMMON. I HAD MY AVR AND ONE BY PASS DONE ON THE 19TH AT THE MAYO CLINIC. LIKE YOUR DOCTOR, MY DR. SURI WAS INCREDIBLE, IN THAT FROM THE TIME I HIT THE OR TO ICU WAS 3 HRS. MY WIFE COULDN'T BELIEVE IT. LIKE YOU I AM VERY ACTIVE AND HAD NO SYMPTOMS OTHER THAN THE HEART MURMUR. I ALSO READ ADAMS BOOK THE NIGHT BEFORE JUST TO RELAX, BUT WAS READY FOR THE SURGERY. INTERESTING YOU WENT WITH THE PIG VALVE. MY DOC AND I DISCUSSED IT IN LENGTH AND THE IDEA OF GETTING CUT AGAIN IN 10 TO 15 YEARS WASN'T APPEALING, I AM 56. WALKED 20 BLOCKS YESTERDAY AND 3 MILES ON THE BIKE , 10 DAYS POST OP. OTHER THAN THE SHOULDER BLADES ACHING A BIT I FEEL GREAT. THE HARDEST PART IS GOING TO TRY AND RELAX AND LET THE STURNUM HEAL. I WISH YOU ALL THE BEST, YOU MADE IT TO THE OTHER SIDE, LIFE IS GOOD.
P.S. I GOT THE CARBO MEDICS MECHANICAL VALVE. NO TICKING AND GOOD FOR LIFE.


Kelly Gaul says

on November 29th, 2009 at 2:12 pm
A couple of you have asked about my reasons for choosing a tissue vs mechanical valve at 56 years old. Simply put, I do not want to take anticoagulants for the rest of my life. It is not something I would be comfortable with. And, if I need another valve somewhere down the road, I believe, in consultation with many whose opinion I greatly respect, the science (moving ahead so fast it's unbelievable) will allow me to have one popped in percutaneously. These are the hard decisions we all have to make and, most importantly, should be consistent with our own biography. -kelly gaul


Nancy Welch says

on November 29th, 2009 at 3:48 pm
Dear Kelly,
I'm 43, a hiker, rock climber and cross country skier. In May I had AVR and the replacement of my ascending aorta, my aortic arch and root because an aneurysm. I chose a bovine valve for very similar reasons. I spend too much time hanging off cliffs and hiking in the woods alone to feel comfortable on blood thinners. It was a hard choice but ultimately the right one for me.Nancy


Rebecca says

on November 29th, 2009 at 4:49 pm
Kelly,
I am glad that you addressed the valve decision you made…I am 35 years old, and had AVR on Oct 14. I also chose a bovine tissue valve and I am glad I did. I did not want to be on anticoagulants for 40-50 years. Ultimately it is a personal decision unless your health dictates which valve you need to have, living with my decision day to day was something I had to be comfortable with and I am!


Joe says

on November 29th, 2009 at 5:30 pm
I'm right there with you Kelly! I'm a 56 year old guy and had an AVR last Dec. 29th at Cleveland Clinic and I chose the tissue valve. Mine is actually comprised of bovine leaflets and porcine around the rest of the frame. It's considered experimental since it's a slight alteration, due to the porcine addition, of a tried and true St. Jude valve.
Like you, I didn't want to spend the rest of my life dealing with bloodthinners. Not to mention the fact that I honestly didn't know if I could lay in bed at night and listen to a mechanical valve flipping back and forth. At any rate, if and when it needs replaced, I'm counting on technology to have advanced enough to make things even easier the next time. I'm willing to take that risk as long as I can keep off Coumadin.
Best of luck with your continued recovery!
Joe


Don Henry says

on November 29th, 2009 at 7:05 pm
To Steve:
Can you explain what a Carbo Medics's Mechanical is ? I had the Carpentier Edwards Bovne Tissue valve in Feb 2000 , when I was 55 . I am now 65 and ready for another AVR. Big decision. Which valve do I get this time. Don't want 3 surgeries.


Randy Heimerl says

on November 29th, 2009 at 7:08 pm
The decision as to what type of replacement valve you want is a tough one. As far as I am concerned, the choice an individual makes is the right one. I am 53 and very active also. I work assembling cranes for a living and hike. bike, play tennis and racquetball at a high level. I chose the ON-X mechanical valve and I am currently on Plavix.It has been 6 months now with no problems.


Don Henry says

on November 30th, 2009 at 3:04 pm
To Randy,
Appreciate reading your comment. Did your surgeon tell you this valve would last your lifetime? Interesting to hear you are taking Plavix and also very good news you are experiencing no problems. I have read about the ON-X mechanical valve and will conduct more research. Do you follow the same criteria as if you were on coumadin?
Blood tests frequently? I have done really well for 10 years with the Bovine Tissue, but I only want to do this one more time; hence why I'm leaning toward the mechanical and the ON-X sounds like a good choice. Thanks
Don


Lucy Grubbs says

on November 30th, 2009 at 4:01 pm
I too chose the bovine valve! my surgery was nov 16th! i am a 45 year old female who had a murmur since birth, and apparently i showed up w/severe stenosis and now hfealth issues so they said, what are you waiting for? The thought of blood thinners all my life was not appealing and after researching and discussing w/many nedical professionals in the area i chose bovine. I too am of the feeling that when/if i need a new one there will be advances in the medical world and i will not have to undergo another operation as I have done. I am 2 weeks today post op, my stay was similar to yours! My doc told me i needed to leave the hospital as I was the healthiest on the ward! Dr. Conrad Vial was my surgeon and I just loved him. Couldn't say anything bad about him! My incision is 3 inches long and it is amazing what they can do, no outward stiches, staples, it is truly amazing. I am hating now being able to do anything but walk. I am usually an active person and this sedentary recouperation is tiring me out. Thanks to Adams block alot of my fears were put to rest before surgery and i felt well informed. I am told I can only start cardiac rehab after xmas, and you can bet the day after xmas I will be on the phone making my appointments! I want to feel better quickly although I know it will take awhile! Thanks for your info!


Randy Heimerl says

on November 30th, 2009 at 5:24 pm
To Don,
I was told my ON-X valve should last a life time. I vounteered for a study group for people with the ON-X valve. Not everyone will qualify for it. Only certain hospitals have the study groups. After being accepted I was put into the group receiving PLavix. I no longer need the blood tests, just take 1 pill in the morning. Some people in the the group still take Coumadin, but in smaller doses then you would with a different mechanical valve. The study was started because there were a lot of people in Africa who received the ON-X valve and were not taking their Coumadin. And for the most part, people were not having more stokes or other complications.The study lasts for 5 years. The Aortic valve seems to respond best to this treatment. The best case scenario would be to end up taking Plavix the rest of my life or a low dose of Coumadin or the ultimate, just aspirin. It might sound like, it but I am in no way promoting this study group. I will never say one valve is better then the other. I will live with my choice…hopefully a long time.
P.S. I am in no way risking my health or life with this study. I am periodicaly getting examined and can drop out at any point.
Randy


Don Henry says

on November 30th, 2009 at 5:55 pm
To Randy- Thanks for your response. We all have to accept and live with the decisions we make and I have no complaints with the Carpentier Edwards Bovine valve and I will make a decison in the near future on the type of valve I will receive next and I want it to be my last open heart surgery. Your story sounds very promising and I have read great things about the ON-X valve. I have read your posts and they have sparked my interests. I would really appreciate it if you would keep us abreast of your experiences with this valve . I will give you my e-mail address if you would like to send me any news on this valve donaldhenry@comcast.net
I am 6ft and 170 pounds and in very good health. What criteria do you have to have in order to qualify for the ON-X valve. Thanks so much.


jeff stoveken says

on December 3rd, 2009 at 6:10 pm
nancy, so have you been back to hiking yet? im 46 and had mine done last year. i couldnt wait to get back to hiking again. its also great to be alive in general.do you feel any different while hiking now? jeff
any questions or comments, feel free to email jeffstoveken@yahoo.com


Neil Hitz says

on December 5th, 2009 at 4:45 pm
Kelley. I am 69, very active (just hiked up Mt Washington, NH) One doc is recommending stent-less pig and the other stented pig. Stentless is for increased flow but requires full surgery. Stented can be done min invasive. Is the "freestyle" stent-less? and did your Doc bring up this topic? My research shows that even tho stent-less flows more, after 12 months both valves flow about the same…thanks, Neil


kelly gaul says

on December 6th, 2009 at 4:27 pm
Neil, Mount Washington is in my old hunting grounds! I grew up in Western Maine and still have a camp up there in Andover. I have a stentless pig valve (freestyle) mainly because my understanding is it will be possible to put another valve in percutaneously down the road if I need one with a stentless valve (an old friend of mine who is a cardiologist told me to go for the expensive, stentless valve). I think the stents would make that more difficult if not impossible. I have heard the flow is better with stentless valves, but I don't know really. Friends tell me my cheeks are already rosier, but I don't know if you can put much stock in that! The main issue for me was the medtronics freestyle has the root attached and that meant less time on the pump (a major concern for me). My surgeon was very familiar and comfortable with the medtronics freestyle valve/root. As for the dacron graft extension someone asked about earlier, the extension was needed due to the size of my aneurysm in the ascending aorta. I'm 2.5 weeks out from surgery now and doing fine….a little better every day; I start cardiac rehab Monday. The best to you all. kelly


Ron Friedland says

on March 3rd, 2010 at 10:55 pm
Hello Kelly,
Thank you VERY MUCH for your story and description of your interaction with Dr. Miller. I'm a 49 year old guy who two weeks ago found out I have a heart murmur, and after an echocardiogram that determined I have severe mitral regurgitation I'm now looking at a mitral valve repair/replacement in the near future. I've been referred to Dr. Miller, and was looking for some information about his experience. I meet him for my first appointment next week.
As you can imagine, I'm perhaps a little apprehensive, as this whole sequence of events came pretty much out of the blue, and things are moving very quickly.
Glad to hear things went so well for you with Dr. Miller and at St. Joseph's, where I'll also be having my surgery. It's very helpful (and hopeful) to hear about such a positive outcome.
Thank you again, and all the best!
Ron Friedland


Kelly Gaul says

on March 9th, 2010 at 7:19 pm
Hi Ron,
Just a note of encouragement with what you're feeling and facing. I know how frightening all this can be. I am now nearly four months out from surgery. and happy to report I continue to do just fine. I'm leaving to spend a week in a tent on the beach in the Sian Ka'an Reserve in Mexico next week. Sometimes, I even forget I had the surgery, but I still try to stay in touch in order to give something back, if only in small ways. Just goes to show we really are all in this together, forever. As you could tell from my story, I have alot of regard for Kevin Miller, his partners, staff and the good people at St. Joseph's. I recently spoke at the Healthy Hearts Celebration there, and really enjoyed seeing everyone again. To further your confidence, a friend of mine had emergency OHS at St. Joe's for a dissecting aortic aneurysm just about two months ago. No one expected her to make it when they choppered her out of Boulder, but she did. Thanks to Mark Ammons, one of Dr. Miller's partners, and the excellent care she received, she is doing just fine. We had dinner together last Saturday night. You are in good hands my friend. -kelly


Ron Friedland says

on March 11th, 2010 at 9:07 pm
Hi Kelly,
Thanks again for the encouragement… I met with Dr. Miller yesterday, and got pretty much the best-case scenario going forward – repair instead of replacement, through the ribs on the side instead of the chest in the front, and just a generally great consult… looking forward to the surgery in three weeks and recovery over the next few months.
I mentioned your blog when as we were meeting, and he had nothing but nice things to say about you as well…
Have a great time in Mexico!
All the best,
Ron

Adam's Newest Blogs
Adam's Newest Posts