Kelly's "Watchful Waiting" Ends With A Medtronic Pig Valve, Thanks To Dr. Miller
By Adam Pick on November 28, 2009
Kelly just sent me this very interesting story which touches on several critical factors specific to heart valve surgery from the patient perspective. That said, I thought you might want to learn about Kelly and her surgeon, Dr. Kevin Miller. Here is what she wrote to me: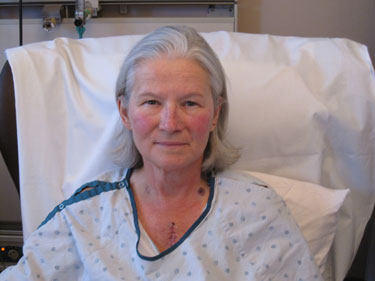 Kelly Gaul – Heart Valve Replacement Patient
Hi Adam,
It's been about 7 or 8 months since I first found your web site, ordered your book and touched base with you.  I am a 56-year old woman who leads a very active lifestyle – hiking, backpacking, and cross-country skiing.  I knew I had a heart murmur since I was 25 years old, but didn't realize it was a bicuspid valve accompanied by aortic stenosis until about 7 years ago (mild-moderate at the time).
Like most of us, I followed the valve with regular echocardiograms and visits to the cardiologist. Last March, despite the absence of any symptoms, I learned my valve disease had progressed to "severe" status.  That is when it started to hit me I would need to have surgery on the valve at some point. But still, I did not believe that time had come.
However, I did consult with Dr. Kevin Miller in Denver. Doctor Miller is a wonderful man and a gifted surgeon. Dr. Miller explained EVERYTHING about the surgery to me.
Given my lack of symptoms and/or restrictions, I decided to go the "Watchful Waiting" route for another 6 months.  In September, my valve was only slightly worse (about .8 with a mean pressure aortic valve gradient of 44), but I learned I had an aortic aneurysm measuring 4.5 centimeters.
This changed everything as my cardiologist did not want me doing most of the things I love to do anymore. (My cardiologist was horrified I'd been backpacking at 11,500 feet with a 40 pound pack over Labor Day). I consulted again with Dr. Miller. Together, we decided to go ahead with the surgery on November 19, 2009.  I had the surgery at St. Joseph's Hospital in Denver. My research showed that St. Joseph's Hospital had the best outcomes in the area. Doctor Miller replaced my aortic valve and root with a Medtronic Freestyle Aortic Root Heart Valve (Porcine Heart Valve Replacement) using a dacron graft for an extension.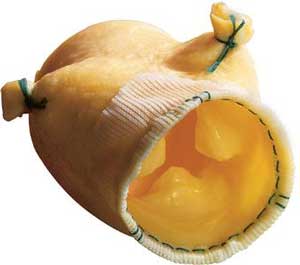 Medtronic Freestyle Tissue Valve
The entire surgery took about 3.5 hours. Doctor Miller is a very efficient surgeon – just what you want when you're on the heart-lung machine for any length of time. I spent one night in ICU, transferred to the CV Telemetry floor, and went home on Post-op Day 4 (surgery being day 0).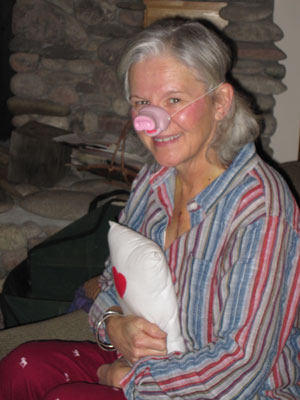 After Surgery, Kelly With Her New Pig Valve (And Nose)
I believe I received the very best of care from start to finish. I am a psychiatric consultation liaison nurse who has spent most of my career working in hospitals integrating mental health concepts into acute care. That said, I know good nursing care when I see  it. I have had no real problems aside from the kind of things we all  experience, although I am not unaware of the challenges ahead.
As you say so well… Everyday is a gift.
I want you to know how helpful your heart valve surgery book was to me. This website – with your postings and videos, the stories and comments shared by others before and after surgery – were also incredibly helpful to me in the difficult months leading up to surgery. Thanks to you, I know we are all in this together. That makes a big difference.
Kelly Gaul
Conifer, Colorado
Adam's Newest Blogs
Adam's Newest Posts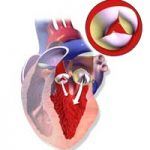 Surgeon Q&A: What Should Patients Know About Aortic Regurgitation? Learn More.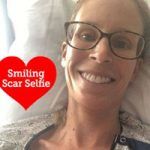 Sara Educates & Inspires 38,443 People About Heart Valve Surgery! Learn More.