Karate Instructor, John Doss, Recovers After Heart Valve Surgery
By Adam Pick on August 18, 2009
Here's a great patient success story about John Doss, a 56-year old Karate instructor from Michigan. Doctor Ali Kafi, Chief of Clinical Cardiothoracic Surgery, from Detroit Medical Center, performed the aortic valve replacement.
[video34]wT23obEeVlM[/video34]
During the video, Dr. Ali Kafi references the use of a mini-sternotomy. To give you a visual comparison of a mini-sternotomy incision versus a full sternotomy scar, please consider the pictures below. The first picture shows a patient with a mini-sternotomy.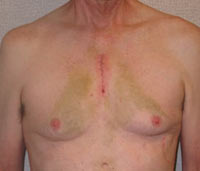 The second picture shows a patient (that's me) one week after double heart valve replacement. Due to the complex nature of my Ross Procedure, Dr. Starnes was forced to use a median sternotomy. As you can see, there is about a five-inch difference in the size of the incision site.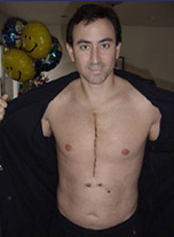 Also, Dr. Kafi referenced some interesting concepts about heart valve surgery in the video about John Doss. To learn more, simply click any of the hyperlinks below:
Keep on tickin!
Adam
Adam's Newest Blogs
Adam's Newest Posts