Health Insurance Update: An "Auto-Decline" After Heart Surgery At Blue Cross
By Adam Pick on January 30, 2009
As a follow-up to our ongoing discussion about insurance (health, life) for heart surgery patients, I just inquired about getting health insurance from a local agent here in Los Angeles. The agent asked me some questions, we discussed my heart valve replacement surgery, and then… he went off to look into an individual health insurance policy for me.
Within three hours, the agent called me back saying that an individual policy would (most likely) not be possible. He informed me that when he called Blue Cross, one of the Blue Cross underwriters told him, "If the valve has been touched, it's an Auto Decline!"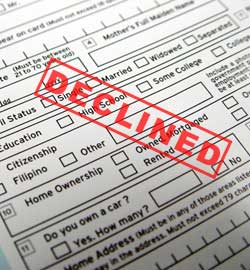 My agent then told me that I would need to set up a group policy for coverage. For me, my wife and our baby (expected on 4/11/09), the cost would be around $925 a month.
That's a lot of money! I now know why over 46 million people in the United States don't have health insurance. Then again 99.8% of the uninsured don't have heart valve surgeries in their medical record (which makes it even more expensive).
I'll continue to update you as I learn more.
Keep on tickin!
Adam

jerry says

on January 30th, 2009 at 11:55 am
One reason I work for whom I do (150,000 employee Dow 30 company) is the insurance benefit. Health and life.
Imagine what could happen in this country if people didn't feel so trapped.
It's a big reason why I favor universal health care.


jerry says

on January 30th, 2009 at 11:57 am
I have to finish the TPS reports now, but before I do I should add that I love my job, and my boss is a terrific guy.


Michele says

on January 30th, 2009 at 12:20 pm
Just a diagnosis of a valve problem gets you denied as well. My dad had his aortic valve replaced in 2000. His doctor said the condition could be hereditary. I foolishly got tested for it. I have it, although I don't need treatment, just monitoring. When I applied for private health insurance, I was quickly denied. My group health insurance at work would cost $2,400.00 per MONTH. I am stuck with the state's CHIP insurance (which is better than nothing).


Adam Pick says

on January 30th, 2009 at 12:29 pm
To Jerry,
That could be one of the funniest comments ever… I'm an Office Space movie fan as well. 🙂
To Michelle,
Wow… $2400?!!! Well, at least you do have coverage and an awareness to the valve problem, right?
Keep on tickin!
Adam


Kenneth Delkescamp says

on January 30th, 2009 at 2:53 pm
Adam,
Many times there are discounted group rates for health insurance if you are a member of your local Chamber of Commerce. Hope this is beneficial.
Ken Delkescamp
Aortic Valve Replacement Patient on 01/15/08


Sherri Hendry says

on January 30th, 2009 at 4:12 pm
To All I also just found out that my Carefirst/blue choise doesn't pay for everything. I'm at the rehab stage and they don't cover it – not for cardiac care! Going to cost $100+ per session. Even w/ a referral they won't cover. But they pay for cosmetic surgery! Go figure.


Paul Colavincenzo, M.D. says

on January 30th, 2009 at 6:21 pm
Just a reality check for those of you in favor of "universal" health care. The average wait for a total joint replacement in Canada, which has universal health care sponsored by the government, is three years. The average wait for a cardiac catheterization, which is the gold standard to evaluate coronary artery disease, is six months. If you are older than 60, you are automatically NOT eligible for an organ transplant. I readily agree that the US health care system is not perfect, but, be careful what you wish for.


Midge says

on January 30th, 2009 at 11:43 pm
Dr. Colavincenzo, amen to your final statement. I'm on Medicare and belong to an HMO but in Dec. 08 found out it was time to have my AV replaced and it is scheduled for 2/13/09. In between I've had echos, a cardiac catherization, various doctor and technical appointments, and I'm set to go. A little nervous but guess that's to be expected. Our system is not perfect, but it still works in a timely fashion to perform the miracles of giving life on a regular basis.
Midge


Kathleen says

on January 31st, 2009 at 1:32 am
Hi All
I would just like to add a comment about Universal health cover. I am shock to find out that you do not have a Universal Health Care System and even more horrified that you can easily get denied health insurance.
I have just had my Pulmonary Valve Replaced 4 Moths ago. Under the Public Health System, I had to wait 6 months for my surgery (only because i got to choose the date i wanted). It come to a Total cost me $0 That is correct $0.
$0 dollars for rehab recovery.
The only cost to me is seeing my Cardiologist and getting my echo. This is at a cost of $300. Out of that $300 I can claim up to half of that back.
It only cost me $80 to have an appointment with my surgeon. Up to half of which I could claim back.
It was unfortunate that my wound got infected and I had to get my dressing charged every day for 3 weeks. The public health system would send a nurse to my house everyday to change the dressing. That cost me $0.
This is the kind of service I am please that my tax money goes towards.
I fell very lucky after hearing about the American Health System that I am fortunate enough to have had this service available to me. There would have been no way under the Health Insurance System I could have afforded to pay for the surgery and second afford to take out health care insurance. I am not saying that the Public Health System is perfect. But at least at a very stressful time of my life, I did not have that extra stress of worrying about finding that extra cash to afford my surgery.
Kathleen


fazilat says

on January 31st, 2009 at 6:21 am
hi i guess we in the uk should be grateful although our nhs is not perfect but it comes thru when you need it most. I pay for my medication but everything else is free and my op from diagnose to op was 4weeks.
fazilat


Richard Theilmann says

on January 31st, 2009 at 7:47 am
We can learn from the other countries such as Canada, France and England and apply what works best. My main question is why should health care ONLY be available from your Employer. Forget private coverage, TOO EXPENSIVE. I had a Mirtal Valve repair May 29, 2008 under my wife's coverage as a dependent because I'm self employed and I have no health Ins. We separated last year but she kept me as a dependent because we knew that I needed the surgery. I'm now divorced and looking for employment since I had to give up my contracting business due to the amount of time that I was away recovering. At 55, needing health ins and a job that provides coverage, this is just WRONG that this country can't come up with an affordable way to do this.


Melinda says

on January 31st, 2009 at 10:48 am
I'm 39 years old and was diagnosed with aortic insufficiency about 20 years ago. I am doing wonderful…no symptoms at all. I run 3 miles several times a week with no problem at all. I get an echocariagram twice a year to keep a close watch on my valve. My doctor says that I'll eventually need a valve replacement. Fortunately, I have a very good group health insurance plan. For me, the problem I have is getting life insurance. I've been turned down by several companies and now that information is in a data bank used by insurers. I have no other health conditions…I'm not overweight and don't use tobacco. I'm a picture of health except for my bad heart valve. Does anyone know of a life insurance company that might cover me?


Jim DAiello says

on January 31st, 2009 at 12:43 pm
Melinda,
In 1998 when I was 41 I was diagnosed with mild Aortic Insufficiency. In 1999 I applied for $750,000 coverage for a 10 year Term Life Insurance policy and was approved. The company was Northwest Mutual and I ended up paying a higher premium because of my AI. This was better than being denied.


Elizabeth says

on March 10th, 2009 at 1:27 am
I am currently fighting the system because I am only 20 and have had three heart surgeries. I am without insurance and it is a little costly for me to keep paying for my follow up appointments out of my pocket. My first two heart surgeries were paid in full by the insurance I had at the time. When I turned 19 I lost that insurance. I was able to gain insurance through my employer but lost it after I had mt third open heart surgery in Jan of 2008. The total surgery was $750,000, which I had to pay $25,000 out of my pocket. I mean it is better than nothing but heart patients are any one with a serious condition can not go with out health insurance, I mean if I didnt have the insurance when I had my surgery I would never of had surgery and I wouldnt be alive today. Also, I dont think that we should be charge an arm and a leg, I mean we already have a bad heart isnt that enough stress without stressing about how we are going to pay for the insurance let alone the things that the insurance doesnt cover?!


puzzled in CO says

on April 27th, 2009 at 5:27 pm
31 year old mother of 4 wondering why an insurance company (Anthem Colorado BC/BS) will not pay for a pulmonary valve implantation via catheterization at an estimated cost to them of $20-30,000 when it carries a risk of less than 1% mortality rate and would be released from the hospital the next day!!!
They prefer to pay $100-150,000 for a open heart valve replacement with an estimated 10% mortality risk, 6 week recovery timeframe…
Not a fan of socialist health care… but cant believe these guys pushing to spend 10 times the money to put thier patient at 10 times the risk and 6 additional weeks of recovery…..
We have been fighting with them long enough and on disability due to condition, will probably not have a job by the time the next appeal review is done!


Aaron Coleman says

on June 21st, 2009 at 1:51 pm
I am 26 years old and Blue Cross denied me just for having a heart murmur. The insurance agent told me all others would deny me as well. We even sent a letter from the doctor saying what a mitral valve prolapse is.


Adam Pick says

on June 21st, 2009 at 3:53 pm
Aaron,
Very sorry to hear about your challenges getting health insurance.
I would keep trying. Perhaps there is a smaller, more regional provider than Blue Shield that might have a plan for you.
FYI, it took me 10 months… But, I finally got life insurance thanks to Paul Wolf at Northwestern Mutual.
http://www.heart-valve-surgery.com/heart-surgery-blog/2009/05/19/life-insurance/
Stay positive!
Adam


Marie says

on December 25th, 2009 at 11:57 pm
Hi, My fiance is home sick from the flu. he is getting the chills. He suffered from two strokes three months ago. He also has 2 block arteries. He has no health insurance and since we are not married yet I cannot add him to my insurance coverage. The hospital fee is $62,000, we are short of $1,6oo. His mental health is getting weak he is tired of being sick. Is there really no hope for Heart patients in America?


Julie and Jon says

on February 10th, 2010 at 5:27 pm
I know youre in a different state than we are Adam….Il here. Insurance is different state to state. My husband Jon had MV surgery Oct. 2008 and had the valve repaired. He is doing very well. During all this he lost his job (like so many others) was on COBRA for 18 months and no one will touch him for medical insurance. Been denied with all due to the heart surgery. How do you get group insurance if they are not employees of yours. I would love group insurance for $925 a month. We were paying $1400 a month for COBRA. This insurance problem is a nightmare! Did you know ….that if your in some sort of political office you will then get your medical insurance for life…no matter how long you were in office. UNREAL Well I WANT WHAT THEY ALL HAVE!


JoeAZ says

on May 20th, 2010 at 12:21 am
Julie and Jon, I live in Arizona and had a Mitral Valve repair. I have kept my personal policy, and will do so until Medicare kicks in a little over a year from now. However I did research getting another policy and was turned down by everyone. I did find out about an Aetna policy that was only available to people who had exhausted their COBRA coverage. Another stipulation was that you could jump from COBRA to this policy only directly from the end date of COBRA coverage. If I knew this at the time, it would have been economically advantageous for me to do this. It turned out that when I found out about it my COBRA had lapsed for several months and I was no longer eligible for the Aetna policy. You should check in your state to see if a similar policy is avaiable for those who are about to exhaust their COBRA coverage.

Adam's Newest Blogs
Adam's Newest Posts