A Loose Alfieri Stitch Does Not Stop Leslie's One-Year Anniversary Celebration!
By Adam Pick on January 27, 2009
I just received an anniversary note from Leslie Lafayette in California. I thought you might like to read how she is doing one year after robotic mitral valve repair surgery.
Hi All,
One year ago today at this time I was wired up, prepped and trussed like a big turkey, ready to be wheeled into UCLA Medical Center. I went into the operating room at 10am for my heart surgery.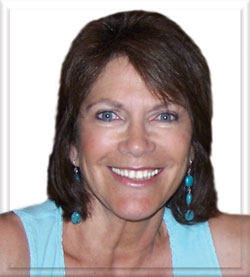 Leslie Lafayette's 1-Year Mitral Valve Repair Anniversary
Can you BELIEVE IT? As a blast from the past, consider that Heath Ledger died the day before I had my mitral valve repair and Britney Spears entered UCLA for her mental breakdown on fifth day in the hospital.
Shortly after surgery, I began a recovery period that was challenging.
I couldn't sit up without help, string two sentences together, later gained 13 pounds, got fat ankles, went through an extensive depressive episode for months, and wondered why I had bizarre ocular aura without migraine, flashing white lights, dizzy spells, fell asleep standing up and in general felt like hammered dog poop. I tried so hard to be me, and failed. 
Many – most who had never been through heart surgery – assured me that it would only take 8-12 weeks to feel like my old self. Ummm…. Laughing out loud on that one. I didn't want to feel like my OLD self…I wanted to feel better!  With one year under my belt – during which I continued to wage (weakly) a lawsuit, continued to carry a backbreaking (and spirit draining) mortgage, homeowner dues burden on a condo I had to rebuild after a tenant destroyed it – 2008 was a tough year for so many of us.
In November, 2008, after a 3-D Trans Esophageal Echocardiogram at UCLA, we discovered that my valve has lost the Alfieri stitch (one of five anchor stitches holding my repaired mitral valve in place) and now I once again have moderate (but not severe!) leakage in the mitral valve but with careful control of blood pressure and proper meds, it is remaining under control. So, we will go along and test valve function every six months and hope for the best because if it doesn't, I may have to face all of this again. There are no happy endings sometimes.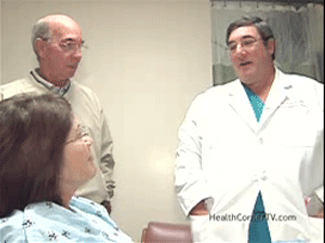 Leslie With Her Surgeon –
Dr. Richard Shemin
OPEN HEART BYPASS SURGERY – as my cardiologist warned me in his most somber of tones (he isn't much of a somber kinda guy) – is NO PARTY!!!  No kidding. I really don't recommend it, but if you must… Know that it is survivable and ultimately CONQUERABLE.
Life is better, a year later. More smiles. More energy. More work. More play. And of course, MORE OBAMA!!!!  (sorry for the political message, but yaaaaaaaaaayyyyyyyyyyyy) It has done my heart good.
For those of you who hung with me in this difficult year, I will always remember your friendship and your patience. I know I haven't been "all there." It has been a struggle that one only truly recognizes when looking back.  But I am and happy to be so.
And, thanks again Adam – for your heart valve book, your blog and your emails.
Cheers!
Leslie
Adam's Newest Blogs
Adam's Newest Posts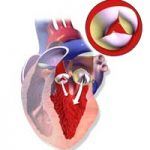 Surgeon Q&A: What Should Patients Know About Aortic Regurgitation? Learn More.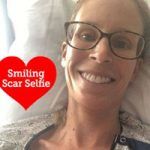 Sara Educates & Inspires 38,443 People About Heart Valve Surgery! Learn More.