All About Dressler's Syndrome – Ken's Complication
By Adam Pick on September 5, 2008
I just received an email from Ken – a fellow patient who had aortic valve replacement surgery earlier this year. Like many heart surgery patients, Ken experienced a complication after heart surgery. Specifically, Ken had an issue with Dressler's Syndrome. If you are unfamiliar with Dressler's Syndrome, I have provided some information below from the Mayo Clinic:
Dressler's syndrome is a complication that can occur following a heart attack or heart surgery. It occurs when the sac that surrounds your heart (pericardium) becomes inflamed. An immune system reaction is thought to be responsible for Dressler's syndrome, which can develop several days or weeks after heart injury.
Dressler's syndrome causes fever and chest pain, which can feel like a heart attack. Also referred to as postpericardiotomy and postmyocardial infarction syndrome, Dressler's syndrome is easily treated with medications that reduce inflammation.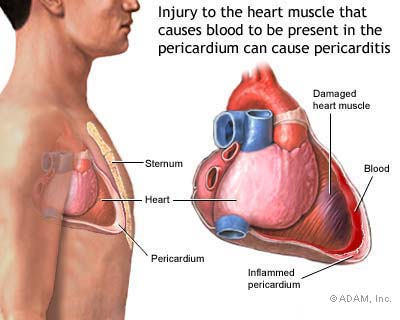 Dressler's Syndrome (Diagram)
With recent improvements in the medical treatment of heart attack, Dressler's syndrome is far less common than it used to be. However, once you've had the condition, it's likely to recur, so it's important to be on the lookout for any symptoms of Dressler's syndrome if you've had a heart attack, heart surgery or other heart injury.
Your doctor can diagnose Dressler's syndrome from the classic signs and symptoms, listening to your heart and sometimes using blood tests. Other diagnostic tests may also include an echocardiogram or EKG.
Complications of Dressler's syndrome are cardiac tamponade, constrictive pericarditis, pleurisy and pleural effusion.
Mild cases of Dressler's syndrome may get better on their own without treatment. Your doctor may recommend bed rest until you're feeling better. More severe cases require medications to reduce the inflammation around your heart. Sometimes hospitalization is necessary.
I hope this helps you learn more about the post-operative complication known as Dressler's Syndrome.
Keep on tickin!
Adam

Tony Korwin says

on June 9th, 2009 at 11:20 am
I recently had an aortic valve replacement and worked hard to follow all the directions using the spirometer and such, but kept feeling as though my chest was filling up on the inside. The medical team was not responsive to to my concerns with the doctors barking at me that all I had to do was walk more and use the spirometer more. However about 5 days after the surgery, I awoke to be in severe respiratory distress. They finally called in a pulmonologist and he diagnosed Dressler's syndrome. The fluid buildup was not at the surgery site, nor in the pericardium, but in the pleural cavity around my left lung (pleural effusion). Compacting it to the point where it was totally collapsed and unable to take in air. They ended up draining almost a full liter of blood out of the cavity before the lung self inflated and I was able to cough and breath again. The medical team was then very chagrined to have to admit it missed a very uncommon, but not unheard of condition with heart patients.


Andreas Gregor says

on November 19th, 2009 at 1:24 pm
I had heart aortic root replacement and valve sparing June 1st. Felt increadibly well and 5 years younger by Augist 1st. Unfortunately I ended up in Hospital with Dresslers on August 19th. Fluid in the Pericardium, in the lungs, and around the lungs. Fever and the shivers. Now its the end of November and I'm still not feeling as good as I did August 1st, but much better than when I left the hospital the first time. I was just wondering if Dressler's Syndrome can cause damage to the heart valves and other tissue.


Meg Min says

on May 15th, 2010 at 5:14 pm
Hi everyone, I had mitral valve repair surgery 4 weeks ago. My recovery has been a bit rough. I have had some ventrical taccacardia and also I was back in the hospital once for a visual disorientation spell that I had with no findings as to the cause. I've also had a low blood pressure( usually 85/65) and a high heart rate(around 106-96) for the last two weeks and now I was back in the e.r. two days ago with severe pain in my left side going up to my shoulder and neck. They said I have fluid around my heart and in both of my lungs. They gave me a perscription strength ibprofin and sent me home saying it should clear up on its own. After doing some research I see that this fluid can become life threatening. The pain is still severe so I may end up back in the e.r. tonight or tomorrow to get another opinion. I am only 34 and was told I would probably fly through recovery I am getting very discouraged and scared. I am a single mother of two boys and hate fearing that I am still not out of the woods from my surgery. Any suggestions as to how to deal with the fluid, the blood pressure, or the high heart rate would be greatly appreciated. I also use natural remedies whenever I can. Thanks so much!

Adam's Newest Blogs
Adam's Newest Posts