Caring For A Heart Surgery Patient: Ideas For Molly?
By Adam Pick on August 5, 2008
Sometimes when I write these blogs, the process is effortless. I sit down. I start writing. And… POOF! Five, ten or fifteen minutes later I have a draft specific to the question or topic at-hand.
Well… Not this time. Why? Well, I just received a question from Molly that reads, "What is the best way to care for a heart surgery patient?"
As I sat in front of my computer, I began to think about all the different elements (pre- and post-operative) that my own support group had to deal with – including the shock of diagnosis, getting a second opinion, finding the right surgeon, selecting the right procedure, my five days in the hospital, and of course, the challenges of heart surgery recovery (cardiac depression, pain, etc.).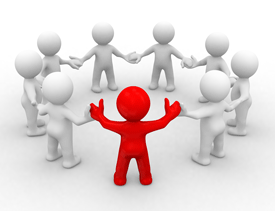 In light of all that, a single answer to Molly's question escaped me.
You should know… I'm no quitter. So, I just transformed myself into a caregiver and developed some thoughts to answer the question, "What should I know about caring for a heart surgery patient?"
Although I write about this question a lot in my book, here are some key bullet-points for Molly:
Listen, listen, listen, listen to the patient. That may seem like a given, but many of us select what we want to hear in everyday conversations. Often times, we miss the true meaning of words. During the heart surgery experience, the patient can be fragile and not accustomed to living an interdependent life (especially during the early recovery). That said, you should really pay attention to the words being shared by the patient. We don't always mean what we say. For example, I used to ALWAYS COMPLAIN about my chest hurting when I was at my desk by my computer. What I was really saying was, "Please, please will you move my computer so that it is closer to the edge of my desk." I know that sounds silly but I'm a very independent person. This independence ended up being somewhat problematic during my recovery.
Support, support, support the patient. There is nothing better than an encouraging caregiver. Take the time to acknowledge the patient for everything he/she does as they re-animate their lives. So you know, putting on a shirt or tying your shoes is very painful following open heart surgery. I'll never forget how supportive my brother was when I took my first shower alone. "That was great Ad," Doug cheered me on.
Love, love, love, love the patient. I know this sounds all to simple but it's true. If there was one thing I learned as a result of my aortic valve replacement surgery, it was the true meaning of love. I got so much love from Robyn (now my wife), Donna (my mom), Monica (my sister), the list could go on. It was overwhelming. I often joke that I needed heart valve surgery NOT because of my aortic stenosis, rather because I needed to understand the benefits of loving openly for the balance of my life. 🙂
Spend LOTS and LOTS and LOTS of time with the patient. One of the worst thoughts a patient can experience is "Something is wrong with my heart!" following surgery. Trust me. This feeling is acute in almost every single patient that I have spoken with. However, I noticed something interesting during my recovery. The more I spent time with my family and friends, the less that negative feeling appeared. It made my life easier. And, it made the life of my caregivers easier. So, go on a walk with the patient. Make lunch with the patient. Watch a comedy movie with the patient. Just do stuff together. Enjoy this unique time!
Set a GREAT, BIG, FUN RECOVERY MILESTONES for the patient. I've been told this is great advice. Plan something BIG and FUN for the patient as a "getting better" milestone. For me, one of my recovery milestones was asking Robyn to marry me. I started planning it (with my sister) two weeks before I had my Ross Procedure.
So there you have it… Some tips for caring for an open heart surgery patient. I could go on. But, these ideas should help Molly start understanding her critical, loving, supportive, encouraging, listening role as the caregiver.
Do you have any ideas for Molly? If so, please leave a comment below.
Keep on tickin!
Adam

Julia Hightower says

on August 5th, 2008 at 2:37 pm
Hi Adam,
I'm really enjoying your blogs and am so happy that I discovered your book! We leave for Miami next Tuesday, Aug. 12 with aortic valve replacement (minimally invasive surgery by Dr. Joseph Lamelas at Baptist Hospital of Miami) on Thursday, Aug. 14. Say a prayer for me. I'll be in touch after I recover. Hopefully, it'll be quicker than those who have the sternotomy – as you did. Thanks, again, for your great advice.
Julia Hightower


Becca Allison says

on August 5th, 2008 at 6:09 pm
Excellent points, Adam. I am two weeks post surgery and doing great. My family and friends have been wonderful. It's almost worth the surgery to see how sweet my 20-something sons can be! I am a very independent woman normally and have had to learn to accept help and to ask straight out for what I want or need. People don't always know how to help, so you have to help them help you. I realized that I was giving to my caregivers by letting them help me – they wanted to give to me!
Julia, I'll be saying prayers for you! Wish I'd had access to the kind of surgery you are having! My sternum's wired back together and I have a lovely scar! But I'm still doing great!


fazilat says

on August 6th, 2008 at 5:18 am
I would say ditto to Becca I am 12 weeks postop and I can tell you the first week after the op this seemed like 30 years we had a little celebration went to the seaside and i am a difficult patient having been very active and independent before the op the family have a hard time in making sure i do not do things i am not supposed to like lifting a kettle picking up my own library books[10 all together] lol. so i would say three cheers to all the caregivers family and friends.

Adam's Newest Blogs
Adam's Newest Posts