Open Heart Surgery Recovery Time
By
Adam Pick
- Patient, Author & HeartValveSurgery.com Founder
In my opinion, the recovery time from heart valve repair and heart valve replacement surgery needs much, much, much more attention and patient education.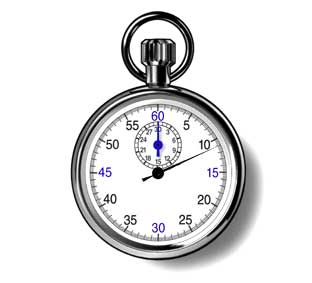 "Why does Adam say that?" you might be wondering.
Well... Leading up to my open heart surgery, much of the focus was strictly on the surgical process of replacing my diseased heart valve.
The key questions raised during this time were:
"Which surgical option should I chose?"
"What type of valve replacement should I select?"
"Who will be my surgeon?"
"Where will the surgery take place?"
"How much will the surgery cost?"
Needless to say, these are all incredibly important questions.
Yet, as I look back on it, neither my cardiologist or surgeon sat me down to discuss open heart surgery recovery time.
It is true that I received some coaching on the "do's and don'ts" of heart valve surgery recovery. I receiving a ten-page handout upon hospital discharge. However, I never received a detailed, comprehensive set of verbal or written instructions to accelerate or appropriately pace my open heart surgery recovery time.
As a result, my recovery was filled with many unexpected challenges and pitfalls. To some extent, my recovery turned into a rollercoaster - with multiple "ups" and "downs". Some of the issues I faced included cardiac depression, sternum pain and Vicodin addiction.
Like many patients during their open heart surgery recovery time, I experienced many thoughts of "What's wrong with me?" and "Will I ever truly be my old self again?"
Patient Realities About Open Heart Surgery Recovery Time

In creating this website and writing my book, I decided to find out if I was alone in these thoughts. That said, I ran an extensive survey. I asked hundreds patients about their recovery experience.
As I learned during this research, most heart valve surgery patients surveyed suggested that heart valve surgery recovery was "more difficult than expected". The patients surveyed also suggested that their cardiologists and surgeons could have better prepared them for their recovery.
My research suggested that the recovery time from heart surgery has a significant range. When answering the question, "How long did it take you to return to work?", some patients stated they felt recovered in 2 to 3 weeks. Others responsed that it took over 15 weeks to recover from heart surgery.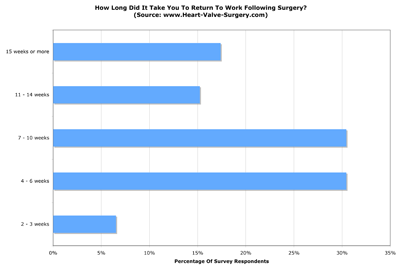 I also wanted to get surgeon feedback. So, at the Heart Valve Summit, I filmed this interview with Dr. David Adams, the Surgeon-in-Chief at Mount Sinai Health System in New York City, New York. It was interesting to hear Dr. Adams' research and clinical experience as he has treated thousands of patients during his 20+ year career.
You Might Also Like

To help you learn more about the recovery from heart surgery, you may also like:
Page last updated: September 18, 2020