Homecoming Question – What About Walking Up And Down Stairs?
By Adam Pick on March 24, 2008
I met Carolyn, a heart valve surgery patient, last Tuesday. We chatted on the phone about her bicuspid aortic valve and her upcoming surgery. Carolyn is currently doing her diligence on surgeons. That said, we talked alot about the process of how to find the right surgeon and how to interview your surgeon.
A few minutes after we hung up the phone, I received a follow-up email from Carolyn.
"Adam, I forgot to ask you something. We live in a two-story home. There is no bedroom on the first floor. Will I have trouble walking up and down the stairs after surgery? I imagine I will have to stay upstairs for a while? After my back surgery (a few years ago), I came down in the morning and went up at night for a while. Any thoughts?"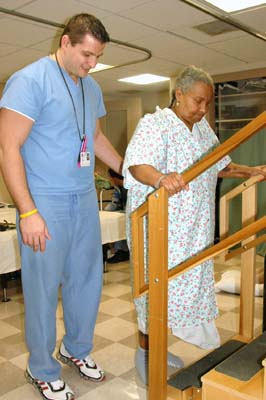 My Response to Carolyn
Carolyn,
Thanks. That is a great question. (Actually, I've never had that question before.)
Here are my ideas about your utility of stairs after surgery.
By the time you leave the hospital, you will be mobile. Like most patients, your post-operative care (nurses, doctors) will encourage you to take walks around your hospital floor before you are discharged.
As you may recall from my book, I was up and walking around the intensive care unit less than twenty hours after surgery.
Robyn (my wife), Donna (my mom) and I walked as much as possible during my time in the hospital. We weren't the only ones. Many patients, like us, were doing laps several times a day.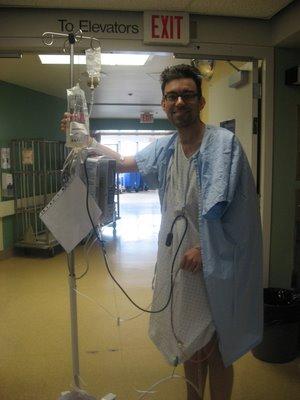 Now… As for the stairs, I imagine (like your back surgery) that you will be somewhat slow but capable of making the walk up-and-down the stairs. It will just take some extra time at first. Don't rush it and please do not try this without supervision.
One last thing, I always encourage patients to ask their surgeons these types of questions. Their medical team may have some great ideas and tips for you to consider. And, you never know, their hospital may even have a cardiac rehabilitation center that can help you practice going up-and-down the stairs.
Keep on tickin!
Adam

Lorie says

on April 10th, 2008 at 11:36 pm
Hi Carolyn,
I too was concerned about the stairs following my open heart surgery on January 15, 2008. I had a total resection of my ascending aorta due to a 4.9 cm aortic aneurysm and an aortic valve repair. My bedroom is upstairs and I was concerned about tackling the stairs. My discharge instructions said to only go up and down the stairs once a day for the first week after getting home and to only take one step at a time. Realistically, this did not happen! I was going up and down the stairs several times a day from the first day home, albeit very slowly at first. Just take it easy and definitely hold onto the hand rail…all the pain meds and fluctuations in blood pressure can make you a bit dizzy so just be careful and take it easy but you should be just fine! Others have said that they set up a place downstairs like a recliner or couch with lots of pillows to hang out to avoid going up and down the stairs. I didn't find it that difficult but again, just take it slowly, use the hand rail and let your family wait on you hand and foot…I am 12 weeks post-op now and the luxury of not cooking, not cleaning, etc. is gone….but I am so glad to be feeling better! Best wishes to you!


Edmund says

on November 14th, 2009 at 7:39 am
I have had heart surgery this year and it seems to have been a complete success. I have also had a "piggy valve" implanted and the day after surgery, I felt like a new man. No pain, no breathlessness, no complaints. Although I had heart arrythmia for two weeks which had to be cured through Cardioversion, I was up and walking within a few days and two months later, I was walking around and doing my shopping better than I had been able for years, even being able to walk up the stairs in our apartment house, five very high floors.
I am still a little breathless after long walks and especially when doing my shopping, but I am prepared to have the same surgery again and know it will be even better in the future. The main reason I decided on my piggy valve was because I did not want to have to take Marcumar, a blood thining medication and risk that a small accident could end up fatal because the blood clotting time was extended.


Sharon says

on April 16th, 2010 at 5:37 pm
I haven't heard of anyone having my situation. I have mitral valve stenosis, I need that and one other valve replacement. Saw a surgeon and he really scared me, I need to see another I think. Has anyone had this type of placement and how did that go? I need some encouragement (actually lots). I'm 72 and would have to have the mechanical valve. Thanks!


Gaurav Bhatia says

on February 24th, 2014 at 10:20 pm
Hi Adam,
Thanks a lot for creating this website. My mom had a heart surgery few weeks ago. She came home and I had exactly the same question in mind i.e. if she can go upstairs.
This answered my question straight away.
Great initiative mate.
Gaurav.

Adam's Newest Blogs
Adam's Newest Posts