Pig Heart Valve Replacement Longevity – How Long Do They Last?
As a follow-up to my post about pig valve transplants, I received a specific question, "Do you know exactly how long a pig valve might last in the human heart?"
It's a good question for patients to consider as they determine which is the best valve type for them – biological (pig valve, cow valve) or mechanical.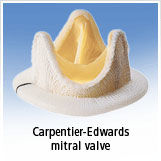 According to Dr. Isadore Rosenfeld, "Pig heart valves do not last as long as mechanical valves and for that reason are not usually implanted in patients much younger than 60 years."
Dr. Rosenfeld continues, "Although recent reports from The Cleveland Clinic (whose surgeons have a great deal of experience replacing heart valves) suggest that the newer biological valves often last 17 years or longer, they frequently must be replaced after 15 years. So, except in unusual circumstances, younger patients still are given a mechanical valve."
I hope that helps explain more about how long pig heart valves last in the human heart.
Keep on tickin!
Adam