Do You Have Any Keyhole Surgery Images For Heart Valve Replacements?
By Adam Pick on August 19, 2007
As I have posted in prior blogs, there are a number heart surgery centers that are practicing heart valve repair and heart valve replacement using minimally invasive procedures including robotic surgery devices and transcatheter approaches.
That said, I received a few emails asking me if I have any keyhole surgery images that explain how this non-invasive heart valve surgery occurs.
Luckily, I do.
Here is a keyhole surgery image that explains how aortic heart valve replacement occurs using a catheter.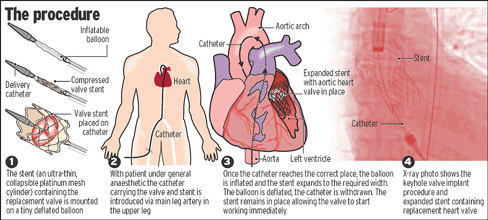 If you are interested to read patient success stories using this procedure style, please click below:
I hope the keyhole surgery images and noninvasive heart surgery patient success stories help!
Keep on tickin,
Adam
Adam's Newest Blogs
Adam's Newest Posts