Heart Valve Surgery Complications
By
Adam Pick
- Patient, Author & HeartValveSurgery.com Founder
Following heart valve surgery, patients may experience a very unique set of feelings. I personally remember many different feelings following my aortic and pulmonary valve replacement operation.
On one hand, the patient can feel relieved and incredibly happy. Considering the trauma of the event, it feels remarkable to simply "wake up". On the other hand, the patient may also feel confused and frustrated. I say this because our recent study suggested that 41% of heart valve surgery patients report that recovering from cardiac surgery is "more difficult than expected".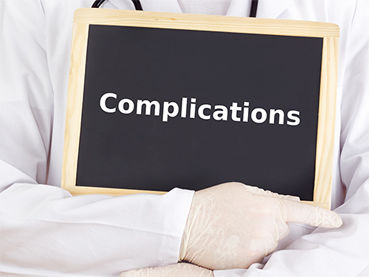 As my research for this website unfolded, I learned that many patients unknowingly embark on a mismanaged road to recovery following surgery. Personally, I experienced several issues following my surgery including cardiac depression.
That said, patients can experience heightened sensations that "Something Is Wrong!" following heart surgery. Whether it is heart palpitations, pain, chest-clicking, patients are often confronted by real, or even imagined, heart valve surgery complications.
As a result, questions arise in the patient's mind like:
"What are the common heart valve surgery complications?"
"Am I experiencing a complication that is not normal?"
"Should I be worried?"
"Should I go to the doctor for this complicaton?"
To better understand patient complications after heart valve surgery, I conducted an extensive survey of several hundred former heart valve surgery patients.
Patient-Perceived Complications After Heart Valve Surgery
One of the questions posed during this unique survey was, "Did you experience any form of heart valve surgery complications following your heart valve repair or heart valve replacement?"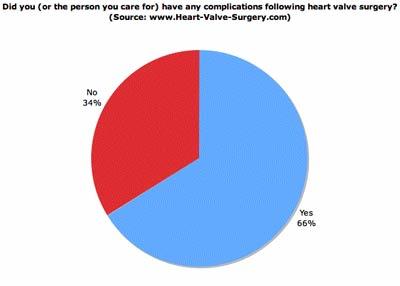 As you can see on the chart below, 66% of patients responded that they encountered some form of "perceived" heart valve surgery complication following surgery. The most common forms of perceived complications include:
As I always suggest to patients, it is better to be safe-than-sorry. If you are experiencing any symptoms that are causing you physical or mental concern, please contact your medical team.
You Might Also Like
To help you learn more about the recovery from heart surgery, here are educational resources you may like:
Page last updated: September 17, 2020