"Did Your Heart Pound Like Crazy After Valve Surgery?" Asks Josh
By Adam Pick on May 21, 2009
Josh just asked me an important, post-operative question about elevated heartbeat sensations after heart valve surgery and aneurysm repair. I responded below but, if you are a former patient, maybe you can help Josh by leaving a comment as well? Here is what he writes: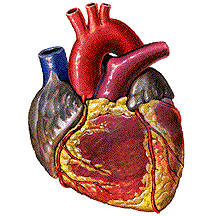 "Adam: I do have one question about something that is bothering me.  I've tried to do some research on the web about this, but haven't really found anything.  After surgery, all the medical personnel involved had said that I'd be more 'aware' of my heart beating after aortic valve replacement and aneurysm repair.  That is, due to the fact that since my pericardium would be cut for surgery, I'd lack the 'insulation' it provides. Boy were they right!  Sometimes I feel like my heart is pounding out of my chest. When I'm laying down on my sides or stomach in bed, I hear my heart beating through the pillow louder than ever.  And here's the kicker – when I'm in a sitting position (driving, watching TV, at the computer, etc.) and I inhale deeply, it seems like I feel my heart literally banging against my upper chest/throat area. When I exhale, it seems to go back to normal; or the "new" normal anyway.  I was curious as to whether you or anyone else on the blog has felt a similar sensation. Thanks Josh!"
So you know, I had the exact same experience that Josh describes above. How about you? Did you experience a loud and pounding heartbeat after heart valve surgery? To leave a comment, please scroll down to post or read over 200 patient comments!
Keep on tickin!
Adam

joan rivera says

on September 17th, 2015 at 6:43 pm
yes i had the same thing blood in urine and i too am on warafin and diltizam
i think its my meds as well .


Carolyn Demers says

on December 6th, 2015 at 4:38 am
I too have this terrible pumping which I tend to hear more at night. He is like a loud stalker that won't let up. I had my operation in Oct 2014 and it seemed to go away for quite some time. Now in Dec 2015 it has returned with a vengeance. I have to say it worries me.


Tim Price says

on March 15th, 2016 at 9:49 am
My wife had aortic valve replacement and aneurysm repair nine months ago. Her heart is still pounding in her ears. Her cardiologist can't explain this, saying everything looks good. Has anyone else experienced this?


Robert Pendarvis says

on April 18th, 2016 at 4:50 pm
My name is Robert I had open heart surgery in 1999 I had a aortic valve replacement and now my heart is racing off and on over 120 beats a minute any one have any answers to give me?


William Jerzek says

on July 12th, 2016 at 5:07 am
I had and continue to have the same experience although only about 85% of the time. But still feel the same exact way. I thought I was the only one.


William Jerzek says

on July 12th, 2016 at 5:11 am
I can't findustry any supplements that help with blood pressure control.


William Jerzek says

on July 12th, 2016 at 5:14 am
You really should be on warfarin


William Jerzek says

on July 12th, 2016 at 5:15 am
Ic. I have a mechanical. My surgeon said it will last forever. Am 50.


William Jerzek says

on July 12th, 2016 at 5:16 am
That sound in your chest will never go away.


William Jerzek says

on July 12th, 2016 at 5:17 am
Thank you for sharing. My cardiologist said this is normal.


William Jerzek says

on July 12th, 2016 at 5:19 am
Not only clock but those pulsations that I hear are obnoxious but am glad to finally know I'm not the only one!!!


William Jerzek says

on July 12th, 2016 at 5:22 am
Same here. I'm glad I'm not the only one now.


William Jerzek says

on July 12th, 2016 at 5:24 am
Yes, I have had the same experience Josh said. That ticking plus those loud pulsations.


William Jerzek says

on August 10th, 2016 at 10:11 pm
I have had the exact sensations many of these people are having. I'm told it's really not the heart but the sound of the blood flow through the mechanical valve that one feels beating hard. It was a little worse 8 months ago just aftericksen the aortic valve replacement but it continues. Folks, don't stop taking your medication. Have your doctor change it but beta blockers are necessary cuz you do not want high blood pressure. That's how aneurysms develop. Furthermore, warfarin is ABSOLUTELY necessary IF you had a mechanical valve replacement. Don't kid yourself. Nothing in the herbal or supplements is going to get your blood between the necessary 2-3 INR. I take supplements, sure, but that's why they're called SUPPLEMENTS. They supplement your daily regimen of medicines. Hey, better to be safe than not. God bless you. The heart pounding feeling is the valve. It's not going to go away. But, it will soften up a bit in future YEARS.
RJ


Karima Aziz says

on November 11th, 2016 at 9:16 pm
Hello Every one,
I had mitral valve replacement ( bioprosthathic valve) in 2009. 2 months ago i again have same surgery but this time they put mechanical valve. Last week i felt 2 episodes of palpitation with HR Of 47. i went to ER i was tachycardiac up 135 beats per minute almost all night few minutes later in ER it gets settle it self. They did not find any thing. It is not possible in canada to get to see the specialist rite away. i will have an appointment or ECHO with specialist in 6 months time. I am nervous what made this happend ? Is it normal after surgery?


Robin Tolbert says

on February 6th, 2017 at 10:49 am
I had Edwards bovine aortic valve replacement 5 months ago, and am now running in gym and doing weights. I feel good but over the last two weeks my blood pressure became very weird…sometimes high then low, which the person overseeing activity after taking pressure with stethoscope said was due to irregular heart beat which affect- off-the-shelve electrical machines. I went to hospital and they confirmed irregular heart beat, did chemical tests but could not find any cause and released me. Any one else with this issue? It is regular beat for say 6 then pause, then beats then small double beat etc.


Jan C says

on March 20th, 2017 at 2:44 pm
Question: Does the heart sound the same to doctors after a Bentall procedure? My husband had one four years ago and just saw a doctor who detected a murmur. Is that common if you are not familiar with the sound of a bioprosthetic valve?


Chuck Campbell says

on May 19th, 2017 at 3:49 pm
40% of aortic valve replacement patients can go into A-Fib – the irregular HB you are experiencing. I am day 10 post-op, and I went into A-fib in hospital post surgery for 24 hours. Before leaving hospital day 4, I had gone into A-fib again. (In 80% of those patients, A-fib lasts only 1-3 months.) But recent visit to PCP, I had regular rhythm HB. I've had little or no pain, being only on tylenol since Day 4, and start rehab next week. I do have the pounding HB, and now I have answers. thanks


Ken McNeill says

on June 11th, 2017 at 9:34 pm
I thought I might be the only one with the loud and strong heartbeat, since both my surgeon and my cardiologist seemed unfamiliar with it. I'm glad to know I'm in good company. I had an echo done last week and was able to see my new bovine valve at work. The one thing I did notice was that the noise I hear and the bump I feel were when the valve closed. The heart did it's two contractions and then the aortic valve closed with a bump. It feels more like it's slamming shut the way it moves my whole torso. I wonder how that affects the longevity of the valve.


Otto Von Schöen says

on June 22nd, 2017 at 6:11 pm
I had a double bypass and aortic valve replacement just under 5 weeks ago. Frankly I never wish to go through it again as the initial pain and discomfort (to me) was hideous. This heavy thumping of my heart is most annoying but I am certainly glad I stumbled across this blog as I now realise I am certainly not alone. It feels so prominent and intrusive and at times it becomes all consuming. Perhaps I am a whimp, I don't know, but after reading responses from fellow bypass patients I do feel better. Occasionally I get a racing beat but this is rare. In all I am feeling better after these almost 5 weeks and I take daily walks of about 2km and do not feel at all breathless. I've also not been smoking and this has been an incredibly great feeling. Taste, smell and breathing are an entirely new sensation. Can't wait to get back to work and singing with my band……and sleeping on my side!! Thanks for the blog.
Peter
Brisbane Australia


Michael Fox says

on July 17th, 2017 at 7:15 pm
I've had Quadruple bypass cornary surgery. I'm into my third week of recovery but now my heart seems to be beating faster than it has been.


Darren says

on July 27th, 2017 at 4:33 am
Had my bi-cuspid Aortic Valve replaced almost 5 weeks ago with a mechanical on-x, What an experience! Waking up in ICU with that tube in my throat wasn't the nicest thing I've been through in my life,, The way our cardiac Medical Professionals here in Australia took care of me was incredible.. Spent my 45th birthday in cardiac care ward 😊 🎂 Out of hospital within 7 days, I've always been into fitness and a non drinker/ smoker.. I've actually found being home over the past few weeks tough going, 16 days after my op I noticed that on inhalation that my heart thumps against my chest, Went to the ER of my nearest hospital for a check up, ECG and bp all good, Doctors not fussed.. Went to my GP, he wasn't concerned either.. Glad I found this forum for some reassurance.. Hopefully this pounding buggers off so i get on with my recovery.. Good luck to everyone who goes through heart surgery.. Ask questions, get 2nd opinions if you feel the need..


Cathy says

on August 26th, 2017 at 3:37 am
oh boy im 4 weeks post op aortic valve replacement (mechanical) and yes i can feel and hear every beat of my heart. Also when i take deep breaths its magnified as if my chest is bulging. hope this helps and glad to hear im not alone lol
cathy (48) female (northern Ireland)


Cathy says

on August 26th, 2017 at 3:39 am
did you have your surgery??
ps i have a collegue called Rhonda Summerfield


Ruel L. Taylor says

on September 13th, 2017 at 8:19 pm
Hi, My name is Lewis. Two years ago I had surgery for a dissecting aortic arch aneurism. I did well post operatively. I take medication to keep my blood pressure normal. My big concern is the pounding in my chest. I can count my heart beat by the heart beat in my ears as well. It's hard to fall asleep sometimes. At the time of surgery the surgeon decided not to replace the aortic valve. Has anyone had this procedure and will the pounding ever get better?


C L says

on December 29th, 2017 at 3:42 pm
I was diagnosed with a stenotic valve st age 3. At age 27, a cardiac u/s changed it to a BAV with trivial insufficiency.
I rode a very intense, flip upside down roller coaster…(at my son's urging) at age 39. I felt dizzy and hot and cold and sat down 15 minutes afterward, fearing that i had done something bad to my heart. That night i had bounding in my neck and it felt like i was wearing a scarf. A few weeks later I had a cardiac ultrasound performed to see what i had done to it.
I could see 3 leaflets when the tech did the exam. I asked her if she was looking at the aortic valve. She said yes. The cardiologist said, "This is your aortic valve. You have a normal, functioning 3 leaf valve." You could barely see the calcifications between 2 leaflets, but there they were, 3 leaflets.
I no longer feel bounding or tightness in my neck. I run without pain in my jaw and shoulders. My fingers are warm, pink, and no longer mottled. I am unsure if what i had was a congenital BAV or a stenosed valve which looked like a BAV, that perforated during that rollercoaster ride.
I am grateful to have a "normally functioning valve" now.


Wendy MacDonald says

on April 27th, 2018 at 6:19 pm
Hi my husband Drew, 57 years old, had an aortic valve replacement (tissue graft) done in August 2017 due to post radiation cardiac syndrome. He had radiation therapy as a teenager for Hodgkin's disease. Since the surgery he feels his heart pounding when he's at rest. If I sit very close to him I can actually hear it! During deep breaths he can feel it beating in the back of his throat. He said he couldn't describe it better than Josh did in his comment above. This feeling has caused him a lot of anxiety. We have looked for answers and even support groups, because it is an unsettling feeling. Both the cardiac surgeon and cardiologist have assured him all is well. He has a pacemaker, 99% dependent on it, which is working perfectly. Are there any relaxation techniques or therapies that may decrease this "pounding" feeling? Will it get better with time or is it something he needs to get used to.


Ruth Ann Coleman says

on May 24th, 2018 at 1:02 pm
I had a double bypass and aortic valve replacement on Feb 15, 2018. I have been an avid exerciser for many years and have made a strong recovery and am off almost all meds. I can feel my heart pounding but mostly in bed. Sleeping on my left side helps (but my shoulder hurts some mornings when I awaken, due to an old injury). My heart rate and BP are good and I am now off a Beta Blocker. So far the pounding is an annoyance. ARE THERE OTHER people out there who are near my age when they had bypass surgery? I am now 80.


Ruth Ann Coleman says

on May 24th, 2018 at 1:16 pm
Rhonda, I was about 2 mos shy of 80 when I had my dbl bypass and aortic heart valve replacement. I drive our grandkids to school but I am cleared to do that. I am a Gym Rat: I walk and swim, too. I had to stop a Beta Blocker because of vertigo. Recovery was aided by using the Epley Maneuvers (on the Internet). I no longer take a blood thinner which was approved by my cardiologist. I highly favor the Mediterranean Diet.


Ruth Ann Coleman says

on May 24th, 2018 at 1:31 pm
Sorry to the pounding returned. I think mine is getting better (surgery done mid-Feb this year). I find sleeping on the left side helps.


Carolyn Demers says

on May 25th, 2018 at 4:44 pm
I had my surgery in 2014. I seem to have this recurring thumping if I drink more than 1 glass of wine or too strong an alcohol beverage even though I rarely if ever have more than two drinks or eat too late at night or if I eat badly like too much butter etc. Otherwise I'm fine as long as I moderate my diet.


Ruth Ann Coleman says

on May 25th, 2018 at 7:40 pm
To Carolyn Demers: My surgery was more recent – mid-Feb 2018. I noticed the pounding about 2 weeks later. My doc's answer about it was curt and defensive. Curious. I am not have much wine, etc either, but that also helps me keep my weight down where I like it. I still use butter in cooking but not as much as the past. I do not intend to completely give up the things I like. Thanks for your input; I appreciate very much hearing from you.


tony says

on June 21st, 2018 at 10:19 pm
I to have that same situation going on but did not feel it till about 2 wks after surgery,I have a mechanical valve and a anurism fixed,I sure hope it goes away


Karen Warvi says

on June 23rd, 2018 at 3:40 am
Hi Josh i am fourteen days out of my aortic heart valve replacement via transcatheter femoral artery. I originally had a bad bicuspid aortic valve which started going south about 12 years ago..we were able to treat with medicine until nov.2017 when we found the closure was speeding up despite meds.
I am having the exact same symptoms after mine.. same thing when sitting up and I twist or stretch or just turn my head..same thing when I lie down..feels like my heart has jumped into my throat and someones racing my engine… although its at rest. I barely move and it gets all sketchy on me. Now on the sunday i was released day 4 in hospital a member of the team came to tell me I was going home I stood to hug him and thank him and the team for saving my life..and I got a tad choked up and my heart started throwing pvc's. He asked me how long that had been happening but i did not know what he meant because all I noticed was that sensation of my heart like quivering or racing in my neck and throat area… he said I needed to calm down and not to cry…my pulse rate shot up over 116 and he made me sit down and breath calmly… then said stay there and he hustled out to pow wow with the other doctors… they made me relax and told me it was vitally important to try not to get so excited but frankly I was not excited..lol the fluttering heart rhythum was quite disturbing and does not feel good. Its been doing it constantly for hours tonight. I been have been semi bed ridden half of my last 12 years. So being up and walking more then 20 ft without angina attacks nausea and collapsing into a chair has been my last 12 years.
So far my are oxygen to body is far better. But this feeling feels out of sink…but hearing your symptoms have been the same eases my mind. How far out are you post op and does this symptom go away or get better. I have been worrying that they may have to install a pacemaker to keep the heart in rhythum..but I am not sure. My first post op will be july 12th and 13th 2018. I am glad I am not the only one.
Karen Warvi 57 years old in Northern CA.


Susan says

on July 1st, 2018 at 10:39 pm
I had aortic valve replacement 6 years ago (pig valve) I went to an outdoor concert a few days ago sat very close to the speakers and the bass was making my chest pound I had to put my hand over my chest. I started getting nauseous. I felt embarrassed to say anything to my friends because I feel like there's always something going on with my health. I'm always the sick one, unfortunately.
I think this is a real thing though. The next band didn't have a loud bass and I was able to enjoy the concert. I will discuss this with my cardiologist though at my next appointment though.


Susan says

on July 1st, 2018 at 10:54 pm
I don't have any techniques for the pounding. Just that it happens to me as well. Our stories are similar. Non-Hodgkin lymphoma chemotherapy and post radiation induced heart damage from tumor and treatments. My dr tells me everything is fine but the pounding and then I also have squeezing around my upper ribs he says is not heart related but my other dr says it's not related to anything else so who knows??? I do not have a pacemaker though. Wish I could help just wanted you to know you weren't alone! Stay healthy ❤️


Michael Talty says

on July 4th, 2018 at 12:58 pm
My name is Michael I'm not the highest educated person in the world but I sure do understand and feel my body. I've been a mason all of my life and if smoked for only 41 years until I had heart surgery on Friday. I was ready to go home Sunday. Everybody kept calling it a cabbage some girl very young looked at me with a big smile and said with five stretched out fingers. You had five with a smile you should be resting. It was all I could do to contain myself by Sunday I was driving everyone in the hospital crazy. By Monday I was walking up and down the hallway so much looking for my doctor when I finally found him he said why you look great you want those things out of your belly I guess you ready to go home. And yes I was. No one had discussed with me the sound of my own heart pounding up my shoulders through my neck and into my head. So much that I felt like I was moving with every heartbeat and unable to sleep through it. I went to work on Tuesday felt like crap bye 10:30 by 12:30 I had to go home, I was useless anyways all I could do was point and complain about work that I couldn't physically do. Now here I am on Wednesday I couldn't sleep Tuesday night I had to come down and sit up in a chair so I could stop listening to my heart pound. I'm not worried about can I pick up 40 pounds. I'm sure I could pick up a hundred and forty pounds I think it was split my breastbone open. I guess the question I have is life inside this body with no blood flow was very quiet but now I feel like I used to feel when I pushed myself to the Limit and could hear my heart pounding. Will I build a resistance to the sound or is it just going to eventually die down enough that I can sleep. By the way the greatest surgeon ,made me feel like I was just pulling a tooth. Dr Michael Helm Portsmouth Regional Hospital


Jamie L Vanorden says

on January 3rd, 2019 at 11:02 am
I had a mitral valve replacement 3 weeks ago and am experiencing the same feelings. On top of the emotional aspect of what I went through it is very hard on me. I'm glad to see I'm not the only one this is happening to. The hardest part is coping with the depression and the tears that creep up on you from no where and you can't explain why

Adam's Newest Blogs
Adam's Newest Posts