Do We Need A Heart Valve Patient Cook Book?
Written By: Adam Pick, Patient Advocate, Author & Website Founder
Published: August 15, 2023
I am LOVING all the great food recipes and ideas that are being posted in our online Community!  In case you missed it, here are a few posts from the Patient News Feed.
Cathleen was one of the first patients to post with her colorful Avocado Smash Egg Toast recipe.  She shared, "I love creating healthy comfort food for the heart. The more colorful your meal the more likely it is to be healthy. I hope you all like food posts! I created this long ago and I make it all the time! I had it today for breakfast!"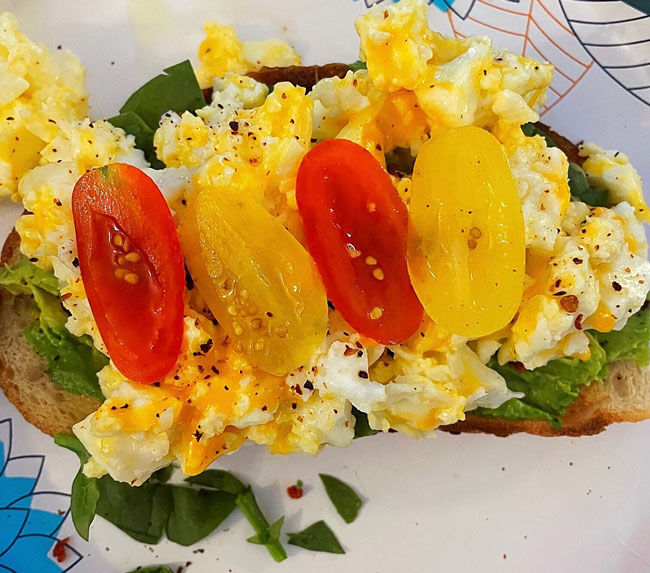 Cathleen's Avocado Smash Egg Toast
Cathleen's recipe for each layer of the toast is as follows:
AVOCADO SMASH EGG TOAST (each layer):
Sourdough toast, dry (you can use any type bread)
Avocado smash (1/2 an avocado, smash with fork onto toast)
A sprinkling of baco bits (soy)
Chopped fresh spinach
Egg whites with lowfat cheddar
Chipotle flakes (smoked chili flakes)
Sliced sunburst tomatoes
Cracked black pepper
Himalayan sea salt
Given the theme of our community, I really enjoyed Robert's Heart-Shaped Pizza. Robert posted, "I just saw this picture from @CathleenWeed with this tasty food. I made some cheese quiche yesterday and with the leftover dough I made some very simple pizza. When I took it out of the oven I realized it was in the shape of a heart…"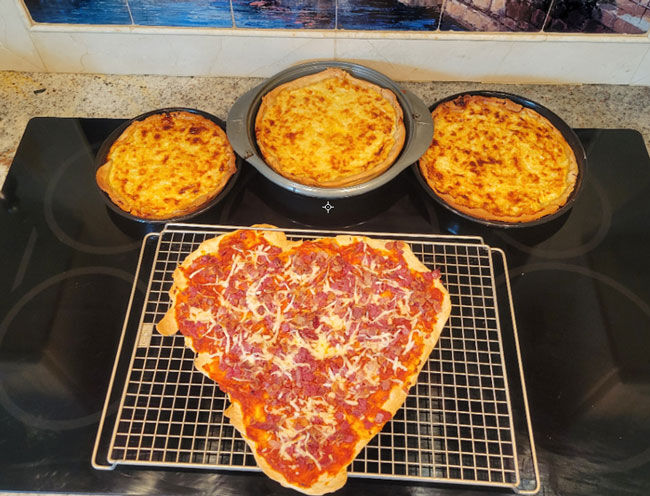 Robert's Heart Shape Pizza & Quiche
Community superstar and founder of "Adam's Angels", Richard really got me excited about his Break-A-Part Granola & Fruit Yogurt. So you know, I have yogurt every morning for breakfast.
Richard posted, "I hate to be outdone. So, here is an amazing delicious frozen snack. So simple to make. Especially when Nancy makes it. Food always tastes better when she makes it. Large Container of yogurt (I like strawberry) . Plain is a little sour.  Spread it on wax paper in a shallow metal pan, sprinkle fruit and nut granola and fresh fruit on top (strawberries and blueberries on mine). Put in the freezer and break into pieces once frozen. The wax paper stops it from sticking to the pan. OMG is it ever tasty. Yes, it gets on your fingers as it melts but licking your fingers is half the fun."
Break-A-Part Granola & Fruit Yogurt
Thanks for all the food posts everybody!  Keep 'em coming!  I really enjoyed each and every one of them!
Who knows… We may need to make a cook book for our community! 🙂
Keep on tickin!
Adam
Adam's Newest Blogs
Adam's Newest Posts