Surgeon Spotlight: Dr. Luis Castro Receives Over 100 Patient Testimonials!
By Adam Pick on November 15, 2017
I am overly excited to share that Dr. Luis Castro just received his 103rd patient testimonial at his surgeon profile.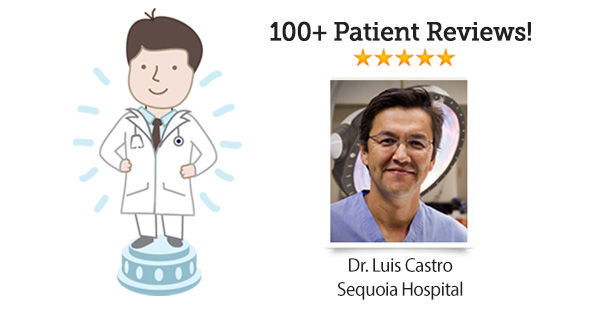 If you're not familiar with Dr. Castro, let me introduce you to a special person whose patient-centric approach to cardiac care is fundamentally unique.  Dr. Castro goes above-and-beyond for his patients.  He gives out his cell phone number to his patients.  Dr. Castro goes surfing with his patients.  He educates his patients about each step in the surgical process.  And, most importantly, he delivers excellent surgical results.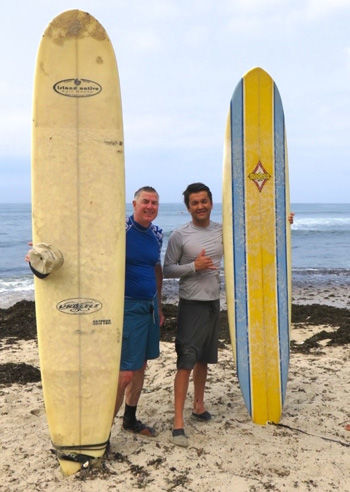 Dr. Castro with Tom Fitzmorris (his aortic valve patient)
A Patient Educator & Community Supporter!
When I first met Dr. Castro at Sequoia Hospital in Redwood City, California, I knew something was different about him.
When I shared my mission about educating and empowering patients, he didn't look at me like I was some weirdo.  Nope.  Doctor Castro jumped at the opportunity to help our patient community.  Like me, Dr. Castro saw a massive gap in patient education and he wanted to fill it.
In an instant, Dr. Castro said, "What can I do to support you? I love what you're doing!"
Since then, we've collaborated on educational stories… We've held live webinars… We've posted free educational eBooks… And, we filmed educational videos together.  For example, here's a video we filmed about heart murmurs after valve surgery.
But, what struck me most about Dr. Castro was how his patients talked about him.  Over the years, I have connected with many, many, many of Dr. Castro's patients including Shelly Gould, Kent Dorwin and Tom Fitzsimmons.  These patients rant-and-rave about Dr. Castro — and the Sequoia team.  I'll never forget what Shelly said about Dr. Castro, "If I need valve surgery again, there would be no doubt I would only want Dr. Castro leaving his fingerprints on my heart."
Then, there's the story of David Augustus.  Here is a picture of David on his epic hike to the peak of Mount Whitney after aortic valve surgery.  Take a close look at the bottom of his flag.
At 14,000 feet above sea level… Who is Dave thanking on his flag?  That's right… Dr. Castro!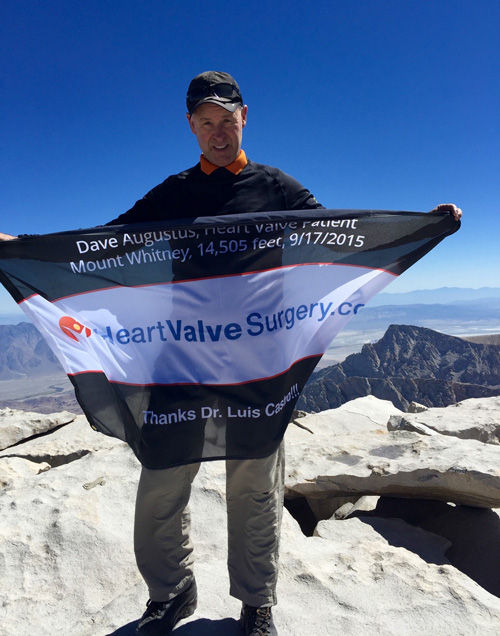 Congratulations Dr. Castro & Team!!!
On behalf of our community, I want to extend a mighty "Thanks!" and wonderful "Congratulations!" to Dr. Castro.  His care and support of patients with heart valve disease is extraordinary.  I am so thankful Dr. Castro is part of our community.  I am so thankful that Dr. Castro has transformed the the lives of so many people who consider him to be an awesome surgeon and a thoughtful friend.
Also, I need to thank the team that supports Dr. Castro.  They are quite awesome too.  So, to Julie, Felicity and Jake, thank you for your support of Dr. Castro and our community!!!
Keep on tickin' Dr. Castro!
Adam

mark r says

on November 17th, 2017 at 2:37 pm
Just the latest example of how Adam and HeartValveSurgery.com continue to support and encourage all of us as heart surgery patients or care givers. Dr. Castro is a wonderful gift to all who might choose him and his team for their necessary procedure. It's people like Adam, Dr. Castro and the entire HVS community that make our individual journeys as heart patients much more successful. Keep up the great work!
Mark Ridder
AV Replacement November, 2012

Adam's Newest Blogs
Adam's Newest Posts