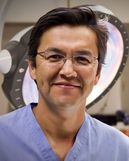 Dr. Luis Castro
Dr. Luis Castro

Heart Surgeon

Sequoia Hospital Heart & Vascular Institute
170 Alameda de las Pulgas
Redwood City, CA 94062
(888) 240-5623
About Dr. Luis Castro,
Heart
Valve

Surgeon

Hello! My name is Dr. Luis Castro and I am a cardiac surgeon having graduated from Stanford School of Medicine in 1984. To date, I have performed approximately 5,000 cardiac surgeries, of which 3,000 involved heart valve procedures. I regularly perform surgery at Sequoia Hospital Heart & Vascular Institute. Read more...

163 Patient Reviews for
Dr. Castro

"If I was to need valve surgery again, there would be no doubt I would only want Dr. Castro leaving his fingerprints on my heart."
-- Shelly Gould, heart valve surgery patient
"I'm a 49 yr old that recently had AVR on a bicuspid valve. I was asymptomatic so it afforded me time to do research, a lot of research. Dr Castro was "The Common Denominator" for almost 2 years of due diligence while making a decision on my AVR. Dr. Castro's name was a consistently in the recommendations in every conversation as one of the best, most skilled, professionals doing heart procedures especially AVR's.
I met and spoke with Dr. Castro many times, in person and by cell phone. He was always courteous, listened, and never oversold the procedure. He provided the pros and cons and I appreciated his advice and thoughts.
Dr. Castro's "Manner" has high confidence in his abilities but not too much that he comes across as cocky (many surgeons can seem cocky), yet he's humble and appreciative that you've chosen to speak with him. He listens very well and even though he's heard 'your story' tens of thousands of times, you'll feel like your conversation is the first he's had on the topic. He's respectful of all levels of questions and concerns.
I want to also point out the fact that the 'Castro TEAM' is JUST AS IMPORTANT as Dr. Castro himself. Dr. Castro has skills but you'll learn that it's the collection of skills and how those many skilled professionals work together that makes a much bigger difference. Each person on the team was amazing at what they do and they all have an important part from logistics, to follow through, to hand holding, to support. I felt like I was dealing with a very well-oiled optimized machine. When I woke up from surgery and into the recovery, the follow through was impeccable. Dr. Castro and his staff came to see me every day and answered all my questions. Again, always patient and it was a pleasure to see them. One of my biggest fears was regret on timing, procedure (tissue), and surgeon. All those fears were 100% gone when I woke up.
Additionally, I was really impressed with Dignity Sequoia - It's like a boutique hospital. Very nice, clean, and all the nursing staff did a great job. I highly recommend Dr. Castro and I met with over 10 surgeons in 2 yrs."
-- Daniel Green, Aortic Valve, Valve Replacement, Mini Sternotomy, 07/29/2020

> See 162 more patient testimonials
My Specialities &
Clinical Interests
My heart surgery specialties include:
Minimally invasive aortic valve and mitral valve surgery
Cox Maze IV procedure for atrial fibrillation
Complex and high-risk valvular reoperations and coronary surgery
In addition, I have research and clinical interests specific to:
Adult congenital heart surgery
Surgical outcomes research
Quality assurance
Education, Training & Certificates
Dr. Luis Castro, heart surgeon, graduated from Stanford School of Medicine in 1984.
After medical school, Dr. Castro completed a Surgical Residency at Stanford University and a Fellowship in Thoracic Surgery at University of Southern California. He is certified by the American Board of Thoracic Surgery and is one of the top-recommended surgeons at HeartValveSurgery.com with over 125 patients reviews.
Dr. Castro serves as the Director of Cardiac Surgery at Sequoia Hospital in Redwood City, California, where he has worked for the past 20 years. Sequoia Hospital is a leader in complex cardiac procedure including minimally invasive surgery for valvular disorders, coronary artery disease and atrial fibrillation.
Schedule Appointment

with Dr. Luis Castro, MD

To schedule an appointment with Dr. Castro, you can:
Call

(888) 240-5623

right now
Request an appointment by clicking here.
The office of Dr. Castro is located at 170 Alameda de las Pulgas, Redwood City, CA 94062. To get driving directions to this office, please click the map below.
> Click for driving directions to Dr. Castro's office.
News Featuring Dr. Castro
Here is the latest news featuring Dr. Luis Castro:
Page last updated: September 9, 2020