Atrial Fibrillation Education Center Launches Now!
By Adam Pick on March 16, 2015
Since launching this website, I've connected with many patients who were diagnosed with both heart valve disease and atrial fibrillation (AFib), which is an abnormal heart rhythm.  According to reports, about 30% of patients with valvular disorders also have AFib. So, it's pretty common.
However… I recently learned that about 70% of patients diagnosed with valve disease and atrial fibrillation DO NOT get atrial fibrillation treatment during their valve repair or valve replacement procedures. Yikes!!!
For these reasons, I just built a new Atrial Fibrillation Education Center to help patients get educated and empowered specific to heart valve disease and AFib. Here's a quick, instructional video about the new AFib Education Center. (A written transcript of this video is provided below for the hearing impaired members of our community.)
Experience the AFib Education Center
Now that you watched the video and learned about the Afib Educational Center, here's your chance to experience it. As discussed in the video, there are two components of the platform — the AFib Education Center and a new directory of AFib and valve specialists.
Here's a screenshot of the AFib Education Center: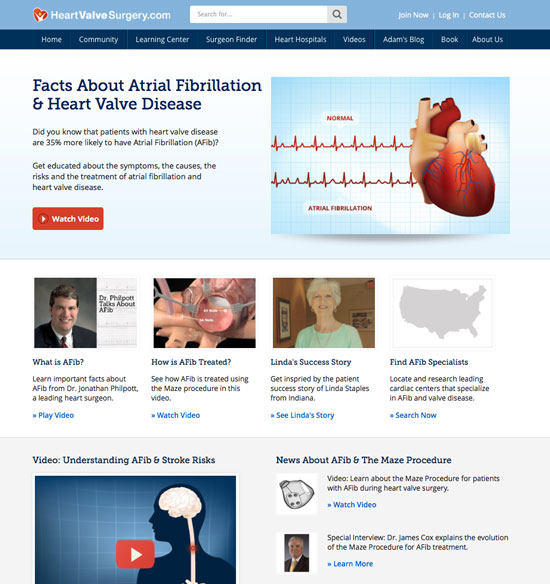 The Atrial Fibrillation & Heart Valve Disease Learning Center
New AFib & Heart Valve Specialist Directory
If you have been diagnosed with both AFib and heart valve disease, we just started a new directory of cardiac centers and surgeons who specialize in this treatment which is referred to as a concomitant heart valve and atrial fibrillation surgery.
So you know, AFib can be surgically treated, during your valve operation, using a safe and effective technique known as the Maze Procedure.
The New Atrial Fibrillation and Heart Valve Specialist Directory

While there is more content to be included in the Atrial Fibrillation Education Center, I felt there was enough information to start educating and empowering patients, their families and friends.
As we roll-out this new platform, I would like to extend a special thanks to Dr. Marc Gerdisch, Dr. Jonathan Philpott, Dr. Patrick McCarthy, Benjamin Hill, Barbara Garren, Jane Kruse, Brian York, Vanessa Vitsas, Nicole Reitz and Gideon Sims for their extraordinary feedback and contributions to this project. Without their support, this new platform would not exist. Thank you!!!
Keep on tickin!
Adam
P.S. Here's a written transcript of my video above:
Hi, everybody! It's Adam with HeartValveSurgery.com. Today, I am very excited to announce the launch of a new educational platform for patients diagnosed with both valve disease and atrial fibrillation, or Afib, which is an abnormal or chaotic rhythm of the human heart.
Why are we doing this? There's two main reasons. The first reason is that over the years, we've learned that up to 30% of patients in our community diagnosed with valvular disease also have Afib, so we want to educate you. The second reason is that there's some scary statistics in research which suggest that up to 70% of patients diagnosed with both valve disease and AFib do not get proper treatment for AFib during a valve repair or valve replacement operation.
With this new platform, we want to empower you specific to what's known as a concomitant valve and AFib therapy in which both disorders get treated at one time.
Now, let's take a look at this new educational platform. So here we are at the website, and let's talk about the ways that you can access the atrial fibrillation educational platform. There's really two ways. My favorite is you can just go and you can search for it. If you type in atrial fibrillation and hit Enter or the Search key, you'll see there are 236 results for educational information on our website, but what you want to do is you want to click the top result and that's going to go ahead and take you to our AFib educational platform.
If you didn't want to search, there's another way you can do it. Let's go back to the Home and let's go over to our Learning Center. Here you can get a whole lot of great information, but if you were to go to Symptoms and Disorders and click Atrial Fibrillation, that too, it would take you right to our new AFib platform.
Now, let's look at what's available to you here. What we've seen is that patients really like to learn through videos, and so we've been very fortunate to put together a lot of great content for you all about AFib, valve disease, and the Maze procedure which is used to treat AFib surgically with videos. If you were to click Watch Video, what will happen is you're going to see a really great video with Dr. Jonathan Philpott, which we recently filmed at Sentara Heart Hospital all about the question of what is atrial fibrillation. If you really want to get up to speed in terms of what AFib is, this is the way to do it. Dr. Philpott is incredible at explaining what AFib is, what the symptoms are, what the risks are, and how AFib and valve disease can be treated at the same time.
The other thing that we know is that patients like to learn about how procedures are done. If you want to, you can watch a video that's here. It's by Cleveland Clinic, and it talks all about the Maze procedure, which is the procedure that's used to surgically correct AFib.
The other thing, one of my favorites, is we recently traveled to Indianapolis, and we got a chance to meet Linda Staples. This story is really unlike most others. I'm not going to take away from what Linda has to share, but I really encourage you to take the time to learn all about Linda's story with both valve disease and AFib. It's really touching, and it's very, very inspirational.
As you scroll down the page, you're just going to see a lot more information. I'm not going to go into all of this for you, but you can go ahead and take the time and learn all about AFib and stroke. You can learn more about what the Maze procedure is and how it can help you. There's a special interview here with Dr. Cox. You can read about the FDA approval for surgical AFib treatment.
Then what we did is we were able to find some patients in our community who have had successful valve and AFib therapy. Feel free to go ahead and click on Clarissa, and you can see a video all about Clarissa, or you can go ahead and you can click on Michael's picture, and you will see information all about his experiences.
Once you have this information, one thing you might have noticed is there's this little thing over here called AFib Specialist. This is your opportunity to go ahead and just learn about some of the cardiac centers and clinicians as we launch this platform that we are aware of that do have specialties specific to AFib and valvular disease treatment. Let's say you are near or around New York and you wanted to get some information about specialists there, there's Dr. David Adams. Let's say you are out in Washington, you can learn all about Dr. Glenn Barnhart at Swedish Heart Hospital in Seattle.
There is a little tour of the educational platform, and I hope you take the time to go ahead and really get educated about AFib and valve disease so that if you do have these two disorders, you can get the best possible treatment.
That is our new AFib and Heart Valve Disease platform. Thanks so much for listening and here is the link if you'd like to go ahead and start learning, alright? Thanks so much, and as we always say here, "Keep on ticking."

Carol StJohn says

on March 18th, 2015 at 2:38 pm
I woke up from open heart surgery with an abnormal rhythm, arterial flutter, and I was zapped a few times with the paddles and it went back into rhythm and they put me on Amiodarone to correct the problem, which it did but I didn't like taking the medicine, lots of side effects, so they let me stop and the arterial flutter came back….
They were afraid it would lead into AFib so it was either go back to taking the Amiodarone or have a heart ablation…I choose the heart ablation…just a few ticks here and there but it seems to have worked….I had a mitral valve repair and double bypass July 29th, 2014


Adam says

on March 18th, 2015 at 6:05 pm
Hey Carol, While I did not experience AFib after my heart valve surgery, I have learned that it is very common. So great to hear the ablation is working. And, I'm glad that you were able to avoid drug therapy going forward. Thumbs-up!