In Memory of Robin Williams, Oscar Winning Actor & Fellow Heart Valve Patient
By Adam Pick on August 12, 2014
Just last week, I was talking to Paul, my neighbor, about our 'Top 5 Actors' of all time.  With movies like Good Will Hunting, Dead Poets Society, Good Morning Vietnam, and The World According to Garp, the comedian and Oscar-award winning actor, Robin Williams topped my list.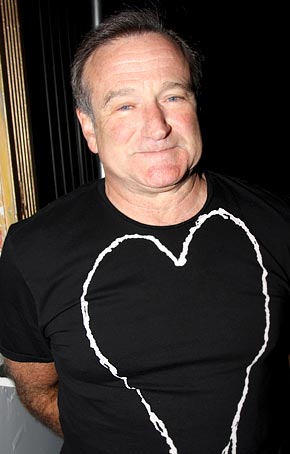 Robin Williams (1951-2014)
I'm guessing that some of you might think I'm a tad bias towards Robin Williams — considering that he had aortic valve replacement and mitral valve repair surgery in 2009. But, the truth is… Robin Williams' valvular work, or "plumbing" as he called it, had zero impact on my discussion with Paul.
My appreciation for Robin Williams started in the good ole' days of Mork & Mindy. I quickly became captivated by his animated approach to sitcom humor. Then, as Robin transitioned into more serious roles — on the big screen — I was downright intrigued by his ability to connect with so many of us on a very deep, a very personal, and a very emotional level.  For example, here is one of my favorite moments from Good Will Hunting:
And then… There were Robin Williams' stand-up routines which ABC News paid tribute to earlier this morning.
Yesterday… When Robyn, my wife, shared the news about Robin Williams' passing…  Time stopped for me. In a nanosecond, I felt powerful and dislocating waves of disbelief, confusion and, ultimately, sadness.
Now… One day later, I am doing my best to put aside those uncomfortable feelings to celebrate the life of Robin Williams, his work and the peace I hope he is now experiencing.
My thoughts and my prayers are with Robin Williams, his family, his friends and his fans. He truly was one of a kind.
Keep on tickin!
Adam

Karen Dust says

on August 12th, 2014 at 5:02 pm
Well said! Thank you Adam!


Dave says

on August 12th, 2014 at 5:29 pm
Loved Robin too. Feel like the universe cracked open and stole him away wrongly and way too soon. God bless his loved ones


Patricia says

on August 12th, 2014 at 5:44 pm
Bye bye to one of our community!
I admired and liked him way too much as an actor, human being, comedian, openness and shared laughter and an open heart, just like him.
I was extremely sad when I learnt years ago of his diversified problems, but it completely shocked me to know that, one way or another, he felt alone.
Sad, sad, loss.
Patricia Muñoz from Mexico City.


Robert Crutchfield says

on August 12th, 2014 at 5:57 pm
Thanks Adam for including the spellbinding PARK BENCH SCENE from "Good Will Hunting" in your tribute to Robin Williams. I had forgotten just how moving and POWERFUL that scene was and how Robin did most of it in a LONG take, with no cutaways. He was a genius in everything he did. As for his depression, from which I also suffer, was probably not helped by his surgery. It is a proven fact the many, many people suffer from memory loss and depression following heart surgery due to being on the heart-lung machine for long procedures. My surgery was in April and I am still having severe sporadic memory loss and my depression has gotten marginally worse. But I am working on things to improve my memory (reading, crosswords, etc>) and fighting depression.


Linda S. says

on August 12th, 2014 at 6:05 pm
Very well stated, Adam. I think we all are feeling a loss re Robin's passing. He was a wonderful person and great entertainer and actor. Someone we will never forget.
RIP Robin Williams.


Aida says

on August 12th, 2014 at 6:43 pm
Thank you for sharing Adam! My heart sank when I learned of his passing. He will be greatly missed! My condolences to his beautiful family and all his loved ones.


Lois says

on August 12th, 2014 at 6:54 pm
Makes me so sad to hear of Robin Williams passing, I think maybe he just got tired of making people laugh, he will be greatly missed! Lois McFarland


Kellie R says

on August 12th, 2014 at 6:56 pm
I grew up with Mork & Mindy and remember so many other great things Robin was known for. I had no idea he too, experienced the surgeries as well. That to me was a surprise. It has now been 2 years since my surgery and start to realize some depression set in. Life is so different. I try to work through it day by day. I know that depression is nothing to look the other way about.
Remembering Robin and the laughter he brought to so many keeps me up along with the help of family and friends. He will be missed at such a young age.


Ralph Doak says

on August 12th, 2014 at 7:12 pm
I, like all of us who loved his humor and his charity will truly miss this man. Godspeed Robin. I choose to remember your lighter side and it always brings a smile to my face.


Fran Zilko says

on August 12th, 2014 at 7:55 pm
Feel a great sadness ever since I heard. He was my favorite actor an comedian. I always felt a special connection because we each had our valve surgeries performed by Marc Gillinov at the Cleveland Clinic. Once, after his surgery he remarked that he had a bovine valve and now wants to moo and eat grass! He was special. Hope he is entertaining everyone in heaven. RIP Robin.


Christine says

on August 12th, 2014 at 9:05 pm
I felt very sad too. After having been through so much, what a tragedy. Thank you for your kind message Adam and sharing some good movie moments. My condolences to his family and all his close friends.


Bill Thune says

on August 12th, 2014 at 11:10 pm
Ditto what Fran posted. RIP Robin Williams. He introduced me to my heart surgeon on the David Letterman show.


Judy Hatch says

on August 13th, 2014 at 12:24 pm
I met Robin Williams before he was an alien, just doing stand up comedy in some of the off beat venues…..laughed for two days after! But the other side of him is what made him stand out; his generosity of his time and money, his many unpublicized visits to our troops, and his willingness to discuss his frailties including his heart condition. He will be dearly missed by all of us and as someone said yesterday….He's probably making God laugh.
Aloha Robin and have a fantastic journey!
Judy Hatch, Kaneohe, HI


Shari Shoufler says

on August 13th, 2014 at 1:17 pm
Three and a half years ago, as I faced my open heart surgery to replace and congenitally defective mitral valve, I tuned into the Barbara Walters special regarding open heart surgery. It was by chance that I got to see the program. I had originally been scheduled to undergo surgery that day, but a concern regarding a stye on my eyelid had postponed my surgery to the following Tuesday. As I watched the show, I was struck by how all these amazing celebrity idols of mine- Bill Clinton, Barbara Walters, David Letterman and the amazing Robin Williams, who was, like me, the recipient of a bovine valve- had the same fears as I did about having surgery and, now post-operatively, were in awe of the success of their surgery and the skill of their respective surgeons. I can't explain how this show affected me, or the courage it gave me, but ever since that night, I have held all of these folks in a higher regard, and Robin Williams will always have a special place in my own mended heart.


steven a husted says

on August 13th, 2014 at 3:15 pm
yes he will be missed and what a sad day that he had to take his own life for that he will pay sorry he chose that way to go i really loved his good morning viet nam i am a viet nam veteran


marti scamman says

on August 13th, 2014 at 3:40 pm
I was very saddened to hear of Robin Williams death. He had a profound influence on my life both in terms of his acting and with respect to my own heart valve surgery. In 2009, I saw his interview with Dave Letterman regarding his surgery and his profound praise of Marc Gillinov, his surgeon. It was at a time when I was seeking a surgeon for my own defective valve. Because of Robin, I contacted Dr. Gillinov, travelled to Cleveland and had a very successful surgery. Had it not been for Robin Williams, I would not have even heard of Dr. Gillinov. Had I had a different surgeon, who knows what might have happened.


Kelly Stevens says

on August 13th, 2014 at 4:24 pm
I was shocked to hear what happened to Robin such a shame. To hide so much from so many what a sad day. Such a great actor he will be sadly missed by many. He brought tears and laughter to millions. I hope he is at peace on his chosen path.


Art Beem says

on August 13th, 2014 at 6:41 pm
I remember when I had mitro repair in 2012. I was told that the room I was in was the same room Robin Williams was in. I guess the other rooms were all filled up so I got the executive suite by chance?
Nice 180 degree view outside !


Bobbie says

on August 13th, 2014 at 6:47 pm
I was so saddened by his loss. He was truly an inspiration.


Millie says

on August 13th, 2014 at 10:27 pm
It's kind of weird how I somehow feel connected to Robin Williams after his death. Or at least I can relate to his alcoholism and depression. I have read a lot so far about his death and his surgery. A few Cardiologists have mentioned that heart surgery patients can become depressed after the surgery. Especially those that are already on the depressive side. Though one did say that it is unlikely for someone to get so depressed that they would take their life. I disagree.
I am a recovering alcoholic. Twenty two years sober. I was 17 years sober when I had open heart surgery. I was already in a bad place in my life due to the economy. It was May 2009. I could not stop crying after the surgery; it went on for several weeks. Then I was just depressed. Suicide crossed my mind many times for three years after. I was too broke to go to therapy and I was sure my depression had nothing to do with the surgery as I had so many other things to "be depressed" about. (ie: losing my house, my car, my dog of 14 years, then had to leave the apartment I was living in after I lost my house because I could no longer afford it. This was all in one year.) Oh and I had my surgery that year too. 🙂 I have been on your blog several times and have heard stories from other patients feeling depressed after their surgery. I also read many posts from those that were not warned that depression COULD occur. I did however feel a little better knowing I wasn't alone and I wasn't creating it.
Three years after the surgery I entered into an awful depression. Worse than ever. Now, suicide didn't just cross my mind, I was seriously contemplating it. I was fortunate enough at this time to now be able to afford therapy. I found an incredible therapist that basically "kept me alive" and I was able to pull out of it. (I do also take an anti-depressant) It took a little over a year. But, we did it!
I am sharing this in case there is anybody else who has mild depression to begin with, has heart surgery, then the depression worsens. I truly believe there is a link with some people. And, I truly believe with the right type of therapy, you do not have to end your life. I wish Robin Williams had found what I found.
Hopefully his death will raise some more awareness about depression; and, awareness to the link with heart surgery. So many people believe depression is something you can just pull yourself out of. It's not like that at all. It's horrible. RIP Mr. Williams.


Matt Morris says

on August 16th, 2014 at 12:41 am
Ironic: I saw William's on a talk show Ellen Devenous(sp) she asked him if he felt Depressed after heart surgery as she heard many people are, His response was.. NO I WAS HAPPY TO BE ALIVE. I remembered that 2 mons ago when I had mine.
My short story… I am in NYC Williams had his done in Cleveland Ohio could not go too far therefore I went to 5 different surgeon's for FIVE options..I had to pick one! On 6/13/14( Fri. the 13th) I have to go to the hospital…. like most I waited too long. Like a Knuclehead I thought the severe Mitral stenosis would go away!! That evening I had a hard time breathing for no reason and ankles were swelling!
I chose Dr.David Adams at Mount Sinai. I was previously scheduled for surgery 7/30/14 after I chose on of the five…Because of my situation he brought me in that night.
Let me finish by saying.. previously I must have watched EVERY video on Heart surgery on You Tube and many surgeons web sites. Naturally I was no looking forward to Heart Surgery. Many of those videos are scary!!!! At the hospital I had to wait for 5 days on IV lasix Too much edema for surgery….FINALLY on the day of surgery in the operating room the anesthesiologist said he was going to give a GREAT IV margarita……………………….I woke up in the ICU…I looked down and realized surgery was done. On the next day.. I was sitting one the bed …day two I was standing and sitting in a chair..day three I was walking to the bathroom..day four walking in the ward…Day five the nurses had a hard time finding me to give meds…..I was walking in the halls and going to the visitors snack bar and in the day room. ..day six ready to go home…day seven went home.
I must tell those in fear of heart surgery….I had NO PAIN!!! AMAZING. Nothing like the Video's that stopped me from having this done for years. Again, no pain I took one tylenol I thought I should!!!… People and friends always ask what was the worse thing about the surgery… I have to admit the was ONE BAD thing…………I always got a roommate that snored. Bring good ear plugs…only thing needed!!
BTW: I have Mitral and Aortic valves replaced and tricuspid repaired….The midline bone incision is half the usual lenght ..Dr. Adams has a technique of lifting the skin and opening the midline for full surgery…Can wear a V neck shirt with NO scar.
Walking miles in Manhattan .. and will run for 2 miles tomorrow….63 y.o feel like I am 20…Friends if you need it… get it done!!…Remember get Good ear plugs!!!!!!


Kathleen says

on August 25th, 2014 at 1:33 pm
Thank you so much for posting this! I was recently told that my mild aortic stenosis is now severe and I am meeting with a valve specialist, Dr. Carabello, this week, but I know your Dr. Adams is one of the surgeons at Mount Sinai/ Beth Israel also, so you've made me feel a lot better about the whole process. I'm still terrified, but I'm 45, a runner, and want to continue with a long and active life, so surgery is likely necessary. Wishing you continued success in your recovery! Thank you!

Adam's Newest Blogs
Adam's Newest Posts