Surgeon Q&A: "What Are Your Top 3 Pieces of Advice For Mitral Valve Repair Patients?" with Dr. David Adams
By Adam Pick on June 1, 2013
There is nothing better than good, honest and trusted advice for patients.
For that reason, I met with Dr. David Adams, a mitral valve repair guru from The Mount Sinai Medical Center in New York City. So you know, Dr. Adams has performed successful heart valve surgery on 100+ patients from our community including Mark Linnus, Cynthia Tarver and Monique Battaglia. 🙂
During our chat, I asked Dr. Adams, "What are your top 3 pieces of advice for patients preparing for mitral valve repair surgery?" The highlights of our discussion are provided in this video:
Many thanks to Dr. Adams for taking the time to meet with me and share his advice with our patient and caregiver community. To learn more about Dr. Adams, and see 30+ patient testimonials for this incredible person — who I was fortunate to travel with to the Dominican Republic on a recent Heart Valve Medical Mission — please click here.
Keep on tickin!
Adam
P.S. For the hearing impaired members of our community, I have provided a written transcript of this interview with Dr. Adams below:
Doctor David Adams: I am the chairman of cardiothoracic surgery at The Mount Sinai Medical Center in New York. I've been in practice since 1992 — so that's over 20 years. I've performed around 300 operations a year — which means I've done around somewhere between 5,000 and 6000 operations. Right now, 90% of my practice is valve related.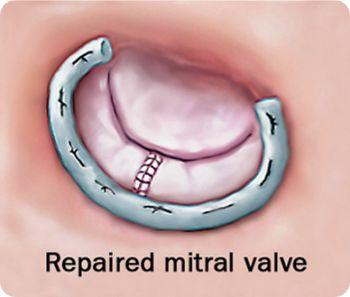 Adam Pick: Dr. Adams, could you share with us what attracted you to cardiac surgery?
Dr. David Adams: I always wanted to be a doctor. My dad was a doctor. He died when I was very young, so I'm sure that impacted me. When I went to medical school, I loved cardiovascular physiology. I always remember the first time I saw a heart operation at Duke University. I saw all the people that were involved and I called my mom that day and I said, "Mom, That's what I want to do."
Adam Pick: Is there a particular type of valve therapy that you specialize in?
David Adams, MD: I specialize in mitral valve reconstruction (mitral valve repair). Instead of valve replacement, I have spent much of my career now working on therapies that allow patients to keep their own valves that aren't working correctly.
Adam Pick: If I'm a patient and I'm considering mitral valve repair surgery, what are your top 3 best pieces of advice?
Doctor David Adams: I think the first thing you have to know is what your indication for surgery is. We spend a lot of time with patients making sure that they understand why they're being referred for surgery. The reason that's important Adam is because many patients don't have any symptoms. So, this is a disease where you may have an indication for surgery — but you don't feel anything yet. So, it's very important that you have a thorough understanding why you're actually undergoing surgery.
The second thing you have to know is who's your surgeon. You really want to keep your own valve and — depending on the complexity of your anatomy — you  may need a cardiac surgeon that doesn't do a lot of mitral valve surgery. Or, you may need someone who does nothing but mitral valve repair surgery.
So it's really important that you understand (i) what your valve condition is and (ii) what your likelihood of mitral valve repair is.
The last thing you need to know about are the surgical outcomes of that hospital.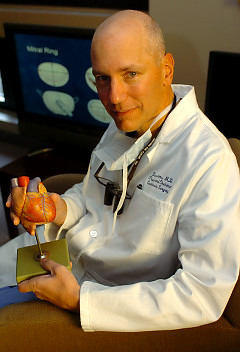 Dr. David Adams – Mitral Valve Repair Specialist
Adam Pick: What are typical outcomes for mitral valve repair patients?
Dr. David Adams: I think the issue is Adam is not only what happens on the day of surgery. That's important. But it's also important what happens to you 5 or 10 years later. I think this is where mitral valve reconstruction (repair) versus valve replacement really wins at patients live longer if they have a valve repair versus valve replacement.
Also, I do think there's an issue here of team work. Doing an operation once a month versus doing an operation twice a week is very different in terms of how the rest of the team's working around the patients. Volume is important. It's not the only factor. But, I think the main message for patients is it's safe the day of surgery and the week after surgery.
Your best chances of living a normal event-free life is by having your mitral valve repaired as opposed to replaced.
Contact Information:
Dr. David Adams,
Chairman of Cardiovascular Surgery,
The Mount Sinai Medical Center,
New York, New York
(866) 306-9648

Brian Walsh says

on June 3rd, 2013 at 7:24 am
Great video! I'm so thankful for Dr. Adams, him and his staff are outstanding. 6 months post op for me and couldn't be happier with Mt. Sinai and Dr. Adams.


Eric Desbonnet says

on June 4th, 2013 at 2:07 am
Its been over 3 1/2 years since Dr. Adams repaired my mitral valve. To quote Adam, it is still "ticking" without a hitch. Thank you so much Dr. Adams for your excellent work.


Debbie Cross says

on June 5th, 2013 at 10:53 pm
Adam, thank you so much for this video.This site is so helpful! Debbie Cross

Adam's Newest Blogs
Adam's Newest Posts