Patient Event Announcement: Let's Connect At "Important Information For People With Heart Murmurs" on September 18
By Adam Pick on August 28, 2012
Great news!!!
You're invited to a special event titled, "Important Information for People with Heart Murmurs". This educational event will be hosted by Alta Bates Summit Medical Center at the Lafayette Library in Oakland, California on Tuesday, September 18 at 6:30 pm (PST). To attend the community session, please call (510) 869-6737.
I have to admit… I feel very, very, very honored to be included as a speaker at this event. Along with Dr. Junaid Khan, a heart valve specialist, we will discuss the causes, the symptoms and the treatment of heart valve disease.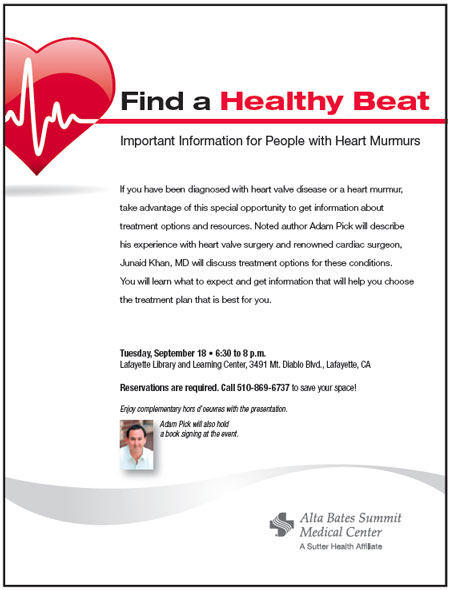 If you were unaware, heart valve disorders impact over 5 million people in the United States alone. Unfortunately, valvular disorders including aortic stenosis and mitral regurgitation are often under-diagnosed and poorly treated.
For these reasons, I'm very excited to partner with Alta Bates Summit Medical Center and Dr. Junaid Khan, cardiac surgeon, for their ongoing commitment to educating patients and caregivers about heart valve disease. I truly believe these types of events will raise awareness to the potential dangers of heart valve disease.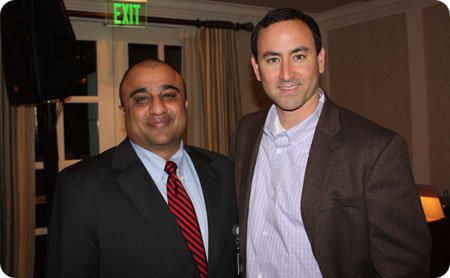 Dr. Junaid Khan & Adam Pick

As seating is limited for this event, please dial (510) 869-6737 to reserve your spot. In addition to a meaningful discussion, Alta Bates Summit will also be provide guests complimentary hors d' oeuvres.
I hope to see you there!
Keep on tickin!
Adam

Ted Shearer says

on September 10th, 2012 at 10:43 pm
Adam,
I look forward to seeing you next week for this speaking engagement hosted by Alta Bates and Dr Junaid Khan. You gave the address for the Lafayette Library in Oakland when it is actually in Lafayette, on Mt Diablo Blvd. I hope everyone catches this for the correct address.
See you there,
Ted

Adam's Newest Blogs
Adam's Newest Posts