Dr. Junaid Khan
Dr. Junaid Khan

Heart Surgeon

Alta Bates Summit Medical Center
3300 Webster #500
Oakland, CA 94609
(888) 536-2451
About Dr. Junaid Khan,
Heart
Valve

Surgeon

Hello! My name is Dr. Junaid Khan and I am a cardiac surgeon having graduated from UCLA in 1989. To date, I have performed approximately 4,000 cardiac surgeries, of which 2,000 involved heart valve procedures. I regularly perform surgery at Alta Bates Summit Medical Center. Read more...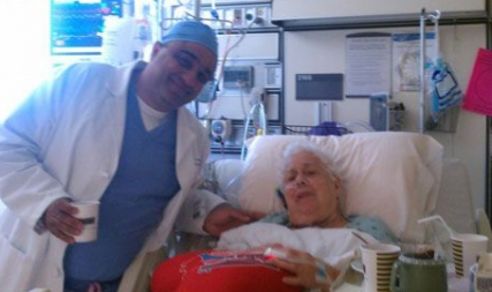 36 Patient Reviews for
Dr. Khan

"To my pleasant surprise, I have experienced very little pain and my recovery has been much faster than expected. This is my 2nd open heart surgery. Thanks Dr. Khan!"
-- Mildred Burns, heart valve surgery patient
"In late 2010 I had a MRI and CT Scan of my brain to assess symptoms related to my epilepsy. The scan of brain was normal but the CT Scan went low enough to identify that the aortic arch (top bend) was slightly enlarged. Didn't think much about it as I was a fairly tall fellow. After some reconsideration, in early 2012 I obtained an echo-cardiogram which identified an enlarged ascending upper aorta (serving the arteries) and a bicuspid aortic valve. The Cardiologists' assessment was that condition was atypical and I should monitor as I would at some time need to address surgically. Subsequent checkup in Fall of 2013 confirmed I remained in relatively normal range and should revisit in approximately 5 years.
September – 2018
Patti, my wife, and I took a long-awaited hike in early September. It was a 4-day, 3-night back pack through the High Sierras the last night taking us to an overnight camp at 10,300'. I was trailing Patti the entire 4 days. We chalked it up to altitude sickness but it seemed odd that it would last for so long. Two weeks later I rode my bike in a Century Ride and I trailed my riding partner the entire 100 miles. Climbing the hills was extremely difficult and I love climbing. I knew something was wrong and decided a cardiac check-in was needed.
November 15
After obtaining a CTA, ECG and Stress Test I along with Patti met with Dr. Junaid Khan and Dr. Barry Sheppard his partner. The assessment of my health condition was that my ascending aortic valve was severely blocked and upper aorta was dilated beyond the range considered safe. Dr. Khan's determination was that a valve replacement was necessary and a grafting of the ascending aorta likely. He also noted that an aortic root replacement may be necessary but could only determine during the procedure. His assessment was I had very little time to wait and needed immediate intervention. I suggested some time in 3-4 months due to work complications but Dr. Khan's assessment was that surgery was needed in 3 weeks and recommended a date. We were scheduled before we left.
The hardest part about the procedure was putting my life in the hands of another. When the lights go out there is nothing I can do to control or assist in decision-making. My life needs to be with someone I trust and I selected Dr. Junaid Khan. Dr. Khan is direct, facts based, and black and white. This is what I wanted in a surgeon, someone who responds to circumstances objectively and can prioritize to solve a problem.
Following the procedure Dr. Khan met with my wife. The prognosis was the procedure went well and without complication and recovery was underway. He shared with her information about the procedure and escorted her into the cardiac post-op introducing her to the care team.
Follow-up visit went well where he shared additional information about the procedure and happily answered our questions. In all a good experience."
-- Doug Olson, Aortic Valve, Median Sternotomy, Transcatheter, 12/06/2018

> See 34 more patient testimonials
My Specialities &
Clinical Interests
My heart surgery specialties include:
Minimally invasive heart valve surgery
Mitral valve repair
Aortic valve replacement
In addition, I have research and clinical interests specific to:
Surgical outcomes and data analysis
Education, Training & Certificates
Dr. Junaid Khan, heart surgeon, graduated from UCLA in 1989.
Schedule Appointment

with Dr. Khan

To schedule an appointment with Dr. Khan, you can:
Call

(888) 536-2451

right now
Request an appointment by clicking here.
The office of Dr. Khan is located at 3300 Webster #500, Oakland, CA 94609. To get driving directions to this office, please click the map below.
> Click for driving directions to Dr. Khan's office.