Jeff, Chris & Mark Celebrate Dr. Paul Stelzer, A Ross Procedure Guru and A Super Nice Guy
By Adam Pick on August 6, 2012
In our patient and caregiver community, the name Doctor Paul Stelzer is synonymous with the Ross Procedure. As you might know, Dr. Paul Stelzer has performed over 500 Ross Procedures during his 28-year career. Dr. Stelzer has performed the last 300 Ross Procedures have occurred without patient mortality.
A testament to his reputation, many patients from our community — including Chris Dixon, Jeff Shebovsky and Mark Kroto — have traveled across the country to have this unique form of aortic valve replacement performed by Dr. Stelzer.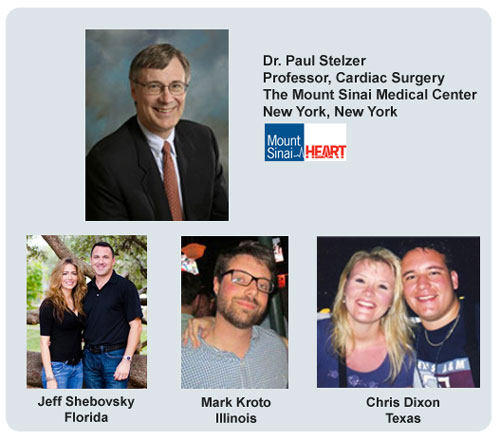 In addition to this extraordinary, surgical accomplishment specific to the Ross Procedure, Dr. Paul Stelzer is also known for his kind and caring ways. Here is what his patients recently shared with me:
"Dr. Stelzer is a miracle worker," shared Mark Kroto, a patient from Chicago, Illinois. "Less than three weeks after surgery, other than some minor incision soreness, I'm completely fine. I'm proud to be Dr. Stelzer's 500th Ross Procedure.

Jeffrey Shebovksy, another Ross Procedure patient of Dr. Stelzer's from Windermere, Florida, shared, "Dr. Stelzer is a godsend, a genius and an amazing super human being. It's five months after my surgery and I couldn't feel better!"
So you know, I've been fortunate to meet and observe Dr. Stelzer in the operating room during an aortic valve and root replacement surgery. Needless to say, I was beyond impressed by his surgical skills and his warm personality. Here's a picture of Dr. Stelzer giving the 'Thumb Up' signal as he successfully completes the surgery I observed.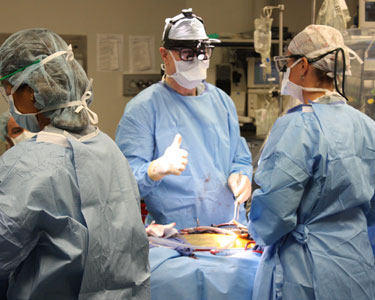 Dr. Stelzer Completes Another Heart Valve Surgery
It is for these reasons, we wanted to shine our spotlight on Dr. Paul Stelzer, heart surgeon at The Mount Sinai Medical Center. Mount Sinai, by the way, just jumped to the #10 ranking in the annual U.S. News and World Report rankings of cardiology and heart surgery programs.
Many, many, many thanks to Dr. Stelzer for his ongoing pursuit of healthy hearts and support of our community!
Keep on tickin' Dr. Stelzer!
Adam
Adam's Newest Blogs
Adam's Newest Posts