New 2012 Edition of My Book Available Now!
By Adam Pick on July 7, 2012
For those patients and caregivers preparing for — or recovering from — heart valve surgery, I wanted to quickly share that the 2012 edition of my book, The Patient's Guide To Heart Valve Surgery, is now available. This 5th revision includes several updates and contributions from leading physicians like Dr. McCarthy, Dr. Bolling, Dr. Adams, Dr. Stewart, Dr. Gaudiani, Dr. Roselli and more.
As you can see below, Robyn (my wife) and Ethan (my son) helped me pack up our first shipment of books that were just dropped off at the post office.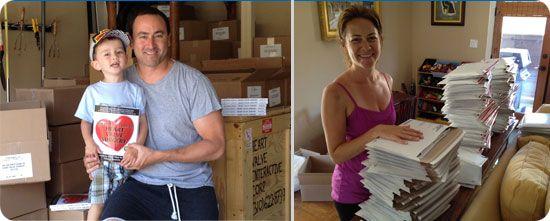 Ethan & Robyn Help Me Pack Up The New 2012 Edition
I'm hopeful the book helps guide you and those around you through heart valve surgery.
Keep on tickin!
Adam

Lynda Knopf BS/RN says

on July 13th, 2012 at 5:37 am
Your summary regarding mitral valve stenosis and mitral valve regurgitation was definitive,concise,helpful and appreciated! ALSO, your book addition notation including happy family photos of Ethan,Robyn, and you is DELIGHTFUL!!!

Adam's Newest Blogs
Adam's Newest Posts