URGENT ANNOUNCEMENT: Heart Valve Webchat With Dr. Lars Svensson & Dr. Murat Tuzcu Tomorrow!
By Adam Pick on March 14, 2012
Hey everybody,
Sorry for the late notice… But, here is a great opportunity to learn more about heart valve disease and treatment. On Thursday, Dr. Lars Svensson and Dr. Murat Tuzcu, from the Cleveland Clinic, will hold a live webchat titled, "Valve Disease, Diagnosis, Interventions and Surgery".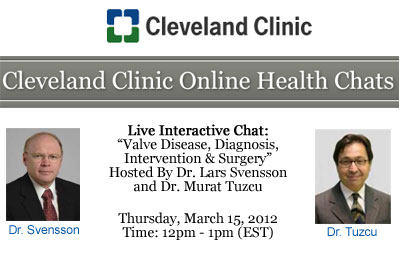 Keep on tickin!
Adam

warren brown says

on March 15th, 2012 at 6:17 am
I would like to hear the webchat, but am working at that time. Will it be available to listen to at a later time.


clint schermerhorn says

on March 15th, 2012 at 10:56 am
I would greatly appreciate it if the Doctors would commnet on any new procedure or treatment for severe left concentric ventricular hypertrophy. I had a Edwards Model 3000TFX 23MM implanted in my aortic position in April of 2008. My Hypertrophy did not improve and I believe it is due to fibroid tissue that did not decrease following surgery in the left ventricle. I know the heart remodels but the distolic dysfunction and the size of it is a great concern. I am almost 59 take lisinopril, atorvastatin sodium, metatoprol and watch diet.
Other than a heart transplant what research or procedures are in the works to treat the severe concentric hypertrophy. Is some kind of laser technology and or stem cell intervention possible to eliminate fibrous tissue and reach live tissue that could be mediated by some process My valve works well but the diminished size I am fearful will resul heart failure or sudden death.
Thank you for your comments and reply


Jeanette says

on March 17th, 2012 at 10:21 am
I am also hoping this will be available again, for those who missed it!

Adam's Newest Blogs
Adam's Newest Posts