Ethan Readies For The College Football Season!
By Adam Pick on August 29, 2011
Thanks to all of you who continue to ask for the latest Ethan update!
As you can see, our little 2-year old, is getting ready for football season. Like his dad, Ethan is a Michigan Wolverine fan. He already has the "Go Blue!" fist pump ready for the opener next Saturday.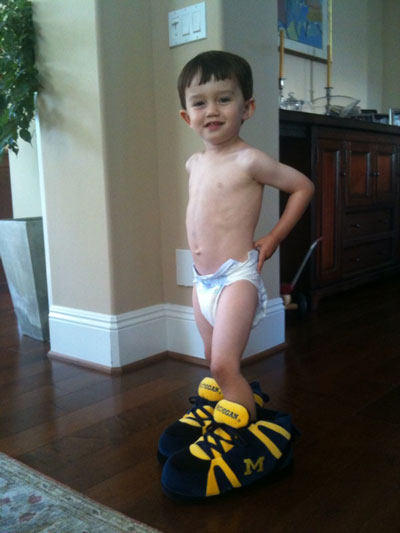 Ethan Pick Readies For Football Saturday
But, in all seriousness, Ethan is thriving. He's talking non-stop and going through the early stages of… potty training! Robyn, my wife, and I are exhausted. However, we are having the time of our lives watching him grow up.
Keep on tickin!
Adam

Grace Jacobs says

on August 31st, 2011 at 7:59 am
What a great photo of Ethan – love the Michigan
slippers – he is adorable.
Always look forward to seeing or hearing about
Ethan.
All the best.
Grace Jacobs


Duane Hunt says

on September 2nd, 2011 at 7:27 pm
Gotta love parents who raise their kids right! GO BLUE!!