After Double Heart Valve Repair, Cindy Hikes The Grand Tetons!
By Adam Pick on September 3, 2010
Cindy just sent me this great email. Given her unique story, I thought you might really enjoy it.
Hi Adam,
I have written you before about the recovery from heart valve surgery. We exchanged emails about when you really felt healed. Last year, I had mitral and tricuspid valve repair by Dr. David Adams in New York — even though I live in California.
We just returned from our summer vacation in Jackson, Wyoming. While I've been there many times, this experience was SO different!!!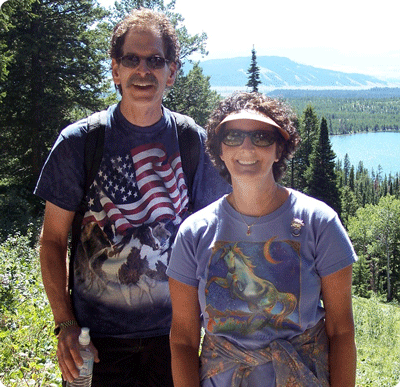 Cindy & Rich Tarver
I was able to hike and SEE lakes that I never could see before! Prior to surgery, the altitude was too much for my severely damaged valve.  (So you know, I've had problems with mitral valve prolapse since childhood, gradually getting to the point of 100% mitral regurgitation with calcified leaflets.)
This year, I was hiking at 7,000 feet with NO shortness of breath!
It was AMAZING! I've never had my feet hurt or my legs get tired before! On previous hikes, I was always on the verge of passing out before any muscle soreness could set in. This was absolute Heaven. It was so GRATIFYING to ENJOY hiking!!  I'm 57 but I felt like a teenager with my "new" heart! I know for sure that I am now healed!
Thanks for all the success stories you share.  After reading the story about Don flying rescue dogs to new homes, I would like to share that I have successfully trained two puppies for Guide Dogs for the Blind in San Rafael, California. All services to the blind client are free. The first puppy I raised graduated this past April and is now a working guide dog in Wyoming. During the graduation (shown below), the trainers hand the dog over to the visually impaired person. It is a very humbling and fulfilling ceremony. Usually, there is not a dry eye anywhere in sight!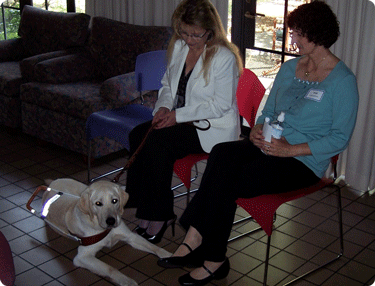 I started training another dog just two months after surgery. That dog just finished the top level of professional training and is awaiting a partner. Next, I will be getting a 12-week old pup in early September to begin the twelve-month training process.
Needless to say… Life IS good.
I must pay homage to Dr. David Adams at Mount Sinai for fixing my heart. I have no murmur and no regurgitation after a very difficult surgery,  The surgery was expected to be four hours long. The surgery took over eight hours. Bless Dr. Adams and his team for their high standards. I really wanted a repair instead of a replacement. He did it! That allowed me to avoid Coumadin. Now, I can continue living my life — caring for, training and riding horses.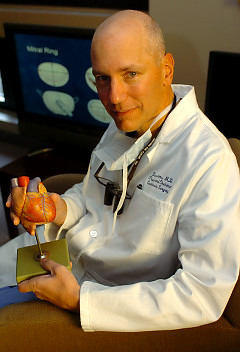 Dr. David Adams
Thanks to YOU for your heart valve book and your ongoing support!!!
VERY MUCH APPRECIATED ADAM!!
Best Regards,
Cindy Tarver

Fran says

on September 3rd, 2010 at 9:02 pm
Hi Adam
Thanks for continuing to bring us these wonderful stories of people whose lives are so changed by their surgeries. Our surgeries are truly miraculous.


Lynn Walka says

on September 4th, 2010 at 9:30 pm
Cindy,Thank you so very much for your inspiration as this is week six after having an aortic valve replaced and then a surprise pacemaker 6 days later at 58 with no symptoms until a couple of weeks before.
Tonight I was square dancing and skipping to blue grass music and forgot for the first time during those moments. I so look forward to my active life again. Lots of Love and Gratitude to you for what you are doing, Lynn


Adam Pick says

on September 5th, 2010 at 8:09 am
Lynn,
Congratulations on the square dance!!!
Sounds like a fun night!!!
Adam


Cindy says

on September 7th, 2010 at 5:08 pm
My goodness Lynn!!
Just 6 weeks & you are dancing! GREAT JOB!! I was not moving that fast at just 6 weeks … not by a LONG shot 🙂 … the best of luck to you!!
And to Fran … Yes, when I was hiking that is exactly what I thought … a miracle that I could be "fixed" in such a complicated way & be doing something that was once so stressful & tiring. I hope these wonderful doctors rest well at night knowing how many lives they have changed & made so much better!
Cindy

Adam's Newest Blogs
Adam's Newest Posts