Aortic Stenosis Tool Helps Patients Identify Surgical Needs Online
By Adam Pick on July 22, 2010
Similar to its mitral regurgitation tool, The Cleveland Clinic just announced a new, online program to help patients and caregivers determine their need for cardiac surgery relative to aortic stenosis.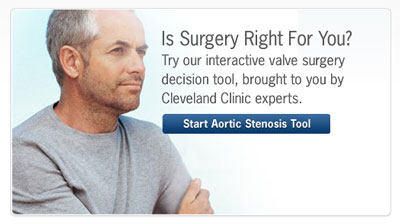 Here is a snippet from their website about the interactive, aortic stenosis tool:
"Is surgery recommended for your aortic stenosis? This interactive tool, based on the American College of Cardiology and American Heart Association Guidelines for management of aortic valve disease will help determine if it is. The tool asks you several simple questions, considers your answers, and tells you whether you may be a candidate for surgery."
In addition, Dr. E. Murat Tuzcu, cardiologist, and Dr. Lars Svensson, cardiac surgeon, provide some additional information about aortic valve stenosis – narrowing of the heart valve – in an educational video.
I hope you enjoy this new tool for aortic stenosis diagnosis.
Keep on tickin!
Adam

Pat says

on July 22nd, 2010 at 2:29 pm
looking for a surgeon recommendation for CT -I have aortic stenosis and aortic aneurysm
Any suggestions
Thanks


Lee Kraker says

on July 22nd, 2010 at 9:08 pm
I had mitral and aortic valve replacement September 25,1989. It took a while to get back on my feet. However,along with my surgery came a terrible case of depression. I have been taking Fluoxetine since 1993. The answer that was given to me was that my body was reacting to a severe wound-I didn't know what was wrong with me,but that's the lowest,sad time that I hope no other patient has to deal with. They told me just prior to surgery that there may be "some" depression but it would eventually go away. Well.here it is 21 years or so later and I'm still plagued by my old "friend". I guess it happens to some patients and some never have a problem. RLKJR


stephanie crummey says

on July 25th, 2010 at 1:38 am
It is now 8 weeks since my aortic valve replacement, and thanks to reading Adams book the guidance was so useful. I am now well on the way to recovery and I walked into my local city (Plymouth UK) from my home which is 3 miles in under an hour. I was so pleased, as I intend doing the same journey when I return to work. The only thing I still encounter is an achy feeling on my sternum when I awake in the morning but that soon passes once I walk about. Also the ticking can seem loud sometimes, yet other times I hardly notice it.
The important this is not to let the highs and lows get you down, it will all even out eventually when your body is ready – Good luck to all of you who have yet to undertake this wonderfull opportunity to get better – you will!
God Bless
Stephanie Crummey (Plymouth UK)

Adam's Newest Blogs
Adam's Newest Posts