"Do You Have A Question About Aortic Valve Surgery?" Asks Adam
If you are preparing for or recovering from aortic valve surgery, here is a great way to get your questions answered from a surgical expert. This Wednesday, July 7 at 2pm (EST), Dr. Eric Roselli, one of The Cleveland Clinic's leading heart surgeons, will answer your questions during a special online chat.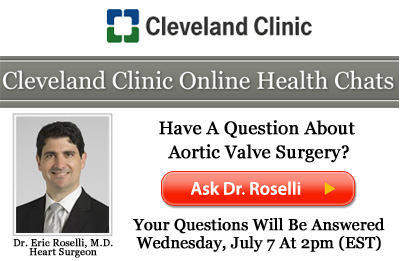 To ensure that your question is answered during the event, please click this link to ask your question in the "reply section" of this blog. Or, you can email me at adam@heart-valve-surgery.com. I will immediately pass your questions onto Dr. Roselli for the upcoming chat.
Registration for the chat: If you would like to participate in the free online chat this Wednesday with Dr. Roselli, simply click here to register!
Keep on tickin!