"Can A Tricuspid Valve Be Repaired?" Asks Eva
I just received a question about tricuspid valve surgery from Eva. She writes, "Adam – Can tricuspid valves be as easily repaired as mitral valves?"
To help answer Eva's question, I just found a great video from Dr. Lishan Aklog, chief of cardiovascular surgery and chair of the Cardiovascular Center at the Heart & Lung Institute at St. Joseph's Hospital and Medical Center.
As Dr. Aklog notes, it is possible for the tricuspid valve to be repaired. However, as each patient case is unique, your surgeon will ultimately make the decision whether or not your valve will be repaired. In many situations, like mine, the valve leaflets are so degenerated — due to calcification, infection, aging, etc. — a repair will not restore valvular function. In those patient cases, a valve replacement is necessary.
If you were recently diagnosed with heart valve disease, or are preparing for heart valve surgery, the diagram below should help you understand the positioning of a tricuspid valve within the human heart – relative to the other three valves. You will notice the tricuspid valve has three leaflets (also known as valve flaps), similar to the aortic and pulmonary valve. The mitral valve only has two leaflets.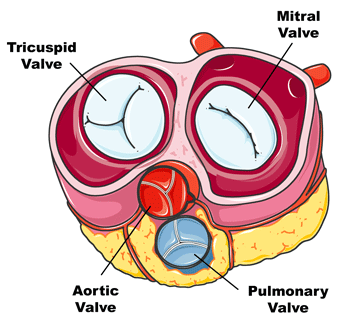 I hope this helps Eva (and perhaps you) learn a little more about tricuspid valve repair.
Keep on tickin!
Adam