Guest Blog: "Scarless Heart Valve Surgery For Women" By Dr. Giovanni Ciuffo
By Adam Pick on April 24, 2010
Earlier this week, I spoke with Dr. Giovanni Ciuffo, a minimally invasive and bloodless heart surgery specialist, at Mount Sinai Hospital in New York. (As you may remember, Dr. Ciuffo wrote "Aortic Stenosis… The Neglected Child".)
During our discussion, Dr. Ciuffo shared several clinical insights about traditional, median sternotomy approaches, as well as, minimally invasive procedures (e.g. mini-thoracotomy). After our discussion, Dr. Ciuffo forwarded me an article he recently published titled, "Scarless Heart Valve Surgery For Women".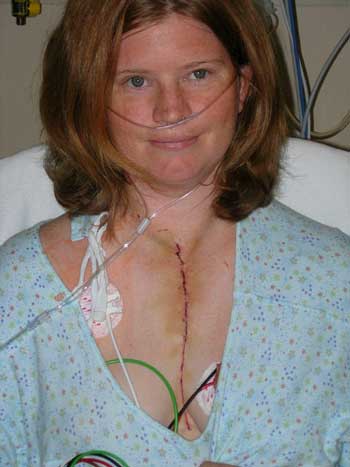 Heart Surgery Scar From Traditional Median Sternotomy
As I reviewed Dr. Giuffo's article, I found the article to be full of interesting and educational information — especially for woman. That said, here are the highlights from this article:
A larger number of women are becoming aware of the impact of heart disease in their lives. When heart surgery is proposed for their valve or coronary disease, fears related to the operation and its consequences are deeply felt.
The main concerns usually revolve around the ability to recover quickly and uneventfully. Female patients also maintain concern about how long and unsightly the surgical scar is going to be.
I can share great news on both counts — minimally invasive techniques have radically changed my patients' experience.
What's Minimally Invasive Cardiac Surgery And Why Is It A Better Way To Go?
Minimally invasive cardiac surgery along with its technology is, in my opinion, the most exciting evolution towards an improved, low-impact and soft-touch way to treat our cardiovascular patients.
Most cardiac patients now enjoy a faster, more comfortable recovery regardless of their age and/or overall physical condition. Many of my patients are able to leave the hospital and return to their homes two to three days after surgery. Furthermore, surgical scars are much smaller and in women can be completely hidden out of sight in the skin fold underneath the breast.
Let me give you a straightforward perspective on how we achieved these improvements. Cardiac surgery has been around since the early 1960's and it has always been associated with a common assumption in the training routine of all cardiac surgeons… The cutting of the breast bone (also known as a median sternotomy).
Sternotomy: The overwhelming majority of traditional open heart operations have required a 8″ to 12″ incision (shown above) that cuts through the breastbone in the center of the chest.
I will show how this assumption has been challenged by a strong clinical interest in developing new techniques and technologies to allow cardiac patients a rapid and uneventful return to a healthy and productive lifestyle.
A new wave of interest in techniques that would be easier on our patients has opened new avenues and led us to think outside the box. The challenge was to be able to perform the same surgical procedure through a tiny incision with the same or better results in comparison to the traditional approach and without any compromise on the quality and safety of the operation.
Minithoracotomy: I now adopt the routine use of minithoracotomies in all types of open heart operations with excellent results. A minithoracotomy is a 2″ incision in between two ribs that is placed over the area of the heart that needs to be exposed to perform our procedure. I have used this approach to treat the full range of aortic and mitral valve disease, coronary disease, atrial septal defects, ventricular septal defects, septal hypertrophy, atrial myxomas and intracardiac tumors.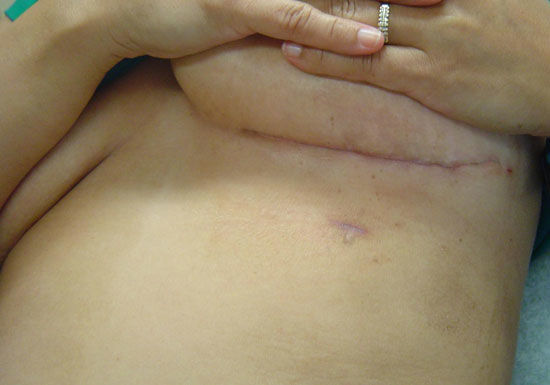 Minimally Invasive Scar On Woman After Coronary Bypass
Using this approach, I create a tiny window through which I can perform the operation with special minimally invasive instruments. There is no bone cutting involved and it for this reason there is minimal bleeding and minimal pain with a much quicker recovery.
The avoidance of breast bone cutting in ladies affected by osteoporosis is a great improvement and allow these incisions to heal very well. Wound infections are almost unheard of and cosmetic results are excellent. The picture above shows you the scar in a female patient in her 40's who underwent a minimally invasive coronary bypass two weeks earlier.
Obviously there are no visible scars unless you look in the skin crease underneath the left breast. A few months later that scar will turn into a thin white line that is barely visible. This incision is very similar to the one used by plastic surgeons to perform cosmetic breast surgery. I don't need to tell you that this patient was ecstatic about not having a 12″ scar running up-and-down the middle of her chest. She could still look forward to wearing evening gowns and blouses without having to worry about a visible scar in her décolleté.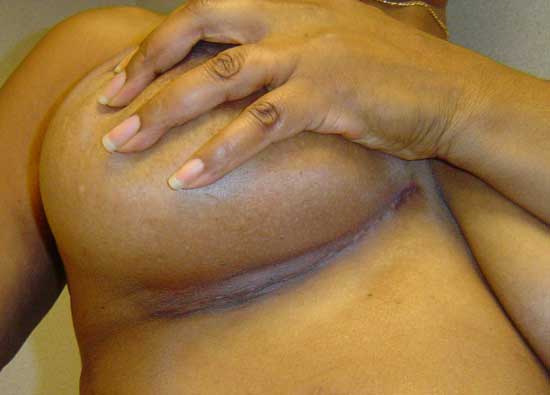 Minimally Invasive Scar On Woman After Mitral Valve Repair
The picture above shows you the postoperative results in a lady who presented with severe leakage of her mitral valve (also known as mitral regurgitation). I remind you that mitral valve disease is very common among ladies and it can develop into a severe mitral valve leakage and therefore require a surgical correction. Our statistics show — that in the age range 25 to 40 — one of every six women is affected by mitral valve prolapse, a condition characterized by a somewhat loose, floppy valve. This patient's story is the all-too-common case of a 50 year-old lady who developed an intense shortness of breath and was found to have severe mitral valve leakage.
This patient was afraid of the surgery and did not want a scar in the middle of her chest. She kept postponing the surgery — with great risk to her health — until she found out about the techniques used in my practice.
After an in-depth description of the actual operation, its advantages and superior cosmetic results, she felt a lot more comfortable with it. She underwent a minimally invasive, mitral valve repair and was able to return home two days later. This picture was taken six days after surgery. As you can see, the surgical incision is in the skin fold underneath the right breast.
Have a great, healthy day,
Giovanni B. Ciuffo, M.D.
Minimally Invasive and Bloodless Heart Surgery Center
Adam's Newest Blogs
Adam's Newest Posts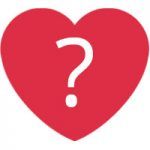 Surgeon Q&A: "What Criteria Do Heart Surgeons Use to Choose a Heart Valve Replacement?" asks Peter Learn More.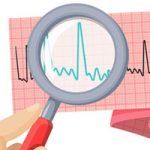 "How Do I Know When My AFib Is Gone After Heart Surgery?" asks Linda Learn More.