Surgeon Interview: Dr. Niv Ad Discusses Atrial Fibrillation and Heart Valve Surgery
By Adam Pick on March 10, 2010
Over the years, I have interacted with many patients that suffer from atrial fibrillation and heart valve diseases including aortic stenosis and mitral regurgitation. To learn more about atrial fibrillation and heart valve disease, I contacted Dr. Niv Ad, a leading cardiac surgeon at White Oak Medical Center in Takoma Park. Here are the highlights from our very interesting discussion:
Adam: Thanks so much for taking time to speak with me today. I'd like to ask you a couple questions about atrial fibrillation and heart valve disorders.
Dr. Niv Ad: Thanks Adam for raising awareness to this very important topic.
Adam: To start, can you discuss the correlation between patients with atrial fibrillation and those patients with heart valve disorders. Is this common? If so, is atrial fibrillation closely linked to any particular type of valve disease?
Dr. Niv Ad: It is very common with an estimated incidence of 35%-50% of patients with valvular heart disease to have some type of atrial fibrillation at the time of their valve surgery. It is most commonly seen in patients with mitral valve disease (stenosis and insufficiency +/- tricuspid valve disease), but not infrequent in patients with aortic valve disease. It is also important to remember that AF is a disease that is more common in older ages. Since many of our patients are 65+ years old, AF may not be directly related to their valve disease when we operate on them. Another scenario that I find quite common is patients with AF that subsequently developed a dilated left ventricle that, in turn, results in significant mitral insufficiency.
Adam: Specific to treatment timing, is it common that atrial fibrillation and heart valve disorders are fixed during a single operation? Or, are the procedures completed at different times?
Dr. Niv Ad: Excellent question! In my mind, when we perform valve surgery, the surgeon should have more than a good reason not to address atrial fibrillation during the same procedure. Correcting AF is going to improve surgical outcomes and quality of life without increasing the operative risk in the majority of patients.
The other big issues are (i) what type of corrective procedure should be used and (ii) should we expect the same results from all types of corrective procedures? The short answer is NO. This is why it is so important to have extensive surgical experience in the field for the decision, if and how to modify the Maze Procedure, or choose a more limited approach. The same thoughts apply to the type of ablation devices used.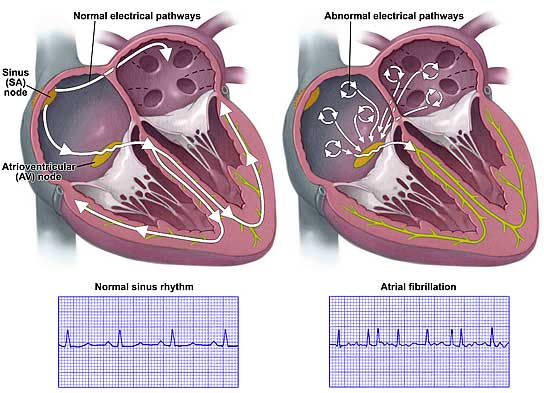 Adam: I understand that you have pioneered some interesting approaches to atrial fibrillation at Inova. Can you describe those unique surgical techniques?
Dr. Niv Ad: I always say that I am a good student, but not a pioneer. I was fortunate to be trained under Dr. James L. Cox. He taught me everything I know about arrhythmia (irregular heart beats) surgery with or without valve surgery. I am still learning from him. When we worked together for the first time, the "cut and sew" full Maze Procedure was replaced with cryoablation (still my favorite energy source).  Under his direction, I was able to develop some unique, minimally invasive approaches to treat AF as a stand-alone procedure or concurrently with valve disease — especially mitral vale repair.
Not to be too detailed, but we have developed a unique approach where we can apply most of the ablation lesions through pursestrings and tiny holes rather than longer cuts. We also don't manipulate the ascending aorta and avoid stopping the heart with cardioplegia.
Adam: What makes the Inova Heart and Vascular Center so special? I see the facility often referred to as one of the best cardiac care centers in the world.
Dr. Niv Ad: Well, we certainly do our best. We focus on delivery of state of the art surgery, all types of open heart surgeries, and patient care. Inova has a special focus on valve surgery and very aggressive mitral valve repair approaches.  It is of importance to mention that we are one of the biggest cardiac surgery programs in the United States with the largest valve surgery volumes across the region and the state line. Now, we are expanding and improving our patient follow-up programs, especially focusing on quality of life, surgery for atrial fibrillation and valve disease. We have established unique registries that are being run by a dedicated team that you recently met at our annual patient reunion.
Adam: Is there anything else our patient and caregiver community should know about atrial fibrillation and heart valve disease?
Dr. Niv Ad: I believe that patients and caregivers should educate themselves on AF as much as they do with their valve disease. I can think of more-than-one unpleasant scenario for patients that had the most outstanding valve surgery and their AF was either left untreated or managed poorly.
Adam: One last question… I just received a note from Gayle, a recent mitral valve repair patient, about A-fib. Would you mind answering it?
Dr. Niv Ad: No problem.
Adam: Gayle writes, "After my mitral valve repair, I can't seem to get out of a-fib. Now, my surgeon wants to do cardioversion. Is there anything you can tell me about this procedure, what to expect, how often do patients need it post surgery and its success rate?"
Dr. Niv Ad: New onset atrial fibrillation following open heart surgery is not rare. Unlike patients coming to surgery with an already existing problem this one is usually resolved with medication and/or cardioversion. Each cardiac center is running the procedure a little differently, but the general concept is that you will be sedated and a TEE will be used to rule out blood clots in the heart followed by the cardioversion. This is a relatively low risk procedure and I highly recommend it if other means of anti-arrhythmic drugs failed.
Adam: Great! Thanks so much for chatting with me today.
Dr. Niv Ad: You are welcome Adam. What you do is very important.
Keep on tickin!
Adam

Vicki Vance-Harrell says

on March 11th, 2010 at 11:20 am
This was an excellent interview – I am so pleased to know there is this fine care available 30 min from my house!
Thanks


Jim says

on May 29th, 2010 at 10:34 am
Hi,
I read that Inova Hospital in Fairfax, Va. is one of the best in the country for cardiac surgery. Where can I find them listed as a top cardiac facility?
Thanks,
Jim