Register Now For Dr. Gillinov's Interactive Chat On Wednesday, February 3!
By Adam Pick on January 17, 2010
Hi everybody,
I have some great news to share! As a result of your 100+ responses to an earlier post, the Cleveland Clinic will host an exclusive, interactive chat with Dr. Marc Gillinov, M.D. and our community! If you didn't know, Dr. Gillinov recently performed aortic and mitral valve surgery on Robin Williams, the actor and comedian.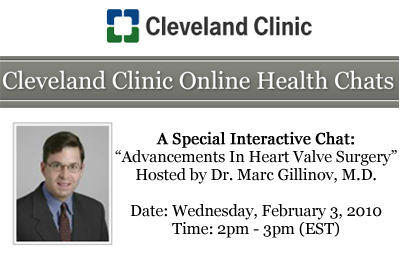 The event is scheduled for Wednesday, February 3rd from 2pm – 3pm (EST) and will provide you with direct access to Dr. Gillinov, one of the world's leading heart valve surgeons.
To participate in the chat, please follow these steps:
If you have a question for Dr. Gillinov – Please use the comments section (below) to post your question. Please be very detailed as this will help Dr. Gillinov better understand and answer your question.
If you would like to join the live, online chat – You must register for the chat at The Cleveland Clinic website. Here are the actions needed to register. Please follow these instructions, step-by-step, as it is a little bit tricky. In fact, it might help to print out these instructions.
First, click this link to arrive at the Cleveland Clinic login page.
Second, if you do not have an account for the Cleveland Clinic website, please click the "Create Account" button shown below. Otherwise, please insert your login ID and password.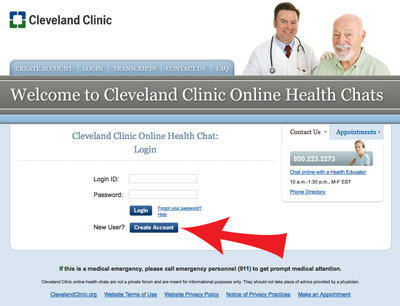 Third, once you have created an account, please return to this blog and click this secure, registration link. (THAT WAS A VERY, VERY IMPORTANT STEP.)
Fourth, once you arrive at the page shown below, please click the "Register" button at the bottom of the page.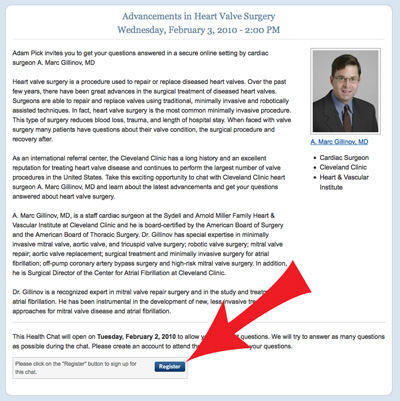 Fifth, you will be taken, once again, to the login page referenced above. This time, please insert your new login ID and password. That's it! You should be taken to a "Thank You!" page which confirms your registration! You're almost done!
To participate in the chat, the Cleveland Clinic's chat tool uses special software, known as Java. That said, you must have Java on your computer. So, please click this link to test if Java is installed on your computer. Otherwise, click this link to download Java to your computer.
Finally, as requested, a written transcript of this chat will be posted following the event. That way, you can review the details of this discussion if you have a scheduling conflict.
Again, thanks for interest in this event! My gut is telling me that we are all going to learn a lot from this online discussion.
Keep on tickin!
Adam

Brian Proett says

on January 17th, 2010 at 3:59 pm
Dr. Gillinov – Hello I am an American expat living in Norway. I am 56 years old. I exercise regularly. I have a bicuspid aortic valve that has become calcified. I have a pressure gradient of 60, however I have largely remained symptom free. On the Bruce Protocol Treadmill Stress test I go for 16 min with a heart rate of 145 bpm without symptoms.
I may have been experiencing some symptoms but I am not sure. My cardiologist in Houston tells me that I could have the surgery soon. Here in Norway I would have to travel to Oslo or Bergen as Stavanger does not have the expertise. I don't feel comfortable with that, therefore, I am considering Cleveland Clinic.
My question – How do I know it is the right time? How can I be sure? I am considering a tissue valve to avoid blood thinners. I also need to know how to arrange this.
Your thoughts on my situation would be appreciated.
Brian Proett


Don Spencer says

on January 17th, 2010 at 4:16 pm
Dear Dr. Gillinov,
Why is Open heart surgery used instead of the minimally invasive approach when Aortic valve repair or replacement is needed?
Thanks,
Don


joseph dagher says

on January 17th, 2010 at 4:21 pm
I may have to have a percutaneous heart valve replacement. Can I get it done at Cleveland Clinic? Is there a facility closer to Detroit, e.g. University
of Michigan, Harper Woods Hospital in Detroit, or any other?


Judy says

on January 17th, 2010 at 5:37 pm
Dear Dr Gillinov,
I am 66, female, 5ft 2 high, with an anomalous origin of my circumflex artery running off the RCA and exactly adjacent to my aortic valve, due for aortic valve replacement 21mm (maybe 23mm). Reoperation is tricky with me so am reluctantly considering a mechanical valve. What is the progress of the Austin study with the OnX valve requiring little, if any warfarin? Is there a long lasting stented tissue valve? I am not a candidate for human donor valve because of calcification in my sinotubular junction.
Thank you


Sam Swerdlow says

on January 17th, 2010 at 5:40 pm
1. Is there any type of arrhythmia that can be a result of a tissue AVR and if so how long does it last and how is it treated?
2. What medications are typically prescribed after a minimally invasive (mini-sternotomy) tissue AVR and for how long are they usually taken?
3. Are there any precautions or restrictions concerning physical activity placed on a tissue AVR recipient (ie. running, high altitude skiing & climbing) after recovery?


Fran Zilko says

on January 17th, 2010 at 6:06 pm
Is the maze procedure always effective?You will be doing my surgery, 2 valves and the maze procedure in March and am very thankful to have you as my surgeon. Would you also address the "pump head" syndrome?


Don Henry says

on January 17th, 2010 at 6:28 pm
I had AVR in 2000 when I was 55 years old with a Carpentier Edwards Bovine tissue valve and will need a second surgery this year at age 65 and I only want to have to undergo this surgery one more time and I am thinking about the ON-X mechanical valve, which I have read requires less coumadin and some patients are taking plavix only. Would you recommend the ON-X or the St Jude's or stay with the tissue valve?
Have there been any advances in the preservation of the tissue valves where they would last 20 years? And is the medical field working on new blood thinners, which would require not taking them daily and having your blood tested daily? If I have the surgery performed in Cleveland how long would I have to stay before I could travel back to Richmond, Va? I am on high blood pressure medication and also taking Questran for nutrient absorption due to a GI Bleeed surgery where I had my ileum removed, but am in good health otherwise. Can you do a re-do surgery minimally invasive? And how often is a homograft or cadaver valve use to replace the aorta and how difficult would a re-do- operation be with a homograft?
Are there any surgeons at the Cleveland Clinic , who perform the Ross Procedure? How many years would a 65 year old male get from the Ross Procedure? If a cadaver is used to replace the pulmonary valve , then why can't the aorta be replaced by a cadaver; therefore the patient would not have to undergo a double valve transplant? And if the Ross Procedure fails how difficult would another surgery be ?
Can you perform minimally invasive AVR surgery on a re-do operation or is there too much scar tissue involved, so you would have to split the sternum more requiring more incisions?


Fran Zilko says

on January 17th, 2010 at 7:30 pm
Adam, don't know what I'm doing wrong, but after I register at the CC I am not given a Log In ID that I can use to register for Dr Gullinov's talk. HELP


Adam Pick says

on January 17th, 2010 at 7:40 pm
Hi Fran,
Good question.
FYI, You are not given a login ID. You are the one who creates the Login ID when you create an account. The login ID is your user name. You will also need the password you input when you created an account.
I hope that helps!
Adam


August says

on January 17th, 2010 at 10:00 pm
As a youthful 74 year old I have received conflicting opinions from two prominent cardiothoracic surgeons in North Carolina concerning mitral and aortic valve replacement selection. One states that tissue valves in the aortic position can last up to 18 years ,but mitral only up to 8 years. He also states that patients with rheumatic valve desease will in many cases require coumadin due to atrial fib. He recommends mechanical to avoid reoperation at age 84. the second surgeon recommends tissue valves and states that there is no difference in valve life in either position. He is very opposed to coumadin usage in the elderly. Is there any data to support either surgeons position?


Kemal says

on January 18th, 2010 at 2:46 am
Hi Dr. Gillinov,
I had a mechanical mitral valve replacement operation in March, 2009. I have 2 questions:
1. I had a mnor Ischemic stroke 4 months after the operation. Doctors believe that the cause was a small blood clot caused by my mechanical mitral valve. What can I do to prevent further strokes in addition to keeping my PT/INR 3.0 and above? Will I always have a higher chance to get a stroke since I have a mechanical valve?
2. I sometimes have higher than usual heart rate especially duirng exercise. How long would it take after a mechanical valve replace to get rid of those occasional heart rate variations and, more importantly, atrial fibrilation incidents which may cause blood clots and potentially stroke?
Thank you.
Kemal


Doug says

on January 18th, 2010 at 9:03 am
Dr. Gillinov,
I am 2 years post Ross procedure (on Feb 12th). I love to lift weights. What precautions should I be aware of when lifting weights? My surgeon told me that I should focus on light weight and high repetition (which is what I do). I've slowly started moving up in weight, but certainly not too heavy.
Also, can I drink protein shakes? What would be the reason that I couldn't?
Thanks for taking time out to do this!!!
Doug


Sue says

on January 18th, 2010 at 10:18 am
Dr. Gillinov,
You replaced my mitral value last January. I am now 70 years old. I walk on a treadmill for 60 minutes 3 times a week. Which is better to do, 60 minutes 3 times a week or do 30 minutes each day.
Thanks again for all you have done for me. 🙂
Sue


Anne-Marie says

on January 18th, 2010 at 12:58 pm
Dr Gillinov,
My brother is 43 years old and is due in the next few months to have an aortic valve replacement due to severe stenosis. He intends to give up smoking but still likes to have roughly 4 pints of lager a night. Would you recommend an artificial or tissue valve replacement in consideration of his lifestyle. He has discussed this with his surgeon who has intimated that the choice is his. He would appreciate your opinion concerning this.
Thank you.
Anne-Marie


Debby says

on January 18th, 2010 at 1:02 pm
MVP Repair- Timing and Type of Repairs you'd recommend.
Dr. Gillinov,
I am 41 year old, healthy (except for MV), active, female getting echos every 6 months with my cardiologist and have been since I was 36. I have severe regurgitation but no other symptoms. Last summer my pulmonary pressure increased to 40 but in December measured 27 again.
When would you recommend surgery? What would you expect to see change and when?
What are your thoughts and recommendations concerning the more minimally invasive robotic surgery to repair the mitral valve? My interest and priority being the best repair possible (I'm not worried about the scar).
Thank you very much, I'm very interested to hear your discussion!


Meigs says

on January 18th, 2010 at 1:16 pm
Adam, Do I have to formally register to get the written transcript of Dr Guillinov's talk?
Thanks, Meigs


Sumi says

on January 18th, 2010 at 1:55 pm
Dear Dr.Gillinov,
I had rheumatic fever as a child that affected my mitral valve and caused stenosis. I had my Percutaneous mitral balloon valvuloplasty done in 1997 in India when i was 18. The valve area was about 1.9 sq.cm and I had trivial mitral regurgitation after the procedure. I felt perfectly healthy after this procedure. But the stenosis recurred in 10 years and I had to undergo another balloon valvuloplasty in 2006. This time I had the procedure done at UCSF,CA. After the second procedure I had moderate mitral regurgitation and my valve area was 1.7 sq cm. During my regular visit to the cardiologist last month, I was told that my regurgitation has worsened and it is now moderate to severe. I have no afib or any symptoms so far. My left atrium is very mildly enlarged. All other chambers are in the normal size and functioning well. The valve area remains the same after 4 years – 1.7 sq cm
1. From your experience, how long does it take on the average for MR symptoms to worsen or do any kind of interventional surgery? Does it take years or just months?
2. What are the criteria for surgery in asymptomatic patients?
3. Can rheumatic valves be repaired? What is the success rate for this?
3. Since all my other valves and the heart function is fine, would it be possible for a patient like me to get mitral valve repair or replacement without open heart surgery (mini thoractomy/percutaneous valve replacement)?
4. Is mini thoracotomy as effective as sternotomy? what is the success rate of the procedure? Are there any advantages to sternotomy over mini thoracatomy? How do surgeons choose which procedure suits the patient?
5. Is performing mitral valve surgery on rheumatic patients any different from non-rheumatic patients with MR. Is it more risky and does the prognosis differ?
6. Is there anything at all that i can do to delay the progress of my mitral regurgitation and thereby avoid or delay surgery?
thanks in advance
Sumi


Adam Pick says

on January 18th, 2010 at 5:01 pm
Meigs,
Great question…
No, you do not need to register to obtain the transcript. From what I understand, the Cleveland Clinic is going to provide me with a written copy of the chat. I will then post the file on this blog for anyone to download.
I hope that helps answer your question.
Keep on tickin!
Adam


Dwight Weinberger says

on January 18th, 2010 at 9:59 pm
What % of open heart surgery patients get arrythmias and why? How long can I be on Amiodarone 100 mg safely. I have taken taken approx. 17 grams from Oct. 24 (4 1/2 months) and have one more month @ 100 mg. per day. I am very happy with my AVR except had a terrible time with PAC's and A fib starting about a week post op (surgery was Sept. 11/09).Thanks


alex says

on January 19th, 2010 at 10:57 am
I am 30 year old male and I have a congenital cleft of MV anterior leaflet and 4+ regurgitation. There is no hole between the chambers etc. I don't have any other disease or symptoms related to MV prolapse. I want to know the chances of successful repair using robotics. Is it true that repair of anterior leaflet does not hold well and even if I get a successful repair, the sutures may fail over time?
Can build-up of scar tissues on the valve-leaflet in long run cause the repaired valve to fail? Thanks.


Marti Scamman says

on January 19th, 2010 at 3:33 pm
It is great that you are having Dr. Gillinov respond to questions. I travelled to CC last August (from Denver) and Dr. Gillinov and his team replaced my aortic valve and performed a single bypass. I am doing fine and highly recommend this gifted surgeon.


Cheryl says

on January 19th, 2010 at 3:38 pm
Hi Adam
Originally I was going to ask the doctor about my pvc's but in talking that over with my rehab nurse this morning I think I understand why I have it and they are benign.
I am an active 60 year old female and had a mitral valve P2 section repair done Oct 1/09. I still have AI, TR (mild to moderate) and the mitral valve regurgitation has decreased from 50% to just a trace. The surgeon doesn't anticipate my needing further surgery. I don't believe I've ever had rheumatic fever – but I did suffer some episodes of strep throat as a child and was medicated properly at those times.
I am in weekly rehab and would like to know about the benefits and how it works. Patients initially do a stress test and from the results of that test, there is a heart rate zone we are to strive for. My question is – how long does a patient exercise at that particular heart rate before increasing the load? How does the nurse/technician know when to kick it up a notch? What are they looking for in terms of pulse and blood pressure etc? I exercise daily at home on a treadmill using a pulse rate monitor and am not even breaking a sweat. I suppose I'm impatient in wanting to do more. In December my resting pulse rate was about 54 bpm and very, very erratic and in January my pulse has increased to a resting rate of 74-84. My recommended exercise rate is 94-104 although the initial test results indicated I could go as high as 110 bpm. The nurse doesn't think I'm ready for that yet so we're keeping it a little lower.
Adam, I quite understand if the doctor doesn't get around to answering this question as there are so many other much more important questions listed already. If that is the case, perhaps this is something you can address somewhere else on your website.
Many thanks. Cheryl, Ontario


vicki says

on January 19th, 2010 at 8:06 pm
Dr Gillinov:
I'm a 46-yr old female. I had my VSD closed and aortic valve repaired a year ago. My aortic valve (mild AI) was repaired because one of the leaflets was being pulled through the VSD. I also had some muscle bundles removed due to double-chambered right ventricle.
Six months ago, I found out that I now have mild insufficiency in my aortic, pulmonary and tricuspid valves.
My questions:
1) What would cause both my pulmonary and tricuspid valves to leak when they weren't before the surgery?
2) What is the long-term outlook of all three valves?
Thank you for your time,
Vicki


Joel Bryan says

on January 20th, 2010 at 10:27 am
Adam,
This live chat is a great idea. Hopefully it will become a regular feature of your service to heart valve patients. I won't be able to participate personally because I will be returning to work the first week of February, but I look forward to reading every word of the transcript!
Keep up the great work!
Joel Bryan, Iowa


Lisa says

on January 20th, 2010 at 3:36 pm
I had mitral valve repair via median sternotomy just over a year ago. I was 35, very active, and asymptomatic with MVP and severe regurgitation, initial diagnosis at age 12. Shortly after the surgery, I was told the repair did not go as well as planned and I still have moderate regurgitation. Is it possible to re-repair? I know both leaflets are myxomatous and only the posterior was modified, and an annuloplasty ring was placed. Do we just watch and wait for worsening heart function and /or symptoms before reoperating?


Randy Heimerl says

on January 20th, 2010 at 7:32 pm
Dr.Gillinov
Thanks for taking the time to do this. Most of the questions I wanted to ask have been already asked. I had my aortic valve replaced with an ON-X valve last June. I am doing very well. I am in the study group for ON-X valves and am currently taking Plavix. Do you have an opinion on this valve or the study being conducted. I am 53 and very active in a number of different sports. I don't have any other health issues. Would you put any restrictions on me continuing this active lifestyle.
Thanks Randy


Bow Revusky says

on January 22nd, 2010 at 11:30 am
Thanks for the opportunity to ask Dr. Gillinov a question.
My question concerns the pros and cons of minimally invasive surgery vs. regular open heart surge for aortic valve replacement. My understanding is that minimally invasive surgery results in a smaller incision that MAY result in faster recovery. Are there other advantages? More importantly, are there more/different risks in the minimally invasive procedure as compared to regular open heart surgery? What criteria should be considered for doing one or the other?


Jim Hilbe says

on January 25th, 2010 at 5:34 pm
Greetings Dr. Gillinov,
My wife Betsey Hilbe had AVR there on July 24, 2009 and we returned to California on July 31. Dr. Lytle is her surgeon. She is fully recovered and very thankful to have been assisted by the Cleveland Clinic team. She has a cardiologist here, but wishes to continue treatment there. What is the recommended treatment after AVR?


Cecilia says

on January 25th, 2010 at 7:59 pm
I have a question that I would like answered that I would like answered by the Cleveland Clinic online live chat but I must post it as I will be working then. What kind of valve would you recommend for me given these circumstances:? A mechanical or biological one. If mechanical, what type? I am a 54 year old female with aortic insuffiency and regurigation. My surgeon says that repairs don't last long and recommends that I get a mechanical one. I have lupus for 10 years and am doing ok now but was quickly losing function of my kidneys so I was on Cytoxin fo a while. Luckily the Cytoxin reversed the damage to my kidneys. I have a full time job and am pretty active, gardening, fishing, walking, etc.Thank you for your time.


Judy says

on January 25th, 2010 at 8:36 pm
My 58 yr old husband will be having aortic valve replacement soon, and the results of the angiogram last week revealed his arteries are clear of plaque (good news). We were told because of that, they might do "minimally invasive" surgery whereby the sternum cut won't be as long. He'll need a CT scan in a few weeks prior to meeting with the surgeon. My husband's biggest question is how long (typically) the sternum takes to heal? He's a fitness buff and I'm trying to convince him the "patient needs to be patient"…. any thoughts?


Marti Scamman says

on January 26th, 2010 at 3:27 pm
My husband has had atrial fibrillation all his life. He has had three cardioversions that were ineffective. He has also undergone a triple bypass.
While he does not experience any life style problems because of his a fib, we were wondering if he should explore the Maze procedure.


Rhena says

on January 26th, 2010 at 10:22 pm
1. With an aortic valve area of 1.0 cm2 is there any rule of thumb on when replacement may be required?
2. When making a valve choice (tissue vs. mechanical) is it reasonable to assume that a re-op say 10 to 15 years from now could be done percutaneously (i.e. via transcather). Is that something one should factor into a valve choice? I'd much rather go tissue, but the possibility of multiple OHS gives me pause.
3. What information if any can you impart about the relatively new ATS 3F Equine Valve currently in clinical studies. Where could one go to find out more info on this valve (other than the manufacturer's web site) If one does not have BAV (as yet unknown in my case) would this be a viable option you think?
4. If one can assume a future reop could be done percutaneously, does that limit my valve choices now? Is there one particular type that would lend itself better to future replacement via transcatheter?
Thanks!
Rhena


Carla says

on January 29th, 2010 at 8:25 am
I had minimally invasive surgery to repair my mitral valve February 25, 1998 at the age of 48. After surgery, there was only a trace leak but by 1999 a mild leak was noted and gradually it developed into a severe leak as of December of 2008. On my echo of November 2009, the pulmonary pressure was elevated as well as dilation in my heart chambers. I will be travelling to Cleveland Clinic again in a few weeks for another mitral valve surgery. How many successful re-repairs of the mitral valve have you done? What potential risks are involved? In 1998, I had a median sternotomy…can that same incision be used for the re-repair? Will my hospital stay be longer since I have had mitral valve surgery previously? If re-repair is impossible, what kind of valve replacement would you recommend for an active 60 year old with lots of life still to live?
With heart-felt thanks!!


lin says

on January 31st, 2010 at 11:57 pm
Dear Dr Gillinov,
i have a question regarding my father, he is 61 years old, he recently wanted to get his mitral valve replaced caused by the mitral regurgitation, but after he did the lung tests (ct scan and chest x-ray), the doc said the risk of the surgery is very high because of emphysema and bulla of the lung (on both sides), the doc said his lung can work properly without touching it even it has alot of problems, but once have the open heart surgery, he might not survive without apparatus or even worse… im sooo scared to have him to get it done as the doc told us the risk is either 100% success or 0% failure…
I would like to seek some advices from you, i know he has to get his mitral valve replaced soon or later, and the sooner the better, but the music we are facing right now is that the risk is so high and we all scared to do it…would you please advise me more on the risk of his surgery, is it true like the doc said? what other necessary options can he take? they currently live in china, and might consider to get it done in the states if he has a better chance…
im really really worried, because 61 is not that old, and i dont wanna him to live rest of his life in such low quality life style. i know i probably haven't provided you with very detailed info, he has done all kinda tests before the surgery, and have a lot of the test results on hand, please do let me know if you need further info on his condition.
thanks so much to spending your time on the post, i really appreicate if you can give me some suggestions! please help! thank you!


Rob S. says

on February 1st, 2010 at 11:29 am
Dear Dr Gillinov,
I am a 44 year old white male, in decent shape (not working out but active), non-smoker. I have a bicuspid aortic valve that is calcified. Recent echo reports:
"The aortic valve is heavily calcified and bicuspid with a raphe at 9:00 and no demonstrated valve opening. Peak velocity across aortic valve is 4 m/s. Mean gradient across aortic valve is 39mmHg. Aortic Valve area is .9-.95 cm2. Aortic Valve Area Index is .4cm2/m2. There is trace aotric regurgitation"
I am rather asymptomatic (occasionally get dizzy) and my current caridologist suggest surgery within the next 5 years. Like to get your opinion.
Also, just been diagnosed with Classical Hodgkins Lymphoma, nodular sclerosis type. Am at least at Stage 2 but have yet met with Oncologist. I understand some of the chemo therapies can damage the heart muscle (believe it is any therapy that contains Adriamycin). What should I be concerned about regarding treatment of the Hodgkins? What questions should I ask the Oncologist? Would it make sense to have the valve surgery before Hodgkins treatment so that the heart is more healthy?
Also, can the Cleveland Clinic treat/manage both my Hodgkins and Heart conditions together?
Thanks,
Rob.


Inger says

on February 1st, 2010 at 11:56 am
I'm a 60 yr old female, recently diagnosed with a bicuspid aortic valve with medium to severe stenosis. I'm in Sweden and the minimally invasive procedure is NOT used here for patients not in a special risk group. Plan is for me to get a mechanical valve and I will not meet the surgeon till the day before the operaion when I'm already in the hospital. I'm not comfortable with not knowing anything about the surgeon or the proper procedure for me. I'm also worried about being on blood thinning medication the rest of my life. Which procedure and type valve would you recommend?


Micki says

on February 2nd, 2010 at 9:54 am
My surgery was 8 months ago. My sternum has not healed properly. I can still feel it move. My surgeon can feel it as well and CT scans have proven that. I am scheduled for surgery later this month. I have been informed that there are a few options but they won't know for sure what the procedure will be until they open me up and see what is there. Is this normal? And should I be concerned? I orginially had a bicuspid aortic valve replaced with a bovine valve and had a 5.5cm aneurysm in the ascending aorta. The aorta was very thin and needed to be grafted. 16 hours after my surgery I did code twice and a week later had a defibrillaor inserted. I feel great but I am concerned I am 63 yrs old and in excellent health. All of this came as a surprise to me when I made a visit to an emergency room just because I felt odd. I am so glad I made that visit.


Dorothy Delman says

on February 2nd, 2010 at 2:33 pm
Dear Dr. Gillinov:
On what basis is a determination made to use a bovine vs. a porcine valve?
Thank you!
Dorothy


Kathy says

on February 2nd, 2010 at 2:52 pm
had minimally invasive arotic valve replacement at cleveland clinic dec. 09. how long could i be on metoprolol? i normally do not have a blood pressure problem?


Mark says

on February 2nd, 2010 at 5:38 pm
Dear Dr. Gillinov:
I am a 76 yr. old who for about 20 yrs. was diagnosed with MVP and mild to moderate MVR but whose regurgitation was found severe first time in May 2008. I also underwent in Nov. 2009 an unsuccessful attempt to implant a mitraclip (e-Valve) transcatheter device at fhe end of which the device was withdrawn without problems as not being able to adequately reduce the regurgitation level. I have also scoliosis, but besides my MV problem and a moderately enlarged left atrium nothing else was found wrong with my heart and coronary arteries (clear of plaques).
Based on these facts;
1.Could the failed implant of the mitraclip affect in any way the nature of the contemplated MV surgery (repair)?
2.How does the presence of scoliosis impact on the nature of surgery?
a. does it entails a (much) higher surgery risk and if so, how much higher?
b. could it preclude the repair of MV thus requiring a replacement?
c. could it affect the options of using minimally invasive or robotic procedures?
Many thanks, Mark


Michel says

on February 3rd, 2010 at 9:27 am
Hello Dr. Gillinov
I am 44 years old (male) french living in France.
I have an aortic stenosis and need an AVR in the next few month (mean gradient 45 mm Hg, Peak velocity across aortic valve is 4.3 m/s, aortic valve area index is .5cm2/m2). I am full asymptomatic.
I do not smoke , no alcohol and do sports (running, soccer without problem), well active. I travel a lot for my job. My cardiologist wants absolutely a mechanical valve, because he's scared for the 2nd surgery. I would prefer a valve repair or a tissue valve to conserve all my activities. What do you think about that. Am I right to impose a biological valve ? Is it convenient to undergo a surgery while asymptomatic.
Thank you very much


Sam Swerdlow says

on February 3rd, 2010 at 12:09 pm
Dr. Gillinov,
Are you performiing aortic valve replacements in the minimally invasive procedure carried out through the third intercostal space (in-between two ribs) and therefore eliminating any bone cutting? If so, who may be a candidate for this procedure and why?
Thank You,
Sam


John Adourian says

on February 3rd, 2010 at 12:45 pm
questions for Dr. Gillinov:
!. Do you have any dietary recommendations to slow the progression of stenosis for folks who have high HDL and low LDL/triglycerides ie Vitiman D?
2. Do you see advances coming in the near term for removing calcium from the flaps arthroscopically with long term success?


Gregg Pearlstone says

on February 3rd, 2010 at 12:51 pm
I am a 48 year old male with BAV. I have no real issues with stenosis to date. I do have an issue with an enlarged aorta. The enlargement is at the root (4.4 cm). I would like to know your thoughts on aerobic excercise for someone in my condition. I currently run about 20 miles per week. I have shifted to running inside on a treadmill and occassionally use of a eliptical trainer. I guess I did this for peace of mind in case something happens I would have people around to call for help. Should I be monitoring my blood pressure while excercising? I don\'t have any blood pressure issues at this time. Typically averaging, at rest somewhere around 125/85. I am also scheduled my 6 month Eco follow up the first of March. Thanks.


Dana Robertson says

on February 3rd, 2010 at 1:51 pm
Can you speak briefly about appropriate valve surgery for patients with HCM. I read and hear discussions about using rings for repair, but I understand that is NOT the way to go for HCM patients as that may cause the condition to worsen.
thanks


brian Sorenson says

on February 3rd, 2010 at 2:01 pm
Hi Dr. Gillinov. I am a 50 yr old male who had his aortic valve replaced with a cow valve on May 13, 2008. Up until then I ran 7 min. miles, 4 miles per day and was fit. For two weeks after surgery I was off of pain pills and walking three miles per day. Then at around two weeks I started getting chest pain in the night so bad I went to the hospital. They found a small effusion on the pericardital sack. I was given some pills to take for a week. For months after that every couple weeks I would get severe chest pain that would knock me to my knees. It would last five minutes or so. I have gradually gone down hill to the point that if I am active the chest pain starts to build (like someone is standing on my chest). If I sit down when I first feel it it will gradually go away but if I continue being active the pain goes to a eight on the scale and lasts for hours. I take about three to four Lorcets a day for the pain. The cardiologist have done many tests and only can find a hardened off area on the sack in which they don't think will cause this kind of pain. They took me off my aspirin and within two weeks I had two TIA's. The Neurologist thinks that if the heart sack is anything like the sack around the brain, it is full of nerves and this would be causing me the pain. He wants me to try Lyrica to deaden the nerves. My quality of life is really bad and at my wits end. The cardiologist thinks its a 50/50 chance its the sack. Please help. Thanks

Adam's Newest Blogs
Adam's Newest Posts