After Heart Valve Surgery, Anita Hikes, Climbs And Camps Through The Adirondacks!
By Adam Pick on October 14, 2009
I just received a fantastic, patient update from Anita. As you can read below, Anita is hiking and camping just six months after mitral valve repair surgery. Here is what Anita wrote to me:
Hi Adam,
As you may remember, I had mitral valve repair at The Cleveland Clinic on March 30, 2009. Doctor A. Marc Gillinov was my surgeon.
I am doing great. In fact, last weekend, Mike and I visited the Adirondack Mountains near Lake Placid, New York. The journey (hiking, camping, climbing) was magical.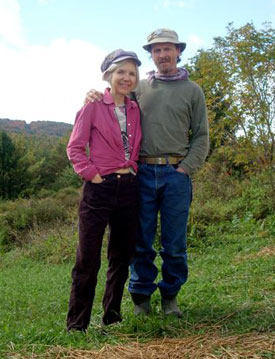 Anita, Heart Valve Surgery Patient, With Mike
I climbed two of the "High Peaks" which required us to hike uphill for two miles as we reached a 3,800 foot elevation.  Each of the peaks had spectacular views at the top. I felt so happy and so grateful to see the all of the beauty that was present.
Along the way, we met a very nice hiking family. When I told them that I had heart surgery six months ago, they could not believe it. Together, all of us made the ascent to the peak. When we arrived at the top, Dave, the dad, was especially joyful.
Dave said to me, "When you told me about your surgery, I didn't think you could make it to the peak. But, here you are! That's amazing!"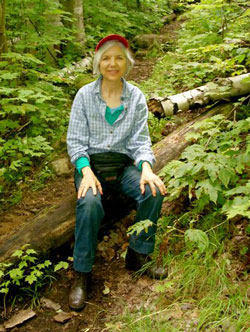 I want to thank you for your heart valve surgery book and your website which were both instrumental in helping me cope with the reality of surgery. After reading your book, I felt more at peace with the whole situation. Prior to reading your book, I felt lost and afraid. At one point, I remember thinking, "I am not going to go through with the surgery!"
Now, just six months later, I am reaping the benefits of heart valve repair. I do not feel tired or out of breath. So you know, I had not done any climbing for several years because I knew my heart couldn't take it.
After the surgery, I felt a glimmer of hope. I began envisioning myself atop one of the mountains that used to bring so much joy to my life.  I never expected that I could do it so soon. But, I guess that's the miracle of healing… and dreams coming true.
Lots of love,
Anita

Fred says

on October 14th, 2009 at 1:35 pm
Hi Anita,
My name is Fred and I am 5 months out from endocartitis and Mitral Valve repair surgery. We are horse people and I didn't know if I would ever ride horses again. Well I have been on about 6 or 7 rides with my wife over the last month and a half and have gone camping here in Oregon twice. Of course, there are some things I don't expect to ever be able to do again(i.e. play agressive contract sports) but I am very thankful for the things I still can do. And am thankful for the modern miracle than can be performed with open heart surgery.
Thanks for your encouraging story! Fred


Michael Baity says

on October 24th, 2009 at 5:49 pm
Anita-
Just had my aortic valve replaced ten days ago at The Cleveland Clinic by Dr McCurry. Everything went perfect. I was out of there 4 and 1/2 days after the surgery and am feeling great and walking just about everywhere I want. Was really tired, but that seem to be passing.
It is truly wonderful what they do there.
Michael Baity- Michigan

Adam's Newest Blogs
Adam's Newest Posts