Even With Recovery Challenges, Josh Feels "New Lease On Life" After Heart Valve Surgery
By Adam Pick on March 16, 2009
Here is an insightful, patient story about Josh from Oregon. As you can read below, Josh offers a unique glimpse into some of the common challenges and opportunities patients experience during early heart surgery recovery. I say "early" because Josh had his operation less than two weeks ago.
Adam-
Hey there! Just dropping you a note that the "hardest" part is over.
I had my aortic valve replacement and ascending aortic aneurysm repair done on Thursday, March 5th at Providence St. Vincent Medical Center in Portland, Oregon. I just filled out your online surgeon database questionnaire so that I could highly recommend my surgeon, Dr. Storm Floten of the Starr-Wood Cardiac Group.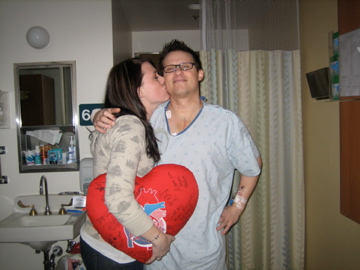 Josh Receives Kiss Following Heart Surgery
I'm happily at home and have been since Monday, March 9th. That's right… I left the hospital 4 days after my surgery.
I'm actually a bit incredulous at my recovery thus far. On Tuesday, 5 days after surgery, I took two 45-minute walks around my neighborhood. Since then I've been walking 3 times a day or more. I never thought I'd be at this activity level so quickly.
I'm being very mindful not to overdo it, and my body is letting me know when I do get to that point. But my surgeon recommended walking as much as I could, as that  would facilitate and speed up the recovery process. My family,  friends and neighbors simply cannot believe that I appear as healthy as I do at this point.
Of course it's not all roses…
I'm in a significant amount of pain that's being moderately, but not entirely, tempered by Vicodin.
Getting up out of my chair is tough sometimes.
Certain reaching and twisting motions are very difficult and painful.
Nighttime is by far the worst. By about 10 p.m., I start shivering violently which makes the chest pain much worse. At that point my body is basically letting me know that I need to get in bed immediately or else!
Also I can feel certain nerve endings coming back to life after having been shocked into hibernation. I feel new and different sensations on a daily basis- both positive and negative. I'm fairly certain that the next few months will hold a lot of that, but rather than dreading it, I look forward to the challenges and opportunities.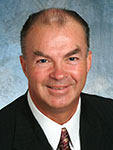 Storm Floten – Josh's Heart Surgeon
But for the most part, things couldn't be better. I have the proverbial "new lease on life" with my new heart parts.  As I opted for a tissue valve, I know that I will need another procedure down the road; but I'm totally focused on living my life to the fullest until then, and not worrying about crossing that bridge until I get there.
As with many others on your website, I'd like to say that your book was very helpful to me. It was also invaluable to my mother and girlfriend who both read it before my surgery, and have been my unfailing and incredible support network thus far. We all gained valuable insight as to what to expect in many different areas.
Thanks!
Josh
Adam's Newest Blogs
Adam's Newest Posts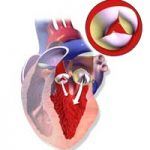 Surgeon Q&A: What Should Patients Know About Aortic Regurgitation? Learn More.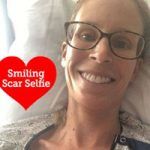 Sara Educates & Inspires 38,443 People About Heart Valve Surgery! Learn More.