Barbara Bush Recovering From Heart Valve Surgery
By Adam Pick on March 5, 2009
Yesterday, Barbara Bush, at 83 years of age, joined a long list of public figures to have undergone successful heart valve surgery.
The former first lady, Barbara Bush, underwent open-heart surgery Wednesday to replace her aortic valve, a family spokesman said. Barbara Bush's heart surgery took place at Methodist Hospital in Houston, Texas and lasted about two and a half hours.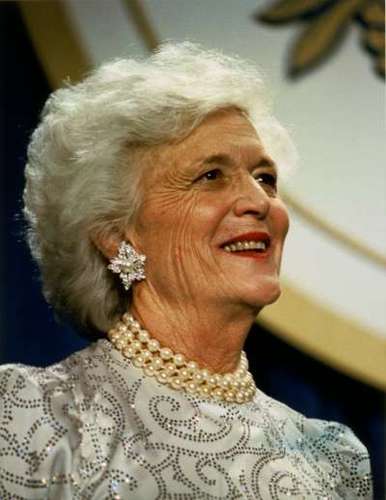 Barbara Bush – Heart Valve Surgery Patient
Bush, like many patients, was suffering from shortness of breath due to aortic stenosis. This valvular disease results from a narrowing of the heart valve which may occur due to congenital factors, calcification or infection.
Dr. Gerald Lawrie, a heart surgeon at the Methodist DeBakey Heart and Vascular Center, replaced the aortic valve with a biological tissue valve that was most likely a pig valve or a cow valve. Doctor Lawrie stated, "I expect her to recover fully and soon resume her normal activities," Lawrie said.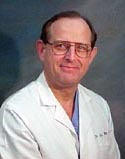 Dr. Gerald Lawrie – Barbara Bush's Heart Surgeon
According to reports, the former president of the United States, George H.W. Bush, was at the hospital with his wife. Like most heart valve surgery patients, Barbara Bush remained in the intensive care unit following the operation. The hospital said the former first lady was expected to be released in seven-to-ten days.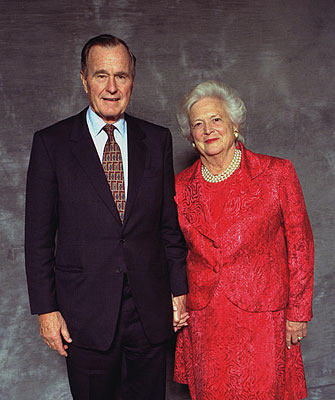 George and Barbara Bush
George Bush said, "I am very impressed with and grateful to the wonderful team of doctors and nurses at the Methodist Hospital who have helped Barbara… We have every confidence she is in the best hands."
Keep on tickin' Barbara!!!
Adam

Adrian Bishop says

on March 5th, 2009 at 2:17 pm
We all, I am sure, wish our First Lady the very, very best in her recovery. There are lots of 'survivors' out here to support and urge you on, and more advice than you can shake a stick at!
Adrian B


Jim Hayden says

on March 5th, 2009 at 2:19 pm
Having experienced Aortic valve replacement twice. I would like to know the method that was used to replace Mrs. Bush's Aortic valve. Did they open the sternum or did they use a different method. My surgeries were through the sternum, and they took four to five hours each.
It is also suggested that she will stay in the hospital seven to ten days. Is this because of her age? Does her medical plan allow this much hospital time – post-operation? Is there a method that is an alternative to splitting the sternum?
Can anyone enlighten me – I am planning for my third surgery?
Jim Hayden


Janie Niemiec says

on March 5th, 2009 at 3:16 pm
Jim, I read that they did open Mrs. Bush's sternum and her replacement was a pig or bovine valve. She did not get a mechanical valve. Who know what kind of insurance she has? Probably have to monitor her closer since she is 83 years old. I am waiting for my first aortic stenosis surgery. Why have you had two surgeries and now another? That really scares me. Sincerely, Janie


Margaret says

on March 5th, 2009 at 3:52 pm
Janie,
I'm not sure about Jim but I've had my Aortic replaced 27 years ago at the age of 13 with an mechanical valve. I will need a replacement in about 4-5 yrs. Everyone is different and I'm sure you will be fine.
Margaret Reese


Nancy Scbarf says

on March 5th, 2009 at 5:09 pm
I have had a mitral commissurotomy at age 36 (1972). I had mitral valve replaced with a mechanical valve in 2001 . My aortic valve is now also narrowing. I will most likely need another open heart surgery to correct this problem. Which type valve is best; and I also ask if the sternum will have to be opened. Where is the best Dr. and hospital to have this surgery performed?
Nancy Scharf


Sherr Hendry says

on March 5th, 2009 at 6:11 pm
I'm curious what method was used for her operation. Last night the news media said her surgery was only 2 hours. I also just read that Robin Williams is in need of AV replacement surgery too.
I will them and anyone else facing heart surgery well.
Sherri


Kerrigan says

on March 5th, 2009 at 7:04 pm
We do wish her well! 2 1/2 hours matches up pretty well with my experience, which at 3 1/2 hours included replacement of the ascending aorta as well as the aortic valve. Bio-valve sure seems the way to go if one is over 60 years of age. The newest version of St Jude Bio-cor Epic is supposed to be good for 12-18 years before any buildup problems start. Here's hoping!


Kathy says

on March 5th, 2009 at 7:40 pm
My aortic valve was replaced with a mechanical valve in 6/2000. The stenosis was likely caused by undiagnosed rheumatic fever. I have never felt better. After the surgery, I started walking for exercise. Lost 54 pounds with the help of a gym membership and a caring, knowledgeable personal trainer. Now I am becoming a fitness trainer AT AGE 56!!! Didn't have any clue that I could feel so well after years of having no energy.
I was given a mechanical valve because I was only 48 at the time of the surgery and the mechanical valve I have is supposed to last forever. My surgery was done at St. John Hospital in Tulsa thru the sternum and took about 3 hours. I was in the hospital for 5 days. It's my understanding that the procedure through the ribs was done for a few years. The results were not good. The hospitals that were doing that method were: Barnes-Jewish, St. Louis, Houston Heart (Baylor) and Johns-Hopkins in Baltimore.


Rosemary Geraci says

on March 6th, 2009 at 10:07 am
Dr. Lawrie is a wonderful cardiovalcular surgeon. He replaced my aortic valve June 23 and I have done great since I recovered from fluid in my lungs and arrhythmia. I would recommend the trip to Houston to everyone. I know five other of his patients personally and we've ALL done well.
Get your rest and get well soon, Mrs. Bush!
Rosemary Geraci


Jim Hayden says

on March 7th, 2009 at 6:15 pm
Janie: My geneticly bi-cuspid aortic valve was replaced in 2000, while I had a triple bi-pass. It was replaced with a bovine valve from Edwards Life Sciences. Seven and one half years later, in 2007, it suffered from stenosis and had to be replaced. The new valve is also bovine from Edwards Life Sciences. It is a later and better version.
We have to listen to our surgeons better. I was sixty-three years old in 2000, the surgeon said that since I was in good shape, the new valve should last me 10 to 15 years. However, the statistical information published by ELS shows that most of the animal tissue valves fail between eight and ten years. I know some of the patients expired but I have been unable to find out what exactly happened to the rest.
My most recent valve replacement is doing very well. I was in the hospital for 3.5 days, and Yale New Haven Hosp proved it is a very professional institution in every way. I went to rehab three days per week for three months. I play tennis two days per week for two hours each day, work out in a gym two days, and walk 3 miles on each of the other three days.
I believe that if you maintain a good diet, a strict exercise regimen, and stay stress free, you will live with your replaced valve for a long time. The advantage of an animal tissue valve is that you do not have to take blood thinners. I hope that my third valve will be inserted through my femoral artery when I am in my nineties. Adam has had some blogs on this method recently. It is being done off-shore at this time with some success.
Relax, say some prayers, do your homework, and go for it. There is no good alternative.
Jim Hayden


sergio says

on March 9th, 2009 at 2:33 pm
hi i had my aortic valve was replaced could some tell me how long they last no has time just 10 years 15 years ?


sergio says

on March 9th, 2009 at 2:34 pm
I had my aortic valve replaced. How long do pig valves last?


a wake says

on July 28th, 2012 at 2:41 pm
Does anyone know the name of Barbara Bush's cardilogists?

Adam's Newest Blogs
Adam's Newest Posts