"Will I Be Glued Or Stapled After Heart Surgery?" Asks Jill
By Adam Pick on December 16, 2008
I just received a curious email from Jill. She writes, "Hi Adam – After several years of waiting and waiting, I'm finally going in for valve replacement due to severe regurgitation. Quick Question: Will I be glued or stapled after the sternum is wired? I've heard it can go either way. Any thoughts?"
Jill's question just brought back a very interesting memory for me…  I was in the intensive care unit after my aortic valve replacement surgery. The obstructive vent tube had just been removed from my throat. I was woozy (from the anesthesia) but conscious. My eyes sluggishly opened for the first time in six hours. I remember seeing my dad and my wife. Then, I looked down at my chest and thought, "Huh? Is something wrong? I don't see any stitches on my scar."
Shortly thereafter, I learned that my surgeon used a special type of glue to seal the incision after my median sternotomy. As you can see below, there are no stitches or staples on my main, 8-inch incision.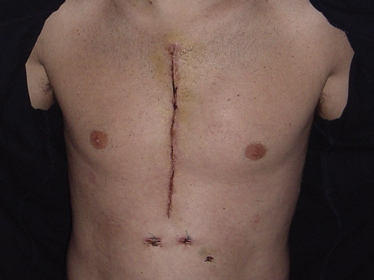 My Glued Incision – Shortly After Surgery
However, you should know, this is not always the case. Many surgeons still use staples.
In fact, I just received an email from Emmanuel Ibanez. Emmanuel just had valve surgery in the United Arab Emirates. As shown, Emmanuel's surgeon chose to use the staple method.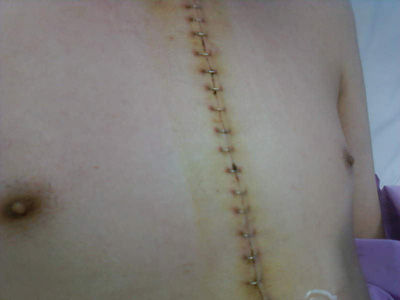 A Stapled Incision
Whether your incision is stapled or glued, I continue to recommend the use of Mederma. Myself and many of my readers have had positive results from this skin care gel.
Finally, you should also know that most patients have additional scars from the smaller chest tubes used during / after surgery. Most of the time, those smaller incisions are stitched.
I hope that helps further explain the different approaches to closing surgical incisions – glue, staples, stitches – for open heart surgery.
Keep on tickin!
Adam
Adam's Newest Blogs
Adam's Newest Posts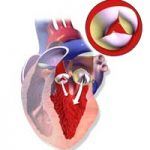 Surgeon Q&A: What Should Patients Know About Aortic Regurgitation? Learn More.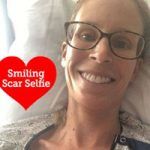 Sara Educates & Inspires 38,443 People About Heart Valve Surgery! Learn More.